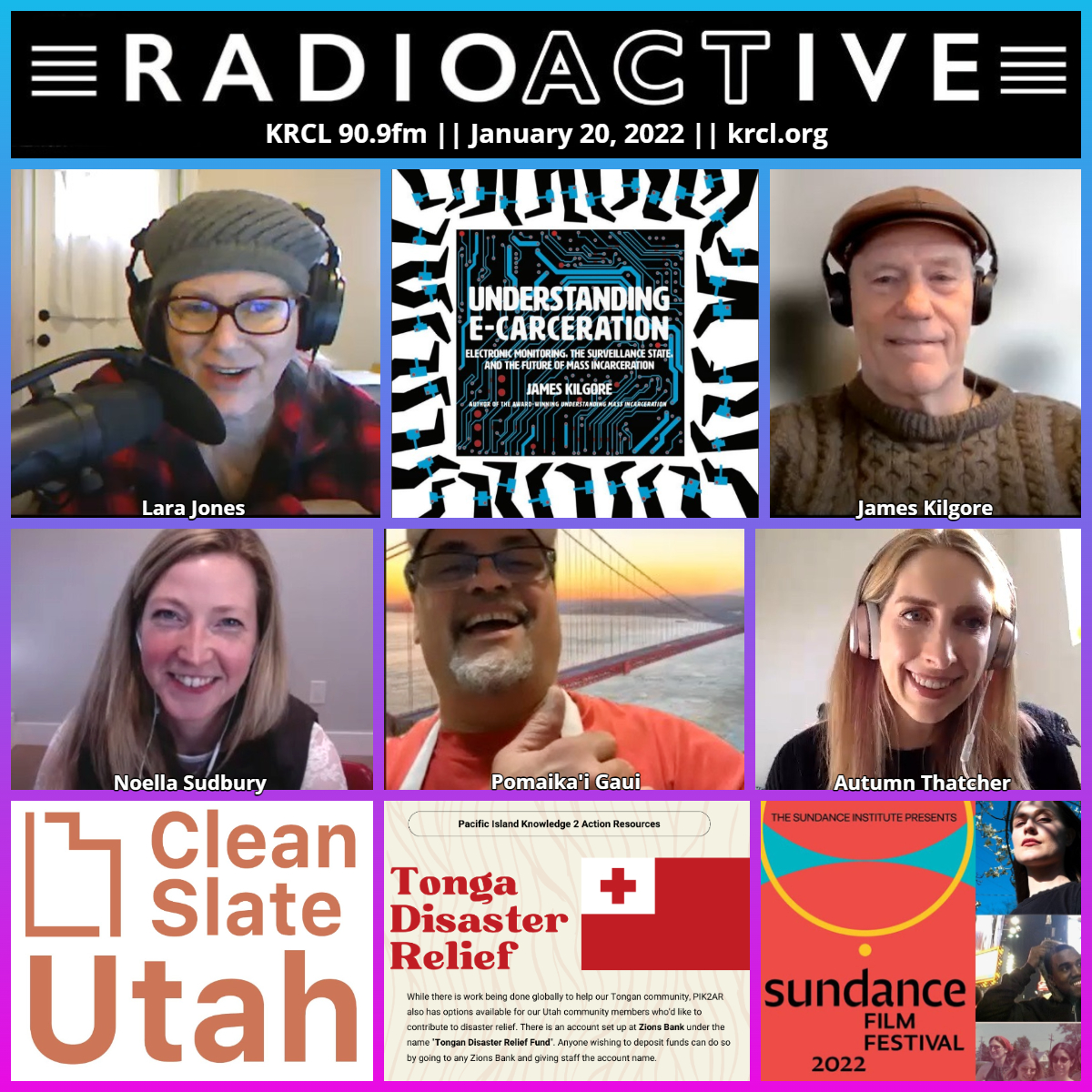 Understanding E-Carceration with author-activist James Kilgore. Meet Clean Slate Utah, a new non-profit formed to spread the word about Utah's new automatic expungement law — which starts next month! PIK2AR on how to help folks in Tonga. Sundance Film Festival picks with Autumn Thatcher's red carpet correspondent.
Tonight's show featured the following people, organizations and/or events. Check them out and get plugged into your community!
Pomaika'i Gaui, Pacific Island Knowledge 2 Action Resources board member. He said a "Tongan Disaster Relief Fund" is now open and available at any Zions Bank branch for donations to help people in Tonga rebuild after the devastating volcano eruption there earlier this month. Just supply staff with the account name and they will handle the rest. For any additional questions or concerns, please contact info@pik2ar.org.
The 2022 Sundance Film Festival opened today. For an update on all the virtual action, RadioACTive spoke with its red carpet correspondent, Autumn Thatcher. Click here to read more about the films she's excited to see, even if it's not IRL.
James Kilgore, author of Understanding E-Carceration, Electronic Monitoring, the Surveillance State & the Future of Mass Incarceration.
Kilgore is an activist, researcher, and writer based in Urbana, Illinois, where he has lived since paroling from prison in 2009. He is the director of the Challenging E-Carceration project at MediaJustice and the co-director of FirstFollowers Reentry Program in Champaign, Illinois. He is the author of five books, including Understanding E-Carceration and the award-winning Understanding Mass Incarceration, which was one of five books cited on the inaugural list of the Literature for Justice Program of the National Book Foundation (both from The New Press).
Noella Sudbury, executive director of Clean Slate Utah. In 2018, she conceived of, organized, and led the bipartisan campaign to pass Utah's Clean Slate law, which goes into effect Feb. 10, 2022.
Views, thoughts or opinions shared by guests are their own and do not necessarily reflect those of the board, staff or members of Listeners' Community Radio of Utah, KRCL 90.9fm. Tonight's show was produced and hosted by Lara Jones.
###