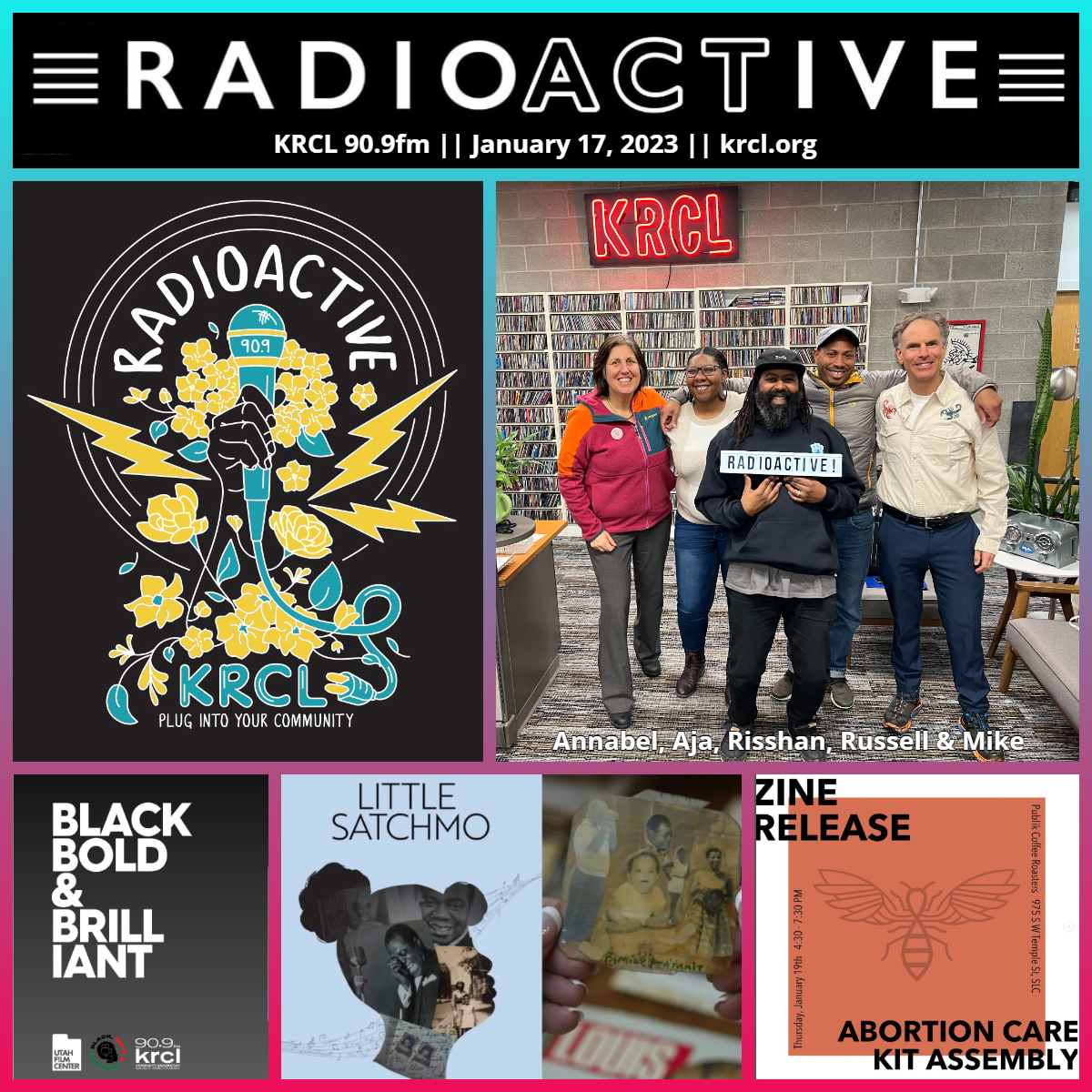 Roundtable Tuesday talks Little Satchmo with Black, Bold and Brilliant, 'Say Abortion' zine launch with Planned Parenthood Action Council of Utah, and the start of sugar-free February challenge with Dr. Mike Jaffe. Plus, Sundance and Ballpark updates.
Tonight's show featured the following people, organizations and/or events. Check them out and get plugged into your community!
Earlier today, the Larry H. Miller Company announced it would be moving the Salt Lake Bees from Smith Ballpark to a new stadium at Daybreak, leaving the fate of Smith's Ballpark at 1300 S. West Temple, SLC, up in the air. RadioACTive shared a clip of SLC Mayor Mendenhall, who announced the Ballpark Next Design Competition to create a new vision for the more than 13-acre site.
Risshan Leak, Russell Roots and Aja Washington of Black, Bold & Brilliant, which will screen Little Satchmo for Black History Month.
KRCL's Sundance in 60 Correspondent Eric P. Nelson, with an update on live music and locals only at Sundance Film Festival. The festival is returning to in-person screenings, but there are many online options, too. For details and tickets, visit sundance.org.
Annabel Sheinberg of Planned Parenthood Action Council of Utah, a non-partisan, not-for-profit organization formed as the advocacy and political arm of Planned Parenthood Association of Utah. PPAC engages in educational and electoral activity including legislative advocacy, voter education, and grassroots organizing to promote reproductive freedom.
Ready to eat healthier? RadioACTive starts its annual sugar-free February challenge with Dr. Mike Jaffe.
Reading List:
Guests' views, thoughts, or opinions are their own and do not necessarily reflect those of the board, staff, or members of Listeners' Community Radio of Utah, KRCL 90.9fm. Questions, comments or suggestions for the show? Email radioactive@krcl.org. Tonight's RadioACTive team included:
###