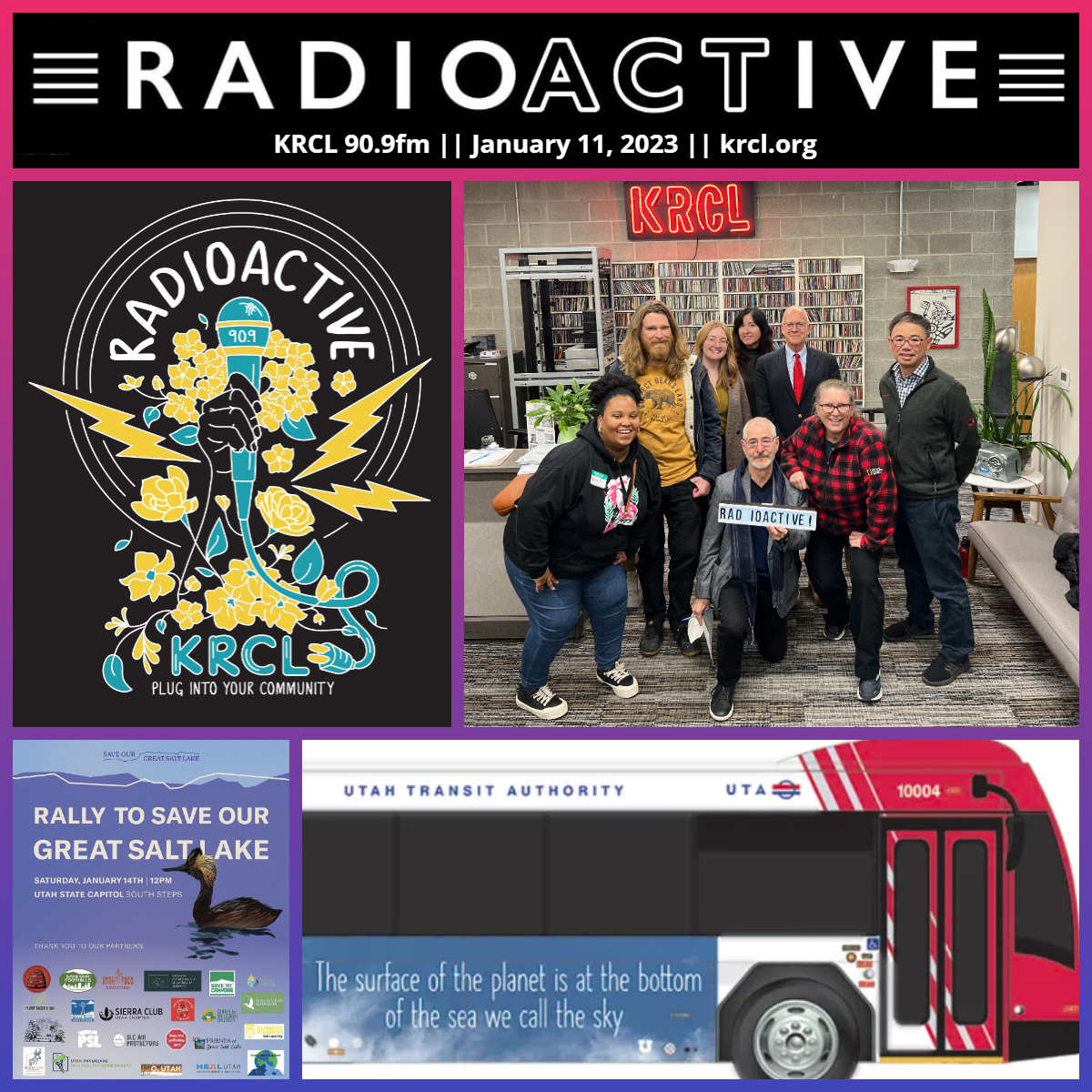 Prof. Amos Guiora on a new initiative to study "ecosystems of abuse." Plus, Rally to Save Our Great Salt Lake and In Search of Blue Sky.
Tonight's show featured the following people, organizations and/or events. Check them out and get plugged into your community!
Rally to Save Our Great Salt Lake this Saturday. RadioACTive got a preview with Nate Housley, historian and founding member of SOGSL, and birthkeeper, community activist and co-founder of BLM-SLC Ashley Finley.
Jan. 14: Rally to Save Our Great Salt Lake, 12:00-3:00 p.m. at Utah State Capitol, 350 N. State St., SLC. Event by: Great Salt Lake Audubon, HEAL Utah, Utah Rivers Council, Plant Based Utah, Stop the Polluting Port, Save Our Great Salt Lake, Utah Physicians for a Healthy Environment, SLC Air Protectors. "This is an all-hands-on-deck moment. The legislature has the power to make enormous strides to get water to Great Salt Lake but it's going to take a groundswell of community pressure to hold them accountable. We need your voice! Rally with us. Together we have the power to protect our future and our Great Salt Lake. Meet at the south steps at noon. Buzzed Coffee Truck will be selling coffee starting at 11:30am."
We also heard from the collaborators behind In Search of Blue Sky, a temporary public artwork by artist Wendy Wischer, atmospheric scientist John Lin and poet Lindsey Webb.
This collaboration uses air quality data collected as part of the Wasatch Environmental Observatory (WEO) to personally connect the community and UTA riders to the experience of data collection along with their personal contributions, all while inspiring curiosity to dive deeper into the changing air quality and ways we might work together to achieve the blue skies we all value. Images to the signs and text can be found on the ecoart website.

The signs will be installed on the exterior buses and interior TRAX rail cars January 1st and run through January 28th, 2023. The ecoart website and the MesoWest Utah Air Quality Observations website will remain accessible after the signs come down.
Prof. Amos Guiora of the SJ Quinney College of Law is back to talk about a new initiative to study "ecosystems of abuse." His goals: "hold enablers and bystanders accountable; work with legislators around the world on criminalizing bystanders and enablers; and three -- engage in a widespread education project [on] all levels on the harm caused by enablers and bystanders." To read more, click here.
Guests' views, thoughts, or opinions are their own and do not necessarily reflect those of the board, staff, or members of Listeners' Community Radio of Utah, KRCL 90.9fm. Questions, comments or suggestions for the show? Email radioactive@krcl.org. Tonight's RadioACTive team included:
Executive Producer, Host: Lara Jones
KRCL Volunteer Host: Nick Burns
###