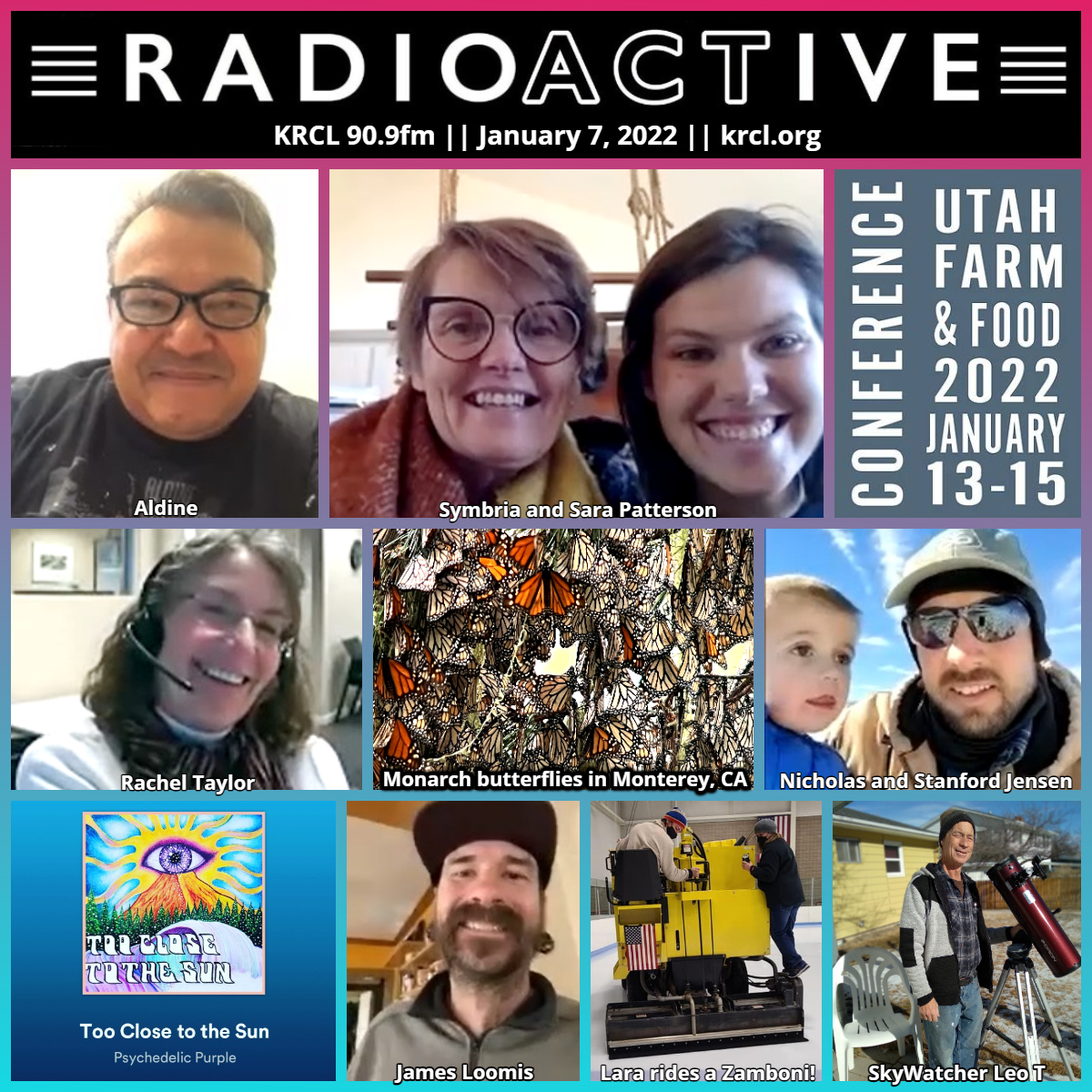 #PunkRockFarmerFriday brings you more true tales from the agrihood, including Utah Friends of Monarchs, Gunnison Valley farmer Stanford Jensen, Red Acre Center's Symbria and Sara Patterson on the 2022 Utah Farm and Food Conference, job openings with Green Phoenix Farm and SL County Parks and Recreation (Zamboni driver needed!), SkyWatcher Leo T, and fresh, homegrown music from Psychedelic Purple.
Tonight's show featured the following people, organizations and/or events. Check them out and get plugged into your community!
Fresh, homegrown music from Psychedelic Purple, which recently released its first full-length album, Too Close to the Sun.
#ManyCulturesOneSky with SkyWatcher Leo T, featuring the morning sky with Antares and Mars hanging before dawn. Comet Leonard gets loud again as it leaves the Solar System. James Webb Space Telescope update as it streaks across the solar system. Aboriginal Australian Dreamtime stories of the Emu in the Sky. For sources and other cool space news, visit Leo's FB page — click here.
Utah Friends Of Monarchs' Rachel Taylor, who shared the good news on monarchs overwintering in Monterey, CA. "Western monarchs have gone from 4.5 million in the 1980s down to 1,914 counted one year ago. We don't have the final count out west for this winter, but it's up to more than 100,000," she reported. Recognizing Taylor's work, Deseret Magazine called her the "Johnny Appleseed of the fluttering-winged world" in its list of "leaders, artists, adventurers and entrepreneurs [who] will change the West in 2022."
April 6: Saving the Monarchy: One Milkweed at a Time at Red Butte Garden, SLC.

April 23: The Monarch Larva Monitoring Project (MLMP) virtual training session for the Western U.S. Organized by Monarch Joint Venture and the UW-Madison Arboretum: A one-day workshop designed to inform participants on how to collect data that contributes to knowledge about the monarch population. Participants learn about monarch biology, monitoring procedures, and data entry protocols, and are able to ask monarch experts their questions about monarchs and monitoring. This session will be relevant for both newcomers and individuals who are already participating in the MLMP or another monarch citizen science project! Citizen science volunteers are critical to informing and inspiring monarch conservation." To register, click here. Cost: $45.
James Loomis of Wasatch Community Gardens' Green Phoenix Farm. Loomis hiring his farm assistant for 2022, and there are other job and volunteer opportunities with WCG, too.
Ryan Barenbrugge of Salt Lake County Parks and Recreation's Acord Ice Center, which is hiring a Zamboni driver. Interested? Details here. And check out the video of Lara's Zamboni ride in this Facebook post:
Aldine's #UrbanFarmReport, featuring true tales from the agrihood. Tonight's guests:
Symbria and Sara Patterson of the Utah Farm & Food Conference 2022, Jan. 13-15 in Cedar City. There's still time to register, so click here. Early bird pricing ends at midnight tonight! KRCL is proud to sponsor the conference, with Aldine hosting a Seed Exchange and Farmer Guild Mixer. For the latest on COVID protocols and impacts, visit utahfarmconference.org.

Stanford Jensen, who farms 500 acres in Gunnison Valley, Sanpete County, Utah. He'll be a featured stop on the conference's farm tour next week. Read more about his latest direct-to-consumer venture, Sunnyside Up Pastures, in The Salt Lake Tribune: As droughts intensify, this Utah family farm is ditching the Monsanto way.
Views, thoughts or opinions shared by guests are their own and do not necessarily reflect those of the board, staff or members of Listeners' Community Radio of Utah, KRCL 90.9fm. Tonight's show was produced and hosted by
Lara Jones
and
Aldine, KRCL's Punk Rock Farmer
.
###