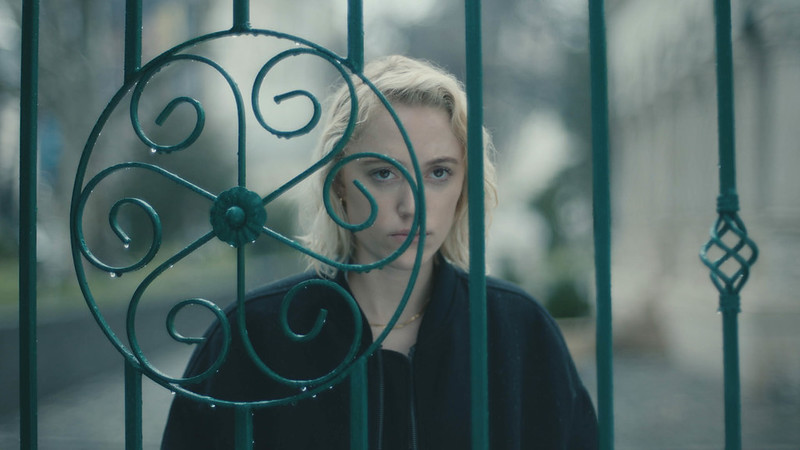 I've been in a dark and twisty mood lately with my entertainment choices so when I heard about "Watcher" during episode 1 of "How to Fest Daily," I was intrigued.
Festival programmer Ana Souza spoke with the film's director, Chloe Okuno about the psychological thriller and how unexpectedly needing to relocate filming to Bucharest, Romania helped create another layer of intrigue and suspense for the film's protaganist, Julia (played by Maika Monroe).
In her interview with Souza, Okuno also talked about how, in her experience, a lot of anxious people tend to be drawn to horror films, herself included, because "it allows you to have a sort of release" from fears and anxieties that spiral internally. Well, I am an anxious person, too. And listening to Okuno talk about the film, I knew immediately I had to watch it.
"In making "Watcher," I wanted to capture a kind of constant, uncomfortable dread that accompanies many women throughout their lives- one that is expressed through the character of Julia. Julia moves into this apartment building with her husband and quickly begins to believe she is being watched. She recognizes that the Watcher is a threat. She feels it very clearly- even if it's difficult to articulate the extent of that threat to the people around her. It's a situation that's probably quite familiar to most women. We experience the world in a different way than men and then when we try to express that experience, we're often doubted- written off as paranoid, irrational, or overly sensitive… which in turn can make us begin to doubt ourselves," Okuno said in a press release.
Okuno's press statement perfectly summarizes the viewer's journey with Julia. I don't want to spoil anything, but let's just say, I haven't been so scared in a long time — I even jumped in my spot on the couch and screamed out loud. This film is an excellent psychological thriller that 100 percent messes with your psyche without too much gore. Its eerie music along with the many moments of fearful quietness that Julia sits in are enough to get your heart racing while hoping that the film just hurries up and ends. I couldn't stop thinking about it. Case in point: it's 7 a.m. on a Saturday morning, and I am writing this blog.