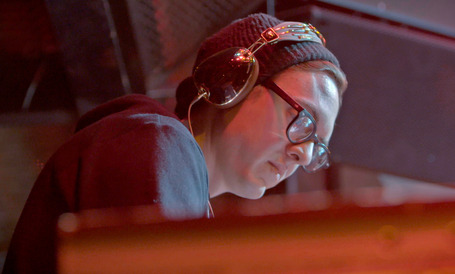 A film editor by trade, Zachary Kashkett never planned to direct a documentary. But he has edited enough of them to know that his childhood friend Austin Hart, better known by his stage name L'Orange, had a story worth telling. In 2015, a year after making his initial pitch, Kashkett began filming the independent music producer to create what would become his directorial debut, "The Mad Writer." The documentary was over eight years in the making, culminating in the Slamdance premiere in Park City on January 20.
"The first time I met him, I knew he was a movie of some kind," said Kashkett in an online interview from Park City with KRCL. "He has such a unique and specific worldview. And the way he looks at his own depression and music and the world is so unique to him."
L'Orange, who is one half of the hip hop duo Marlowe, reveals early in "The Mad Writer" that he realized at the young age of eight that he was depressed. Kashkett said that L'Orange's journey through managing his clinical depression while also building a successful music career is inspiring — and reason enough to make a documentary. But one month into filming, L'Orange learned that he was facing a medical condition in the form of a cholesteatoma that would ultimately result in the loss of hearing in his right ear. This unexpected diagnosis led to both an existential crisis for L'Orange and a thematic twist for the documentary.
"My producer and I really struggled with whether or not we would be exploitative in a way to continue," said Kashkett, who learned during a phone interview for the documentary that L'Orange was bleeding from his ear and didn't know why. "It was getting his blessing that was the only reason we continued on with the project. We would've canceled it right then and there, but he felt like it would be beneficial to continue shooting and seeing where it went."
Though L'Orange makes it sarcastically clear multiple times throughout the film that he thinks that Kashkett's idea for the documentary is a bad one, he continues to make himself vulnerable for the camera. Viewers watch as he undergoes multiple surgeries to remove benign tumors from his ear and, eventually, learn that he needs to have surgery to fully collapse his ear, which will cause permanement hearing loss in the right ear.
But through L'Orange's difficult journey, there is a ray of sunshine, which comes in the form of Leah Lawson. Their relationship, relatively new at the time of filming, evolves and deepens as L'Orange undergoes medical treatment while also expanding his career through collaborating with independent rapper Mr. Lif.
By the film's end, it is clear that L'Orange's musical success is only just beginning — and there is much in store for him in the way of making his dreams come true both as a music producer and as a human just figuring out how to live life.
"You watch him go through a real journey and kind of come out the other side in a really different place," Kashkett said. "And that's something I'm really proud of with the film."
The Mad Writer premiered at Slamdance on January 20 and will screen again on Tuesday, January 24.