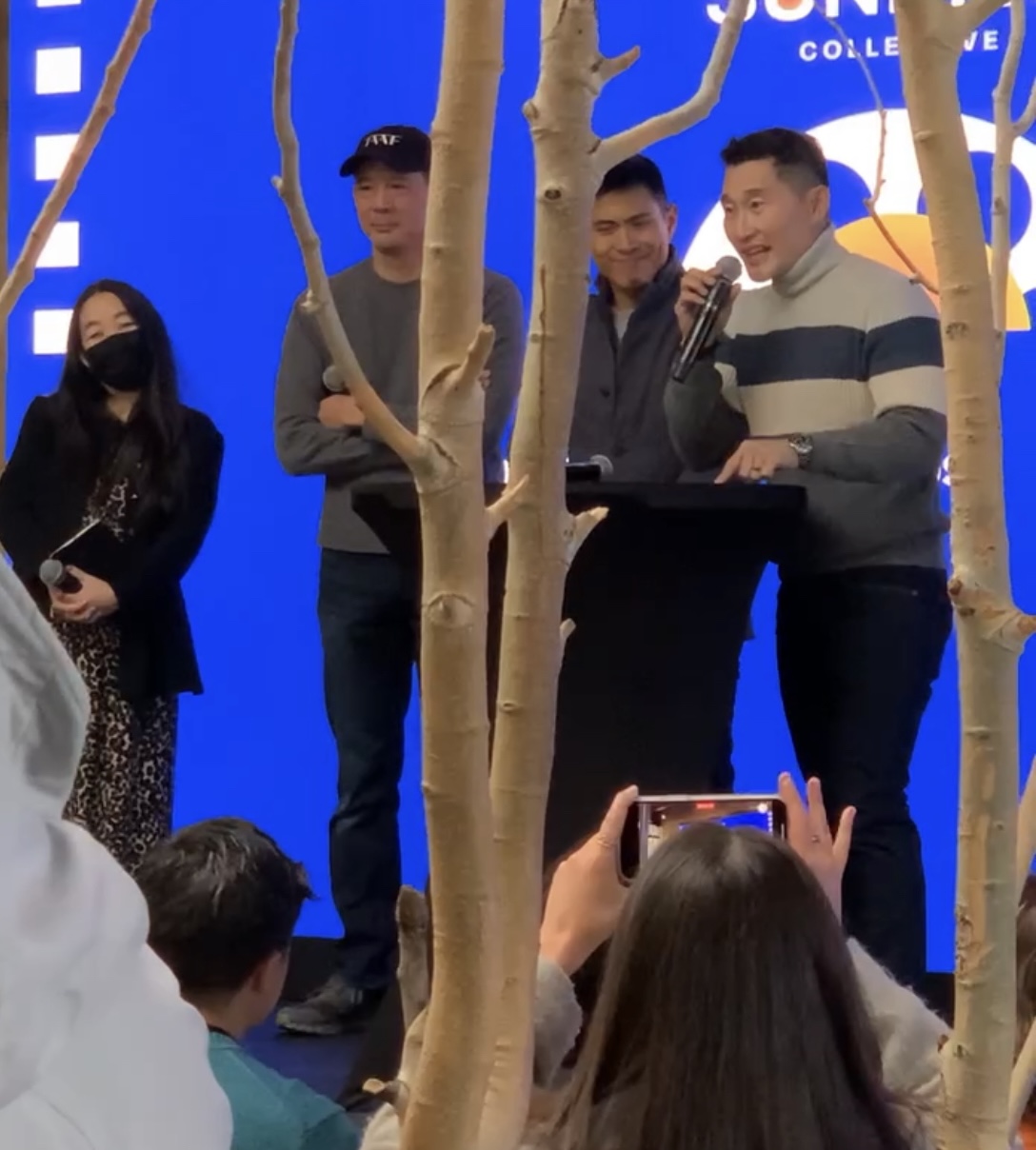 Daniel Dae Kim's smile lit up the room on Friday at the Riverhorse on Main Street in Park City, where Sunrise Collective will host its Sunrise House over opening weekend — offering interactive daytime programming and events that bring multicultural talent, filmmakers, executives and emerging artists into shared spaces of learning, celebration and collaboration.
Sunrise Collective, a collaborative effort between The Asian American Foundation (TAAF), Kim's 3AD and Gold House, is the official pan-AAPI House of the 2023 Sundance Film Festival.
"When I last attended Sundance in 2020, I was moved and inspired by the work of our friends at MACRO, The Latinx House, Blackhouse and others, whose spaces served as gathering places for their communities," Kim said in a statement. "It seemed only fitting that the AAPI community join them in celebrating our ever-increasing presence in media and culture. Together with the strength of Gold House and The Asian American Foundation, Sunrise Collective was created with the aim to honor our progress, as well as provide a space for fellowship and collaboration with the other esteemed creative communities at Sundance."
In a welcome on Friday morning, Kim, along with CEO of Gold House Media, Bing Chen; CEO of TAAF, Norman Chen and White House Deputy Assistant to the President and Asian American and Pacific Islander Liaison, Erika L. Moritsugu, spoke to the significance of Sunrise House's presence at the 2023 Sundance Film Fesitval. Kim highlighted that in 45 years of festivals, 2023 marks the very first where the pan-AAPI community has representation in the form of a House.
"Today, we should be proud. We should take our place and be honored to consider ourselves among the community of Sundance, and each and every one of you here today, should be able to proudly say, 'I was in the room where it happened.'"
Here's a look at the daytime programming that Sunrise House will offer this weekend (in alphabetical order):
A Conversation between Daniel Dae Kim and Steven Yeun: An intimate conversation between Daniel Dae Kim (Lost; Executive Producer of Bad Axe and The Good Doctor) and Steven Yeun (Minari; Nope; Beef; Executive Producer of Nam June Paik: Moon is the Oldest TV) on finding the balance between the demands of building a successful career and honoring the personal priorities of family and relationships. (Saturday, 1/21)
A SHORTCOMINGS Roundtable: Featuring Randall Park and the cast of his directorial debut, hear from Park, Ally Maki, Justin Min, and Sherry Cola about their experience filming the movie and the importance of showcasing specific AAPI narratives with universal resonance. This panel is moderated by Dino-Ray Ramos (CEO, The Diaspora Times). (Sunday, 1/22)
Advancing Asian Women Representation presented by Google TV: Major female-identifying Asian players across media, entertainment, and technology come together to discuss the path to accelerating authentic and diverse portrayals and paths for Asian women in front of and behind the camera. (Saturday, 1/21)
Asian Pacific Filmmakers Experience: The 19th Asian Pacific Filmmakers Experience will host a conversation and networking reception to celebrate AAPI artists in film and media at the Sundance Film Festival. (Sunday, 1/22)
Business of Narrative Change: Hear from leading business executives Andrea Cherng (Chief Brand Officer, Panda Express), Kyle Bowser (SVP of Hollywood Bureau, NAACP), Lisa Chang (SVP & Global Chief People Officer, Coca-Cola Company), Tracey Bing (Chief Creative Officer, Rideback Rise), and Vivian Young (Global Head of Asian & Pacific Islander Affairs, JPMorgan Chase) about how they approach narrative change work. Moderated by Juju Chang (Co-Anchor, ABC News' Nightline). (Sunday, 1/22)
Creatives and Contemporary Storytelling presented by The John D. and Catherine T. MacArthur Foundation: Asian creatives working in different storytelling mediums – graphic novel, scripted series, documentary film, and podcast. Panelists include: David Siev (Director and Producer, Bad Axe), Gene Luen Yang (Author & Illustrator, American Born Chinese), and Harsha Nahata (Producer, Self-Evident Podcast). Moderated by Amna Nawaz (Co-Anchor, PBS Newshour). (Sunday, 1/22)
Immigrant Stories are Our Stories: Richard Lui (Director and NBC News/MSNBC Anchor) leads David Siev (Director and Producer, Bad Axe), Rachael Fung (Producer, Fremont), Rupi Kaur (Poet and Narrator, Rise), and Violet Du Feng (Director, Hidden Letters) in a conversation about how their personal immigrant experiences have impacted their storytelling, artistic expression, and creative outlets. (Saturday, 1/21)
Keeping It Real: Authentic Storytelling in a Global + Savvy Marketplace: In today's global marketplace, delivering authentic, specific, and real multicultural stories is what translates to everyone. Join Julie Ann Crommett (Founder and CEO, Collective Moxie), Kamala Avila-Salmon (Head of Inclusive Content, Lionsgate), Ruben Garcia (Foundation Executive & Co-Head, Cultural Business Strategy, CAA), and Vasanthi Chalasani (Chief Information Officer, Head of Consumer Insights, P&G North America) for a discussion that expands on the existing economic case for inclusive content while debunking the myths that dominate the industry. This panel will embolden the audience with statistics and information that they can use in future creative and business conversations. (Friday, 1/20)
Multicultural Filmmakers Panel: Join the conversation with multicultural filmmakers as they come together to chart a path forward for our communities. Speakers include: Anthony Chen (Director, Drift), Destin Daniel Cretton (Director, Shang-Chi and the Legend of the Ten Rings, American Born Chinese), Iman Zawahry (Director, Americanish), JD Dillard (Director, Devotion), Tai LeClaire (Director, Screenwriter, and Producer, Headdress) and more to be announced. This conversation is a collaboration of the Multicultural House Party hosts. (Saturday, 1/21)
Nonfiction at Sundance: Sunrise Collective brings together documentary filmmakers Amanda Kim (Director, Nam June Paik: Moon is the Oldest TV), Chiaki Yanagimoto (Director, AUM: The Cult at the End of the World), Kymon Greyhorse (Director, I am Home), Madeleine Gavin (Director, Beyond Utopia), and Sue Mi Terry (Producer, Beyond Utopia) to discuss their films, what their art stands for, and pushing narrative towards something better for the entire community. The panel is moderated by Don Young (Director of Programs, Center for Asian American Media) (Friday, 1/20)
Politics and Narrative Change: Amna Nawaz (Co-Anchor, PBS NewsHour) leads a non-partisan panel conversation focused on the power of storytelling to inspire and empower the next generation of AAPI voters. Panelists include: Congressman Andy Kim (NJ-3), Annie Wu (Digital / Gen-Z Youth Director, former John Fetterman Campaign), Brad Jenkins (Founder, CEO of Enfranchisement), and Erika Moritsugu (White House Deputy Assistant to the President and AA and NHPI Senior Liaison). (Saturday, 1/21)
Press Mixer: Sunrise Collective will kick off the weekend with a mixer for journalists, writers, and other members of the press to meet and be in community with each other. (Friday, 1/20)
Producer Roundtable: Hear from powerhouse producers responsible for some of the most successful and impactful films featuring talent and communities of color. Learn about how they choose the projects they support, when they decide to push the envelope, and how they approach narratives with an eye toward equity and representation. Panelists include: Desray Armstrong (Producer, Bad Behaviour), Gurinder Chadha (BAFTA-Nominated Writer, Director, Producer, Bend It Like Beckham, Blinded By the Light, Bend It Films), Nina Yang Bongiovi (BAFTA-nominated Producer, Fruitvale Station, Passing, Fancy Dance), Rishi Rajani (CEO, Hillman Grad; Producer, One Thousand and One; The Forty Year-Old Version) and others. Conversation will be moderated by Shruti Ganguly (honto88, Prism, and Co-Organizer of South Asian Lodge)
Sunrise Breakfast Series: Each morning, Sunrise Collective will host a different pan-AAPI community for breakfast and conversation including Iranian, Pacific Islander, and Filipino and Filipino American creatives. (each morning)
"What is an Asian Story in 2023?" | Scripted Films at Sundance: Scripted films at Sundance with API creatives behind and in front of the camera feature vastly different narratives and storytelling techniques. Filmmakers Justin Chon (Director/Co-Writer/Producer, Jamojaya), Liz Sargent (Director/Writer, Take Me Home), Nida Manzoor (Writer/Director, Polite Society), and Sing J. Lee (Director/Co-Screenwriter, Accidental Getaway Driver) come together to answer "what is an Asian story in 2023?" and reflect on how far our storytelling has come. Conversation is led by Samhita Mukhopadhyay (Author and Editor, The Meteor). (Friday, 1/20)