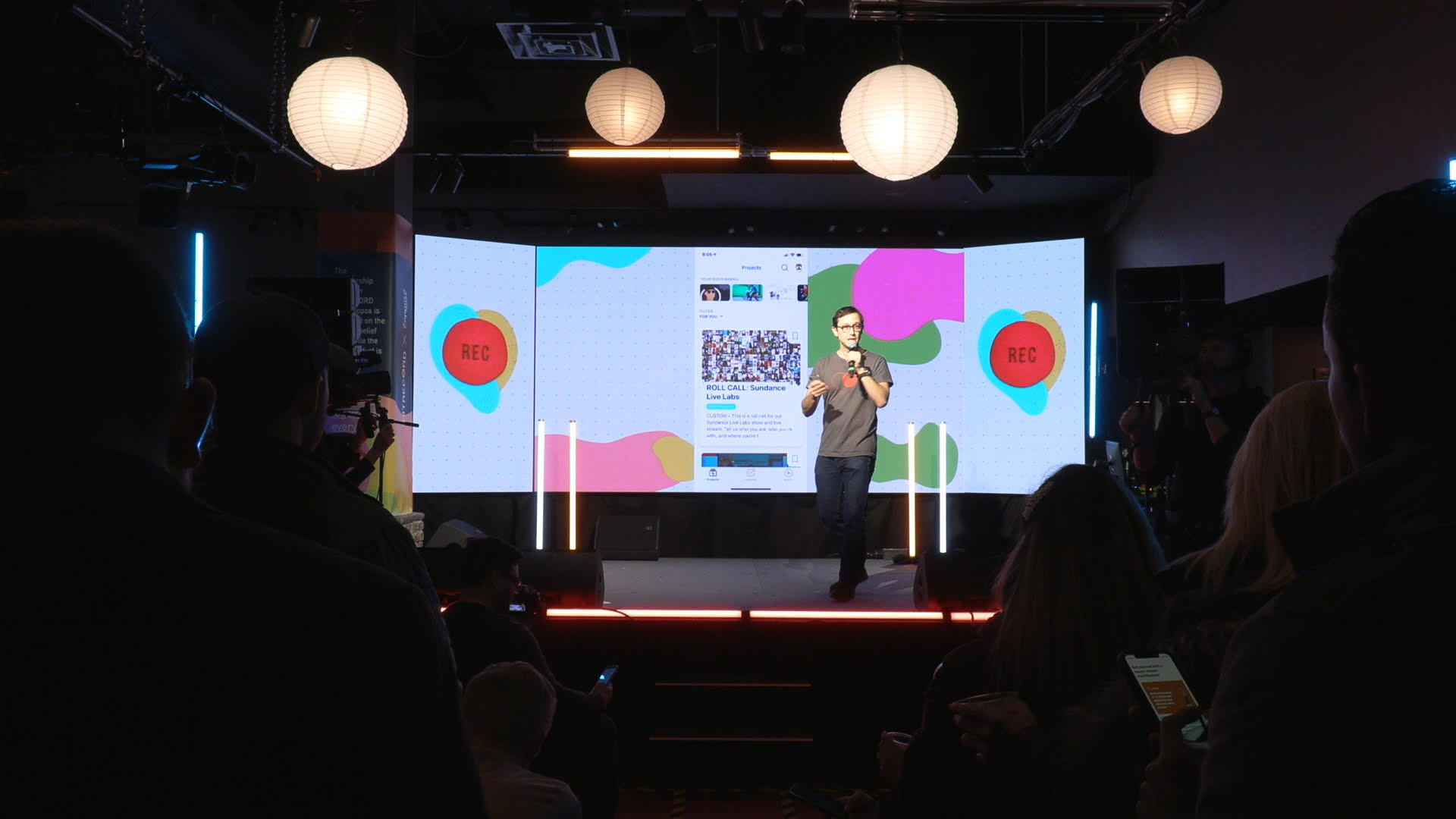 (photo courtesy of HitRecord)
Inside of Tekila Mexican Grill & Cantina on Park City's Main Street, I am sitting at a table with HitRecord co-founder Jared Geller. Against the sounds of margaritas swirling in blenders and excited lunchtime chatter, Geller and I talk about HitRecord celebrating its 10-year anniversary at Sundance—the place where the creative collaboration platform first debuted in 2010.
"The funny thing is that this building used to be a mall, and Sundance New Frontier, which celebrates digital innovation in terms of storytelling, which is the selection where we launched, was in this very building. In the basement of this mall is where we launched HitRecord 10 years ago," Geller said.
The "we" Geller is referring to is him and Joseph Gordon-Levitt, who is known as sort of a Sundance kid himself for the many films he has premiered at the festival. But walking the red carpet seems to take a backseat to the passion project that Gordon-Levitt and Geller turned into reality 10 years ago. The two wanted to create a space where creatives from all niches, genres, mediums, what-have-you, could come together from around the globe and collaborate for the sake of creating art. Geller admits that 10 years ago, they had no idea how they were actually going to do it.
"Joe and I love figuring out how to do things that we don't know how to do—that's our spirit," Geller said. "We actually figured out our creative process here at Sundance, where we launched a website and we said, throughout the course of the festival, we're going to make a program of short films to celebrate and play at the end of the festival. We came to the festival to create with people here in Park City and from around the world. And we had an evening of short films to show at the end of the festival that we made together."
Geller said that the Sundance Film Festival was the perfect place to bring their project to life not only because of the creative, nurturing environment of Sundance Insitute and New Frontier, but also because of the support that they received while at the festival.
At the 2020 Sundance Film Festival, Geller and Gordon-Levitt hosted two events during opening weekend where festival goers—with or without credentials—could attend and participate in and celebrate the global community that HitRecord has built. The events featured live-chats and streaming with people from around the world, as well as screenings of various projects that have been built through the HitRecord community.
So how does it work? The HitRecord website offers in-depth information on ways to become a collaborator, and anyone and everyone with a desire to create can be involved in the community. "The best way to involve people in the creative process is to demystify it by breaking it down into bite-sized pieces," Geller said. "So, if we go out with a creative prompt that says 'add your voice to this chorus' or whatever, those bite-sized creative prompts are connected to more ambitious projects."
In just 10 years, HitRecord has been to Sundance five times, published a book, won an Emmy and generated over $3 million in revenue. The intent was never to make money, though the company does pay their collaborators if a project they have worked on becomes monetized. From the beginning, Gordon-Levitt and Geller wanted to create a space that encourages creativity—and it also makes for a positive way of engaging on the internet.
"One thing that has been consistent with HitRecord is that it has been an incredibly positive community because the premise is different. People don't come onto HitRecord to say 'look at me, look at this photo.' They come and look for creative collaborators. When that's the premise, it's a really positive way to spend your time online," Geller said. "I think the thing that's surprising to me after all of these years, even as we have scaled, that positive energy has scaled with it. You can see the power and the hope and inspiration and positivity of what the internet can do when people are collaborating and creating together versus competing for attention."
Geller encourages anyone with even a spark of interest in creating to get involved. "It's a human universal that people want to be creative and that people are creative, and they don't necessarily know how to express themselves," he said. "If you ever have the inspiration, the spark to want to sing a song or draw a picture and get feedback and have that contribution be a part of another, more ambitious project, then come to HitRecord. Download the app if you're curious."
Watch HitRecord's livestreams from Sundance.