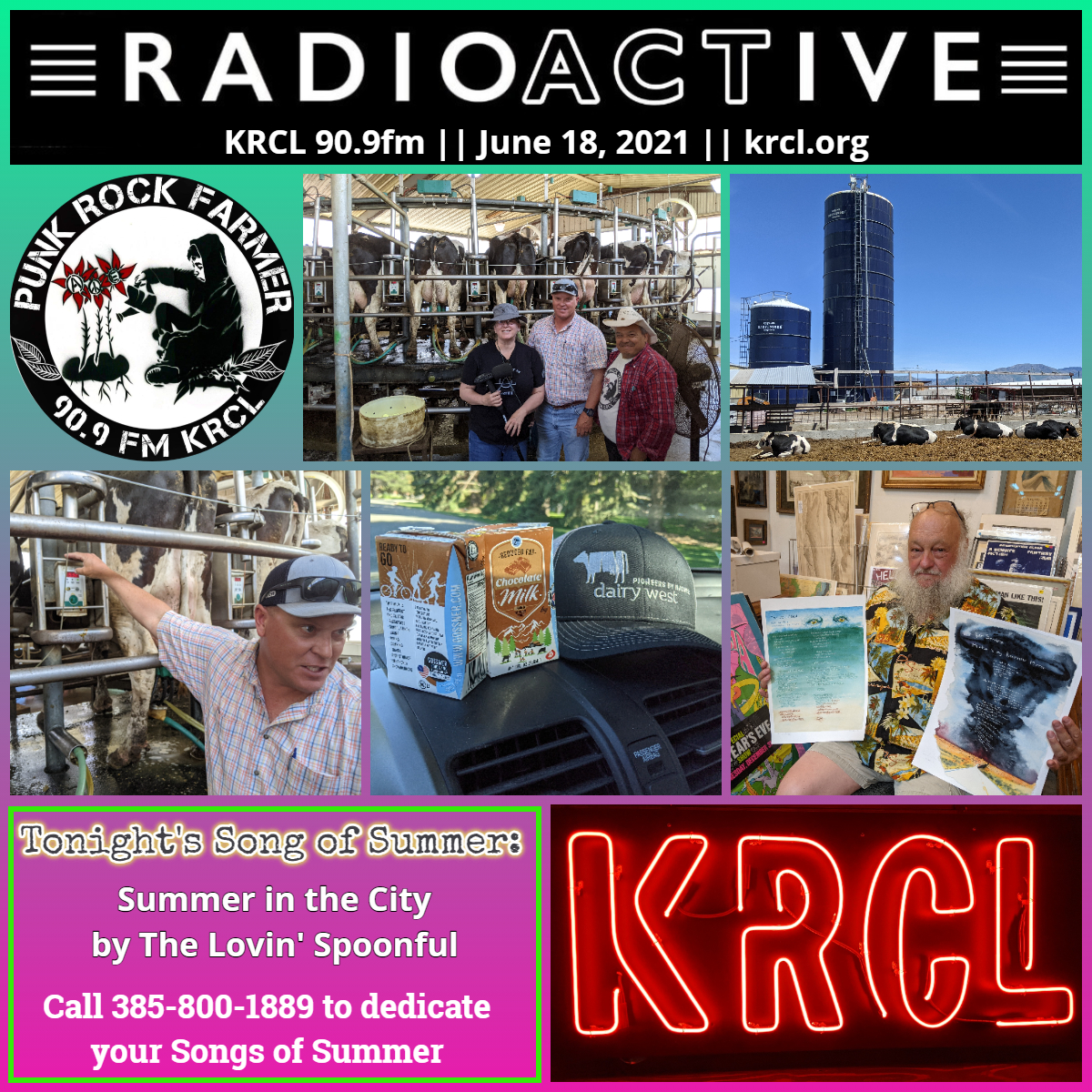 #PunkRockFarmer hits the road to check out Noo Sun Dairy in Corinne, UT. Plus, Pandemic Poetry from Ken Sanders. Click here to listen on-demand to tonight's show or the last two weeks of any other show on KRCL.
Special guests featured on RadioACTive's Summer Break for June 18, 2021:
Ken Sanders and Aldine had the same tune in mind for #SongsofSummer: Summer in the City by The Lovin' Spoonful.
June is National Dairy Month, so Lara and Aldine, KRCL's Punk Rock Farmer, shared clips from their visit to Noo Sun Dairy in Corinne, UT. It's owned by Mitch Hancock and his family. Big thanks to Lacey Papageorge of Dairy West for setting up the visit. Dairy West represents dairy farm families in Idaho and Utah and promotes the dairy industry and dairy products locally, nationally and globally.
June 17-30: Legend Dairy: Calling all foodies in Boise and Salt Lake City! Legend Dairy is a new two-week food truck event celebrating National Dairy Month. Check out featured dishes from local food trucks and taste for yourself how delicious dairy can be. Click here for a Google map of related food truck events.
Looking for a farmers' market? Check out these handy listings from Utah Farmers Market Network:
Go to www.DoubleUpUtah.org to learn more about using your SNAP benefits and Double Up Food Bucks at Utah Farmers Markets, farmstands, and CSAs.
#PoetryStillHappens: Ken Sanders of Ken Sanders Rare Books, 268 S. 200 E., SLC, with an original pandemic poem. You can see and hear him next Friday at The Garage on Beck.
RadioACTive Listener Survey: While we're off, we're not idle. We're thinking of ways to make the show even better and more local. Click here to answer 10 questions and share your thoughts on KRCL's show for grassroots activists and community builders.
Views, thoughts or opinions shared by guests are their own and do not necessarily reflect those of the board, staff or members of Listeners' Community Radio of Utah, 90.9fm KRCL. Tonight's RadioACTive Summer Break was produced and hosted by Lara Jones.
###