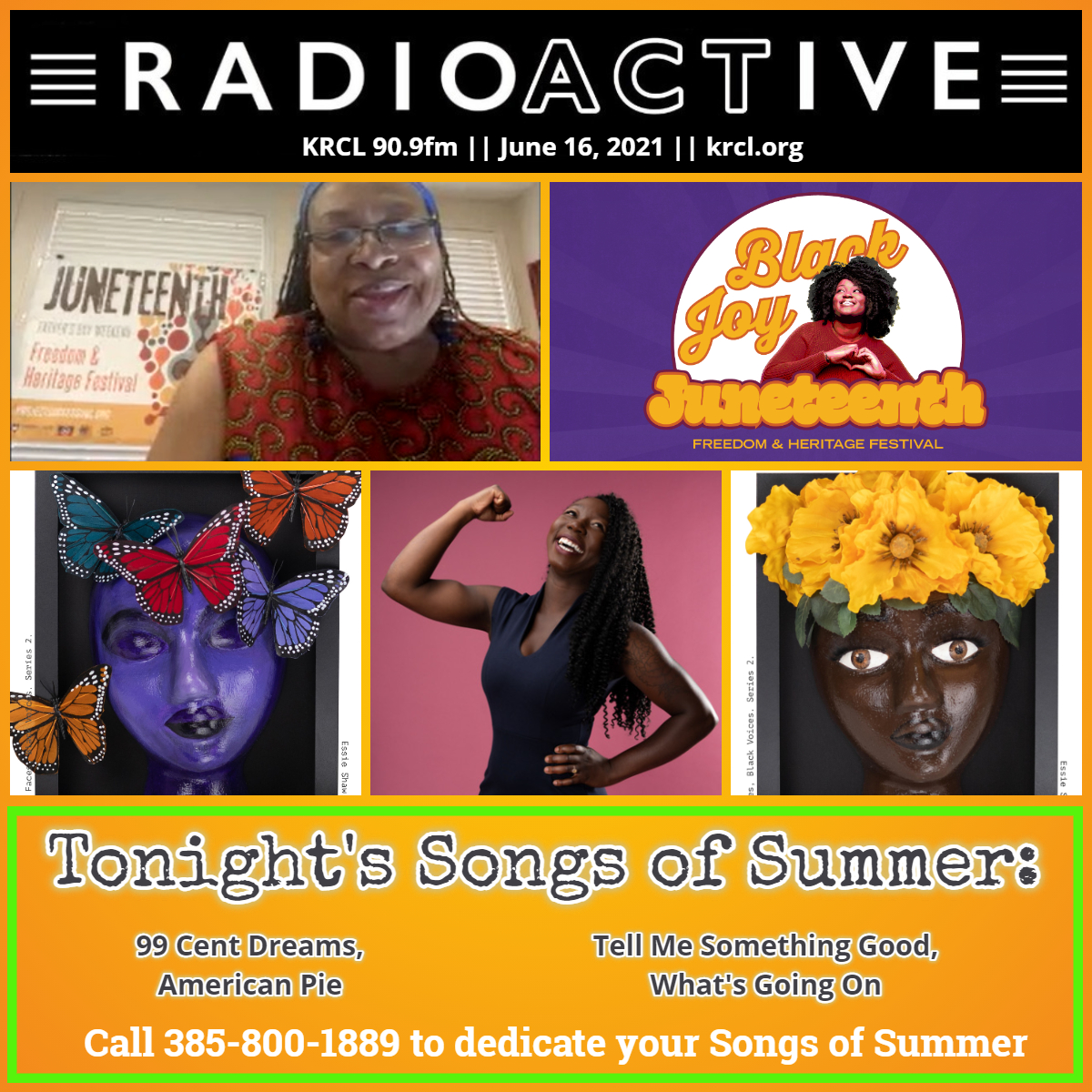 Miss Betty Sawyer on the 32nd annual Utah Juneteenth Freedom Heritage Festival and State Holiday Commemoration this weekend. Artist-activist Essie Shaw's Black Faces Project. Open Air Shelter Coalition call for water. Click here to listen on-demand to tonight's show or the last two weeks of any other show on KRCL.
Special guests featured on RadioACTive's Summer Break for June 16, 2021:
Songs of Summer with Liz from SLC, who asked for 99 Cent Dreams by Eli Paper Boy Reed and Big Daddy Cane, as well as "a side" of American Pie by Don McLean.
Got some Songs of Summer of your own to share during RadioACTive's Summer Break? Call 385-800-1889 to dedicate a song to someone in your life, a nonprofit or cause you support, or just shout out to the community some musical inspiration. Be sure to include your first name and neighborhood, then dedicate away. You may also record a voice memo and email your Songs of Summer dedication to radioactive@krcl.org.
Betty Sawyer, director of the 32nd Annual Utah Juneteenth Commemorative Festival & Holiday Celebration at the Ogden City Amphitheater this weekend. Recently retired from civic engagement work at Weber State University, Sawyer also is the director and co-founder of Project Success Coalition, president of the Ogden NAACP, and more boards and committees both local and national, including the National Juneteenth Observance Foundation.
Essie Shaw, a mixed-media artist, photographer and queer African-American activist living in Salt Lake City, talked about her Black Faces Project now on exhibit at Tea Zaanti in Sugar House. She also has work on display in the SLC Queer-LGBTQIA+ Art Exhibition going on now at the Urban Arts Gallery, 116 S. Rio Grande St., SLC.
Call for water from Kelly O'Neill of the Open Air Shelter Coalition SLC, which provides mutual aid to unsheltered individuals in downtown SLC.
>>>>>>>RadioACTive Listener Survey: While we're off, we're not idle. We're thinking of ways to make the show even better and more local. Click here to answer 10 questions and share your thoughts on KRCL's show for grassroots activists and community builders.
Views, thoughts or opinions shared by guests are their own and do not necessarily reflect those of the board, staff or members of Listeners' Community Radio of Utah, 90.9fm KRCL. Tonight's RadioACTive Summer Break was produced and hosted by Lara Jones.
###
###