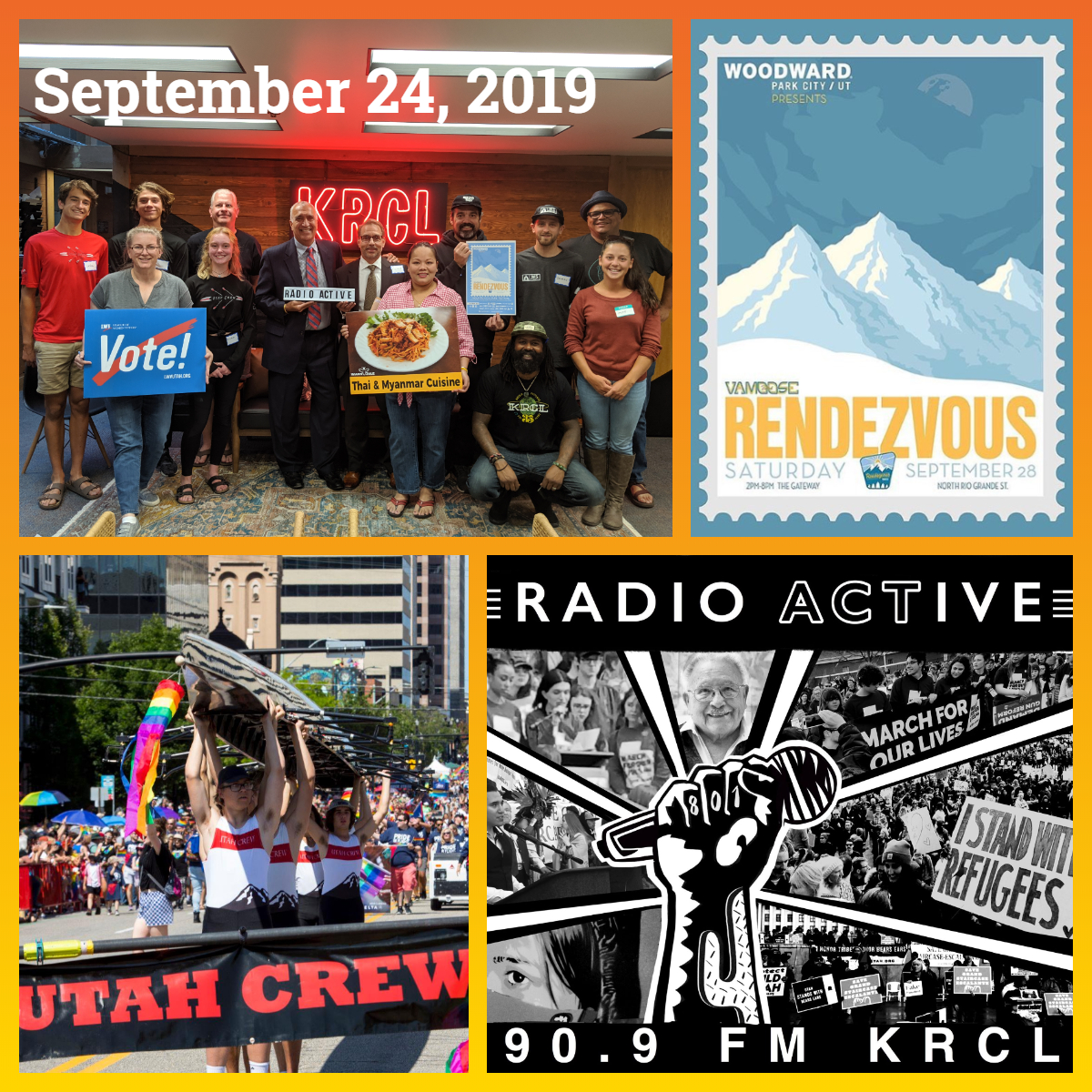 Affirmative justice for 12.5K Salt Lakers, Rendezvous Mountain Culture Festival, HEAL Utah and Old Coots, Spice Kitchen's Chef Haymar, Utah Crew and Head of the Charles Regatta, Clean the Darn Air Volunteers
Tonight's lineup:
Salt Lake County District Attorney Sim Gill and Salt Lake Legal Defender Association's Richard Mauro, who earlier today announced a first-of-its-kind criminal justice reform effort. More than 12,000 people could have their convictions reduced one to two steps, increasing their ability to have their records expunged.
To find out if your conviction has been submitted for reduction, click below:
HEAL Utah is turning 20 and they'll be throwing a big party on October 10. Special guests will include Tony Caputo and other Old Coots Giving Bad Advice. Click here for tickets and information.
Clean the Darn Air update with volunteers Kelly Kerr and Bob Sieri. Click here to get your own darn updates.
Rowing in the desert with Utah Crew, which is headed to the 55th Head of The Charles Regatta next month. Guests: Emma Goldsmith, Sasha Jovanovich-Hacon and Wilson Bielaczyc.
Utah Crew is a co-ed rowing organization for youth, ages 13 to 18. Experienced rowers or someone interested in learning to row are welcome. Click here for information.
Spice Kitchen Incubator spotlight: Chef Haymar. She was part of the very first Spice Kitchen co-hort. Wann Jale, her restaurant at 919 W. 2100 S., SLC, features cuisine from Thailand and Myanmar.
Spice Kitchen is hiring: The Food Business Scale-up VISTA will research and compile regulations and best practices and develop educational materials as well as financial tools to help entrepreneurs make informed business decisions as they move from part-time small-scale businesses (temporary and occasional events and catering) to full-time independent business ownership, including restaurants, food trucks, food trailers, food carts, and packaged product businesses.
Building mountain culture, from staying safe in the backcountry to a splitters community and snow science. Guests: Organizer Kyle Kennedy, Vamoose Utah; Chad Brackelsberg, Utah Avalanche Center; Stuart Turbyfill, Wasatch Splitters; and McKenzie Skiles, University of Utah Geography.
Sept. 28: Rendezvous | Mountain Culture Festival, 2:00-8:00 p.m. at The Gateway, 18 N. Rio Grand St., SLC. FREE and open to the public. Event celebrates winter. Products will be on display and for sale by the top ski and snow brands from the snow sports industry. Local retailers, nonprofits and outfitters will be offering engaging activities to keep participants involved.
Cultural Presentations at the Kiln Theater:

2:00 p.m., Utah Avalanche Center "Know Before You Go"
3:30 p.m., @thebootpackshow x Protect Our Winters Climate Change Panel Discussion
5:00 p.m., North American Premiere of "Isle of Snow" by Absinthe Films
6:30 p.m., "Annapurna" a photo essay by Bob Plumb
7:30 p.m., North American Premiere of "Offline" by Nitro Snowboards & World Premiere of Bode Merrill 's New Film "Contrast"
Got a story you'd like to share on the show or an issue you'd like us to cover? Record a voice memo on your smart phone, then email it to radioactive@krcl.org. Keep it under 3 minutes and be sure to include a name and phone number in the message.
Views, thoughts or opinions shared by guests are their own and do not necessarily reflect those of the board, staff or members of Listeners' Community Radio of Utah, 90.9fm KRCL. Tonight's RadioACTive team included:
Exec. Producer/Host: Lara Jones
Assoc. Producer/Host: Billy Palmer
Volunteer: Risshan Leak
###