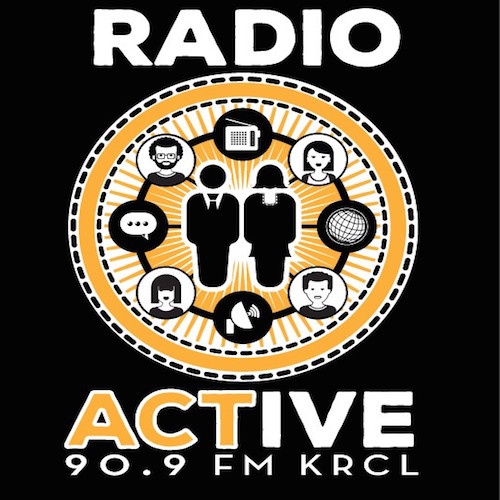 Utah 1 in 3: Stories of Domestic Violence
Tonight's show was hosted by Lara Jones and Billy Palmer:
On the RadioActive Report:
Jana Scott, International Peace Fellow
Paulette Stevens, Life Story Library Foundation
Standing Rock update, with Braidan Weeks of Living the Circle of Life
Volunteering opportunities:
Jordan River Restoration Planting

NOVEMBER 5TH, 2016 AT 9 A.M.MODESTO PARK

OCTOBER 29TH, 2016 AT 9 A.M.COTTONWOOD PARKTrees are vital not only to the health of our watersheds, but also to providing urban recreation experiences. Join TreeUtah and Salt Lake City Open Space to explore the Jordan River Corridor while planting 20 Fremont Cottonwood and Peachleaf Willow trees! It promises to be a fun and challenging day enjoying the fresh air and giving back to our local environment. REGISTRATION IS REQUIRED at www.treeutah.org

Real Food Rising Farm Volunteers

Mondays, Thursday, and Friday 9-11am at RFR Farm 1050 West 500 South

Our Summer Youth Program has come to a close, which means we need lots of extra hands on the farm to help harvest! Come to the farm to harvest lots of fall crops, like beets, cabbage, basil, carrots, squash, and more! Depending on availability, you may even be able to take some home!

If you'd like to help us with this exciting process, sign up HERE, or email Erin at erin.olschewski@utahca.org.

Girl Scouts Outreach Leaders

On Going Need : SCHOOLS AND COMMUNITY CENTERS THROUGHOUT SALT LAKE CITY

Imagine impacting the life of a girl because you helped her discover her inner leader. What if you could do that every week with your very own group of girls to mentor? Girls in our program come from low-income schools, shelters and refugee centers, and they love our program and the volunteers that lead it! The Girl Scouts of Utah Outreach Program provides these troops at sites throughout Salt Lake City and West Valley for girls who might not be able to participate without council sponsorship, and it's only possible with volunteers like you. Most sites only require 1-2 hours of time each week during after-school hours and we ask a minimum commitment of 8 weeks. We encourage you to recruit a friend to be a co-leader with you. This program provides membership, training, curriculum and swag. If you're interested or have questions, please don't hesitate to reach out to us!

Please email to outreach@gsutah.org
Stories of Domestic Violence:
Giuliana Serena, The Bee
Kit Gruelle and Selina Gorst, Utah Domestic Violence Coalition
Det. Justin Boardman, West Valley City Police Dept. Special Victims Unit
Music featured on the show:
Eric Burdon -- Gotta Serve Somebody
Bazan -- Bearing Witness
Domestic violence hotlines:
Utah: 1-800-897-5465
National: 1-800-799-7233
If you have an idea -- guest, topic, something new -- for RadioActive, send an email to radioactive@krcl.org or post it to our new Facebook page.