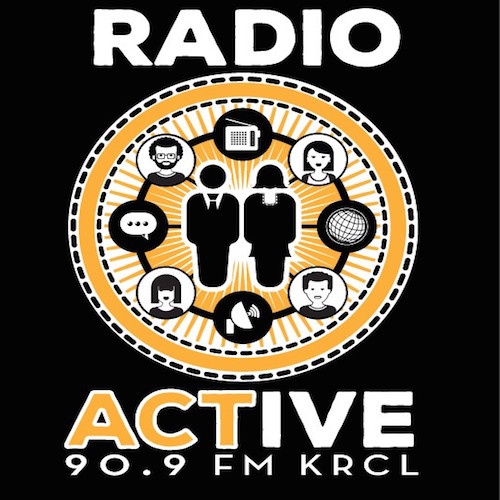 School-to-prison Pipeline and School Pushout
Tonight's show was hosted by Lara Jones and Anna Brower:
On the RadioActive Report:
Rep. Sandra Hollins, D-Salt Lake City, on school-to-prison pipeline
Volunteering opportunitites, with KRCL volunteer coordinator Eric Nelson:
Stuff-a-Tummy: Utah Community Action -- delivering Thanksgiving feasts to families in need. You can:

Adopt a family

Give cash donations, which can be sent to Utah Community Action prior to Nov. 18

Food donations: Non-perishable items and turkey certificates can be dropped off at Utah Community Action on Nov. 21

Fear Con: Oct. 10. Zombies Needed - We need 12-16 people who can cosplay as Zombies for a couple of different things at Fear Con. You will be treated like one of our volunteers and will get 1 ticket to Fear Con for each day worked. You will also get a shirt and our super swanky volunteer mug! We will need you for a few hours each day and it will be fun! If you are interested go to this link and select Zombies from the drop down menu.

Lower Cottonwood Canyon Climbing Access Trail Work: Oct. 22, 8 a.m. at Little Cottonwood Canyon. The Salt Lake Climbers Alliance is working with the Access Fund and the Forest Service on the implementation of a new hiking and climbing trail system in lower Little Cottonwood Canyon. This is the largest climbing access trail project on Forest Service property in the nation and we need YOUR help. For the next 3.5 months the Access Fund Conservation Team will be working on climbing infrastructure needs throughout lower LCC but they will not be able to do all the work on their own. They need YOUR help to build staging areas, stabilize approach trails to signature climbs like Mexican Crack as well as maintain the trails to the world class boulders in the area. Trail work days will be happening every weekend from now through November. You can register for a trail day and learn more about the project at http://www.saltlakeclimbers.org/adopt-a-crag/

Adopt a Crag: Oct. 29, 9 a.m. at Little Cottonwood Canyon. On October 8, 15, 29; November 5 and 12 from 9-2 you can adopt a Crag. This is about giving back to the climbing areas we use on a regular basis with trail and staging area stewardship work. It is important that we make an effort to maintain and care for climbing areas in order to keep them open. Give back to your crag and volunteer with us today. Meet at the Lower Little Cottonwood Park & Ride at 9 a.m. Check out more about the Little Cottonwood Hiking & Climbing Trail Project at SaltLakeClimbers.org
Week of Action Against School Pushout:
Music featured on the show:
Alabama Shakes -- Hold On
Valerie June -- Pushin' Against a Stone
Mos Def -- There is a Way
If you have an idea -- guest, topic, something new -- for RadioActive, send an email to radioactive@krcl.org or post it to our new Facebook page.