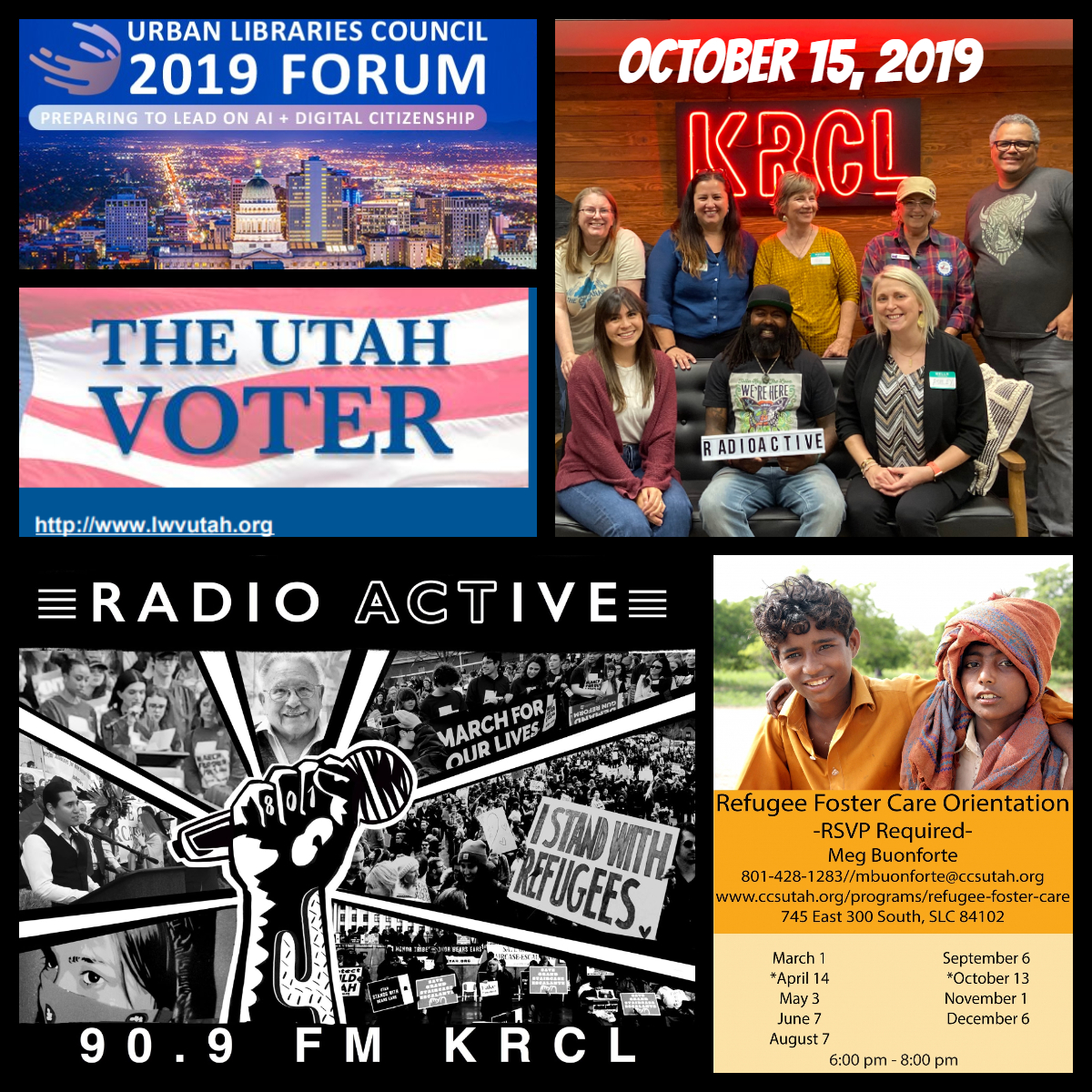 Taxation and representation during interim sessions this week at the Utah Capitol, call for foster care parents for refugee youth, AI and the role of libraries in fostering and empowering digital-savvy citizens
Tonight's lineup:
Representatives from local environmental organizations, along with concerned community members, will hold a press conference tomorrow in front of new warehouse construction taking place on undeveloped land, within the Utah Inland Port Jurisdictional Area, and adjacent to migratory bird habitat of global importance. Deeda Seed, senior Utah field campaigner for the Center for Biological Diversity, explained.
Oct. 16: Stop the Polluting Port, Center for Biological Diversity and others host press conference, 10:30 a.m. at 700 N. and approximately 6200 W. in SLC. This a dirt road, so dress appropriately if attending. Speakers will demand a halt to construction on undeveloped land within Inland Port boundaries until a comprehensive analysis is conducted on impacts to air quality, water quality and wildlife habitat.
Vickie Samuelson, co-president of League of Women Voters of Utah, with a rundown of action expected during this week's interim session of the Utah Legislature. Tune in Thursday night for a recap.
Oct. 21: Utah Population & Environment Council Presentation, 7:00-8:30 p.m. at Salt Lake City Public Library, 210 E. 400 S., SLC. Meet in Conference Room B for this roundtable discussion on "Utah's Fertility Decline: Richer Lives for All." Steve Bannister, PhD, will review the paper's main points including that slowing population growth will not hurt per capita gains in living standards.
Oct. 24: Does Utah Need Tax Reform, 6:00-8:00 p.m. at Girl Scout Office, 445 E. 4500 S., SLC. This panel discussion features Emily Walsh, LWVUT Legislative Chair; Matthew Weinstein, Voices for Utah Children; and guest panelists. Bring your questions and comments.
Peter Bromberg of SLCPL and Jim Cooper of The County Library will be showcasing their respective systems as hosts of the Urban Libraries Council's annual forum Oct. 16-18. This year's theme is the impact of artificial intelligence and the role of libraries as they continue to foster and empower digital-savvy citizens with services and tools that will strengthen democracy. Click here for a schedule of events and keynote speakers.
Catholic Community Services of Utah began operating Refugee Foster Care in 1975 to meet the need of growing unaccompanied refugee minors during the Vietnam War. CCS Foster Family Recruiter Meg Buonforte talked about the needs of the program, which will grow next year as it begins receiving unaccompanied minors currently held in CBP detention camps in 2020. Foster mom Ashley Janssen shared her experience in the program. Tip of the hat to Farmer Hilarie Petersen for bring this story to our attention.
How to become a foster parent with CCS Utah:
Clear federal and state background checks for everyone in the home over 18
Completed application for 27 hours of pre-service training
CPR/First Aid certification
Either single or able to show proof of marriage
TB tests for all household members
Approved home study (completed by CCS)
For more information:
###