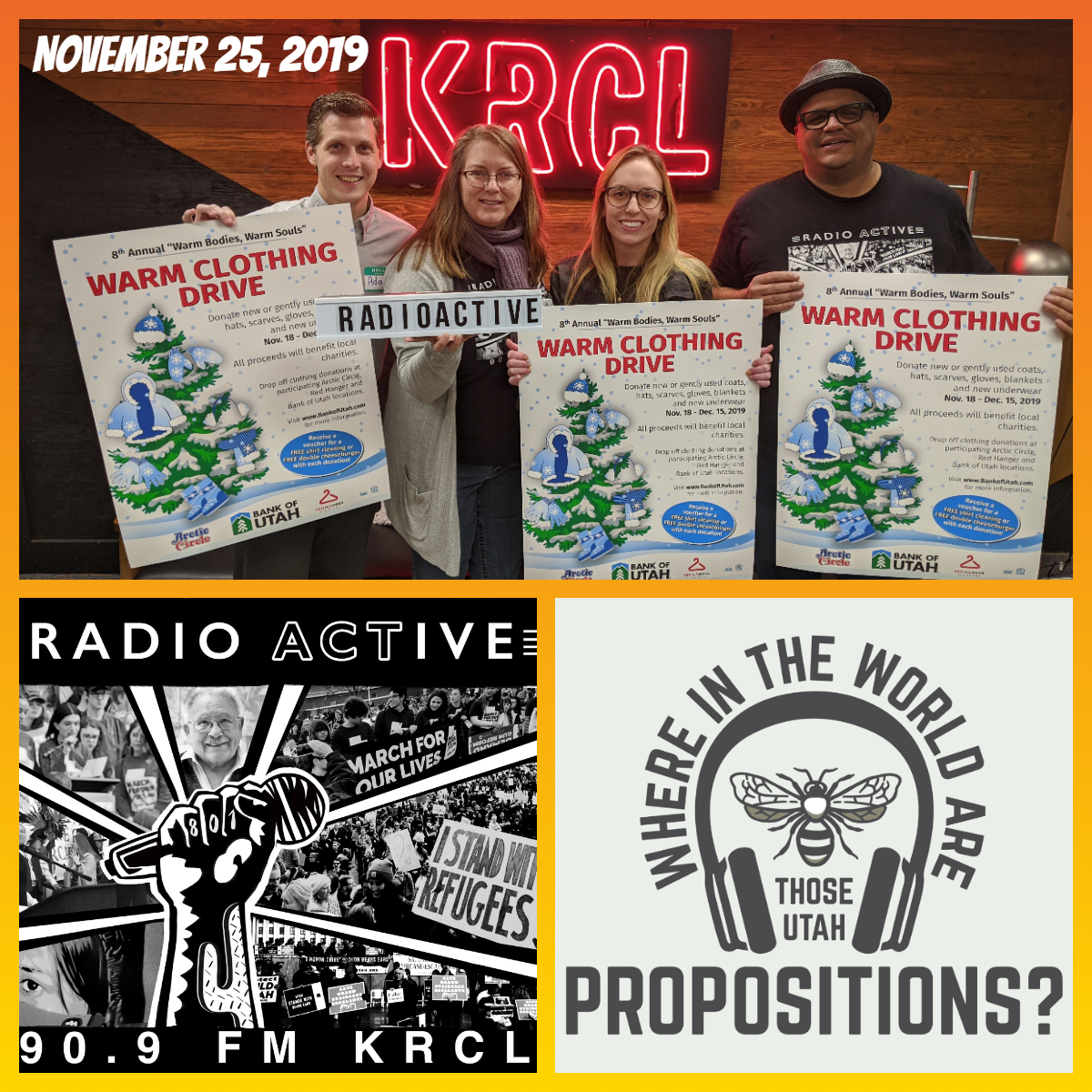 Call for support from 8th annual Warm Bodies Warm Souls Coat Drive. Plus, 'The Impossible Midterms,' episode 2 of Where in the World are Those Utah Propositions from Alliance for a Better Utah and Independent Media Journalist Josh Romney.
Tonight's lineup:
KRCL threw its support behind the 8th annual Warm Bodies, Warm Souls Clothing Drive, which runs through Dec. 15. RadioACTive got the 411 from Bank of Utah's Adam Harmon, The Road Home's Rachel Anderson and Lauren Navidomskis of Lantern House formerly St. Anne's Center in Ogden.
The public is invited to collect new or gently-used coats, hats, scarves, gloves, socks and blankets and drop them off at 70 locations throughout Utah including Bank of Utah's 20 full-service bank branches and mortgage offices; Arctic Circle's 33 restaurants from Tremonton to Spanish Fork and Red Hanger's 22 locations along the Wasatch Front.

As a token of appreciation for your help, anyone who makes a donation can also receive a coupon card from any drop-off location for either a FREE Double Cheese Burger from Arctic Circle, or FREE Shirt Cleaning from Red Hanger.
Local donations stay local.Collected donations will be delivered to the Utah charities listed below:

Cache Community Food Pantry - Logan
Tremonton Community Pantry - Tremonton
New Hope Crisis Center - Brigham City
Joyce Hansen Hall Food Bank - Ogden
The Lantern House - Ogden
Bountiful Community Pantry - Bountiful
Crossroads Urban Center - Salt Lake City
Geraldine King Women's Resource Center - Salt Lake City
Gail Miller Resource Center for Men and Women - Salt Lake City
The Road Home's Family Shelter and Men's Homeless Resource Center - Midvale
Heber Valley Center Stage - Heber
Episode 2 of Where in the World Are Those Utah Propositions: "The Impossible Midterms," featuring advocates and experts explaining the three propositions from 2018 and the extraordinarily difficult process Utahns went through to pass them.
Alliance for a Better Utah produced the podcast in collaboration J.P. Romney. A born and raised Utahn, author and freelance producer, Romney's books include The Monster on the Road is Me, and Printer's Error: Irreverent Stories from Book History. He cut his teeth back east as an audio journalist at The Philadelphia Citizen, and after moving back to the Beehive State, looks for odd, compelling and passionate stories as the subjects of his documentaries. You can find him on Instagram, Twitter, Facebook, or anywhere else Russian bots are likely to spend their days.
Got a story you'd like to share on the show or an issue you'd like us to cover? Record a voice memo on your smart phone, then email it to radioactive@krcl.org. Keep it under 3 minutes and be sure to include a name and phone number in the message.
Views, thoughts or opinions shared by guests are their own and do not necessarily reflect those of the board, staff or members of Listeners' Community Radio of Utah, 90.9fm KRCL. Tonight's RadioACTive team included:
Exec. Producer/Host: Lara Jones
Assoc. Producer/Host: Billy Palmer
Volunteer: Tommy Sutter
###