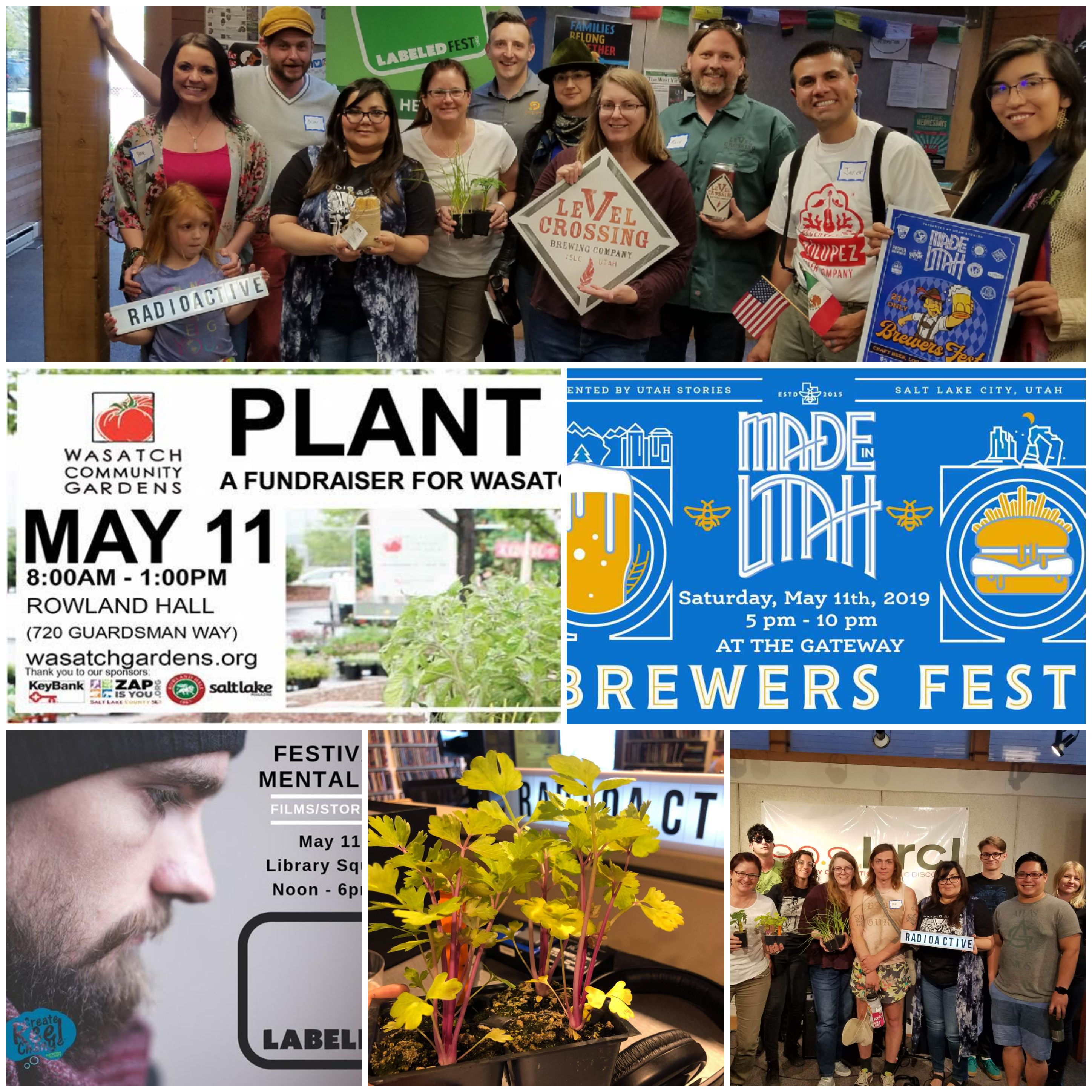 Live music from Brain Bagz, Made in Utah Brewers Fest, Wasatch Community Gardens, Labeled Fest
Tonight's lineup:
Live and homegrown music from BRAIN BAGZ. Want to see them live and in person? Check out the following summer dates & flings:
5/9 w/ Thunderfist at Willie's, SLC
6/7 Redrock Music Fest, Torrey
6/18 w/ Kid Congo & the Pink Monkey Birds and Slim Cessna's Auto Club at Urban Lounge, SLC
7/13 Ghost Carrot Missoula Psych Fest, Missoula, MT
8/11 Craft Lake City, SLC
Brian Higgins on Labeled Fest, a one-of-a-kind event that encompasses creative expression, multi-media, story-telling, live performance and technology to create a vibrant community with proud LABELS. The festival is changing how we experience mental health in Utah.
May 11: Labeled Fest, 12:00-6:00 p.m. at the Salt Lake City Public Library, 210 E. 400 S., SLC. This is a FREE interactive community event that aims to increase awareness and decrease stigma through education and advocacy. Produced and created by members of Alliance House and Create Reel Change. There will be three blocks based on themes of Youth Suicide Awareness, Homeless Action Plans and Mental Health Success Stories.
Utah Stories is back to talk about its inaugural Made in Utah Brewers Fest, featuring 10 local craft brewers showcasing their newest brews, as well as popular local foods, cocktails from Utah distilleries, and live music by local bands Saturday, May 11, at The Gateway, upper level next to the Grand Hall. Click here for $5 advance tickets; $10 at the door. This is a 21+ event.
Al's #UrbanFarmReport with Marybeth Janerich of Wasatch Community Gardens, which will hold its annual plant sale from Saturday, May 11, 8a-1p at Rowland Hall, 720 S. Guardsman Way, SLC.
Got a story you'd like to share on the show? Record a voice memo on your smart phone, then email it to radioactive@krcl.org. Keep it under 3 minutes and be sure to include a name and phone number in the message.
RadioACTive is a production of Listeners' Community Radio of Utah. Tonight's team included:
Exec. Producer/Host: Lara Jones
Community Co-Host: Ma Black
Audio Engineers: Sullivan Phetchanpheng, Trevyn Porter
Volunteer/Assoc. Producer: Sarah Thacker
###