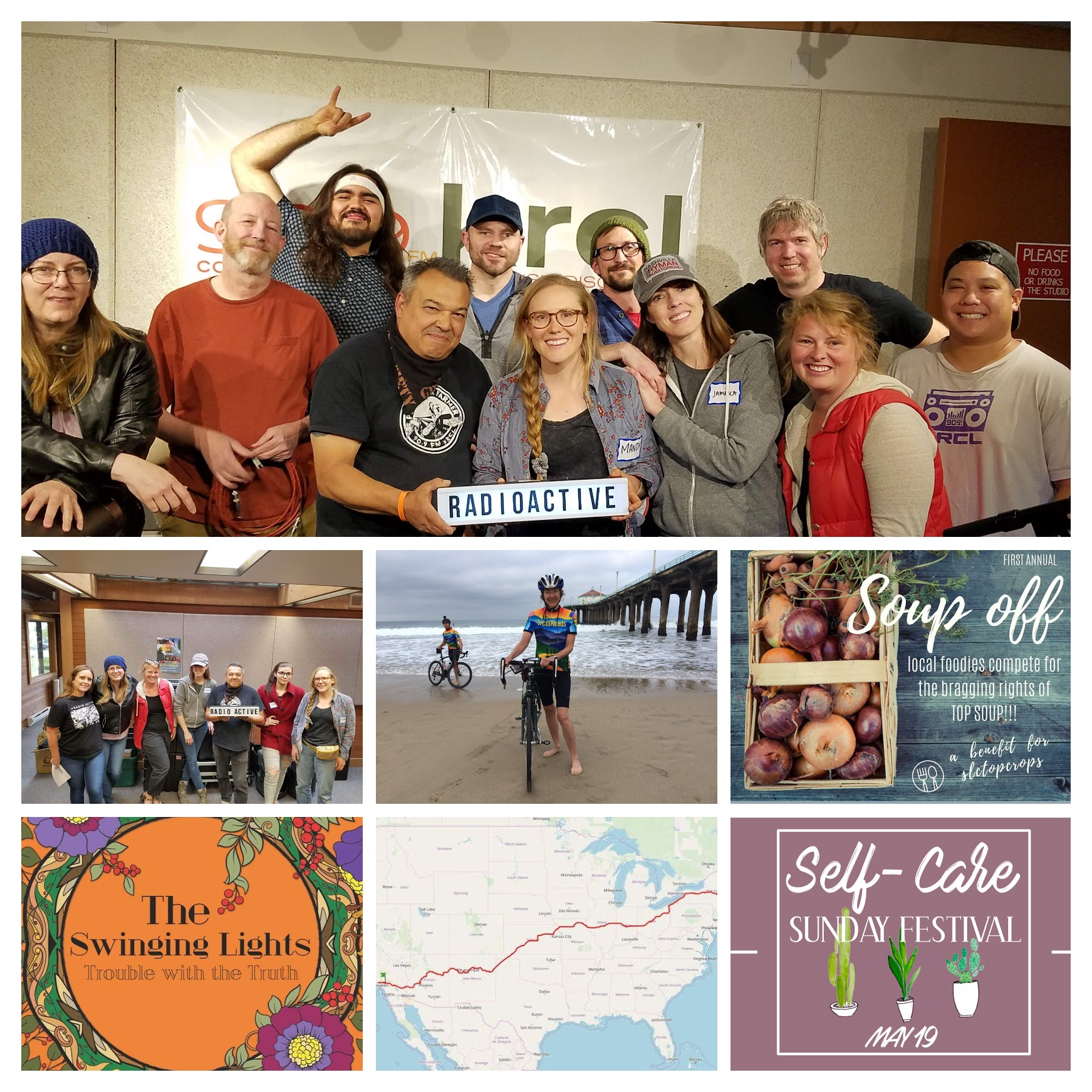 Live music from The Swinging Lights, #UrbanFarmReport with a hemp farmer, Soup-Off for Top Crops SLC, Nan Rides for Fulbright, ADAPT Fun-Run, Self-Care Day
Tonight's lineup:
Nan Rides for Fulbright. RadioACTive checked in with Nan McEntire, 72, who is on a coast-to-coast bicycle trek to raise money for the Utah Chapter of the Fulbright Association.
Nan is riding with CrossRoads Cycling, an organization that gives participants the option of raising money for non-profit causes of their choice. Her cycling team embarked from Los Angeles on May 11, and plans to finish their long journey on June 29, when they ride into Boston. They'll pass through 15 different states, covering an average of 90 miles per day. To support Nan, click here.
Youth of Utah Advocacy Coalition's Kyli Rodriguez-Cayro invited listeners to attend YUAC's Self-Care Sunday Festival at Avenues Yoga, 967 E. 2100 S., SLC. Free and open to the public Sunday, May 19, from 10a-3p, this family-friendly festival is being held in honor of Mental Health Awareness Month.
There will be a number of booths where attendees can make do-it-yourself self-care items, such as body scrubs, loose leaf teas, art, etc. They will also be offering free yoga classes and workshops throughout the day, complimentary food, self-care giveaways, resources from a number of local organizations, and more.
No registration necessary, however, classes are first come first serve. Don't miss out! #SelfCareSunday #EndTheStigma #MentalHealthAwarenessMonth.
Salt Lake Fun*Run Let Freedom Ring * End the Institutional Bias with Psarah Johnson of the Disabled Rights Action Committee Utah. The fundraiser is this Sunday, May 19, from 1:00-4:00 p.m. at Fairmont Aquatic Center, 1044 E., Sugarmont Dr., SLC. Help support DRAC Utah's work in passing the Disability Integration Act. Meet at the Fairmont Park Pond (just south of Fairmont Aquatic Center) to walk, wheel, crutch, piggyback, dance, or any other means of forward motion around the 1/4-mile track.
Want to support a local urban farm? Then check out the First Annual Soup Off , a Benefit for SLC Top Crops from 7:00-9:00 p.m. Friday, May 24, at HelloBulk Markets. RadioACTive got a sneak peek from HBM owner Jamaica Trinnaman and Top Crops' Manda Theobald.
Eat soup, cast a vote, support a local garden. Click here to register for the Soup-Off. Tickets are $10, with all proceeds going to the farm. BYOB.
Live, homegrown music from The Swinging Lights. See them live:
#UrbanFarmReport with Carly Gillespie, greenhouse manager at Overstock.com. She's in charge of a high-tech, on-site greenhouse which supplies fresh produce for the café in the Utah company's headquarters, aka the Peace Coliseum.
Hemp Farming: Gillespie is one of Utah's new hemp farmers. She's getting ready to put as many as 1,700 plants in the ground on her land in Heber.

Want to try growing hemp? Click here for the Utah Department of Food and Agriculture's cannabis program page.
For information related to the law governing cannabis establishments in Utah, click here.
Got a story you'd like to share on the show? Record a voice memo on your smart phone, then email it to radioactive@krcl.org. Keep it under 3 minutes and be sure to include a name and phone number in the message.
RadioACTive is a production of Listeners' Community Radio of Utah. Tonight's team included:
Exec. Producer/Host: Lara Jones
Assoc. Producer: Billy Palmer
Community Co-Host: Aldine Strychnine, KRCL's Punk Rock Farmer
Volunteer: Sarah Thacker
Audio Engineers: Sullivan Phetchanpheng and Trevyn Porter
###