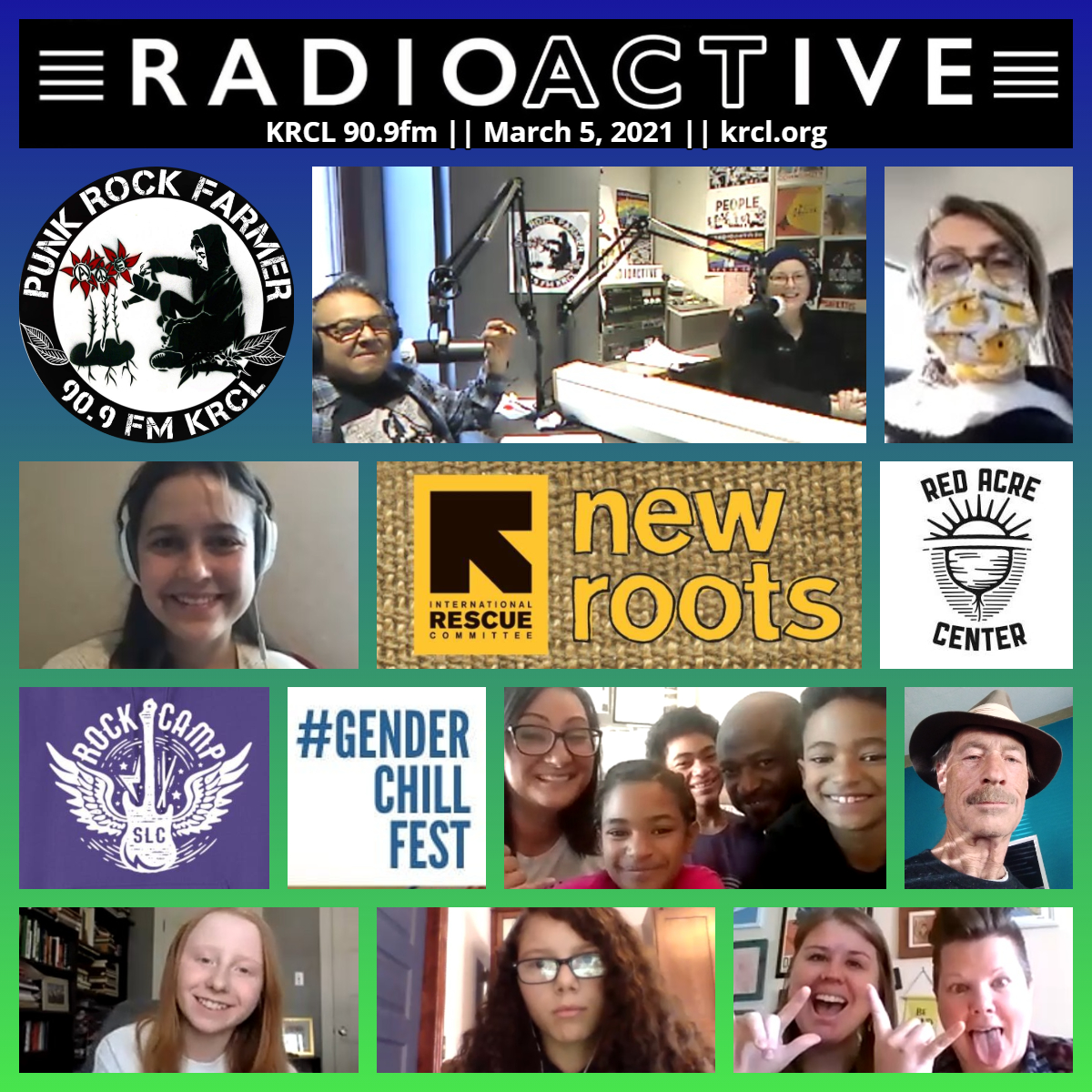 Signs of spring with #PunkRockFarmerFriday, featuring Elise Watt of New Roots, a program of IRC-SLC to help refugees, asylees, immigrants and new Americans in Utah. Big news: New Roots CSA will include an 'egg share' this year! Plus, Skywatcher Leo T, League of Women Voters of Utah and Red Acre Center with one last legislative update, Voterise and fresh, homegrown music from the Slay-at-Home bands of Rock Camp SLC.
Tonight's lineup:
Hillary McDaniel of Rock Camp SLC, showcasing the bands and songs of #GenderChillFest. Featured bands included:
6 Shades of Color, "Don't Judge." This is a family band with 6 members - Marvin on drums, Beelyn on bass, Kaia on keys, Tiana on vocals, and Deion and Tiamana both on electric guitar.
Soul Sister, "Do Something." This is a dynamic duo featuring 11-year old activists Kash and Nora
Le Dolla Bean, "Malls & Morgues." This band features several Rock Camp adult mentors who have been part of the same "QuaranTeam" bubble for the last year - Kat on vocals and ukulele, June on bass, Kendra on drums, and Hillary on keys.
Hope Zitting-Goeckeritz of Voterise, which will host the Utah Women's Voter Registration Day + Conference tomorrow from 8a-2p online. There's still time to get your $20 tickets. Click here.
Symbria Patterson of Red Acre Center, which pushed for passage of H.B. 94 -- Microenterprise Home Kitchen Amendments (Rep. Watkins, C.). Patterson happily reported that the bill passed and is now headed to Governor Spencer Cox for his signature.
A final #3QuickPicks on the People's Business at the Utah Legislature with Emily Walsh of the League of Women Voters of Utah. Thank you to Emily and the League for all their help to keep us informed! We'll have them back during interim throughout the year. What's interim? Listen to today's #3QuickPicks!
Many cultures, one sky with SkyWatcher Leo T. To follow him on Facebook, click here.
Al's #UrbanFarmReport:
Signs of Spring: Jen Gilroy, who lives in Sugar House and reported that her garlic is starting to come up! To report your "signs of spring," call the RadioACTive storyline, 385-800-1889, to share what's popping up in your agrihood. Then tune in Friday nights at 6 to hear all about it on the Punk Rock Farmer Friday edition of RadioACTive.
March 6: "How To Grow" Pumpkin Annual Seminar 2021, 9a-12p online and FREE. Event by Utah Giant Pumpkins Growers: "Put on your best pair of pajamas and join us for the Utah Giant Pumpkins Growers Zoom Meeting. Great information for new and beginning growers as well as ideas and tip for experienced growers looking to grow the big one. We hope we find everyone ready to hit the dirt and have some fun growing giant pumpkins and veggies this coming season." Click here to find the Zoom info.
MEETING SCHEDULE
9:00 - 9:30am: Basic Growing by Clint Nash, Grower
9:30 - 10:00am: Pests and Bugs by Nick Volesky Utah State University
10:00 - 11:00am+: Advanced Growing by M. Sadiq, Grower
Elise Watts of New Roots in Salt Lake City, which works with resettled refugees through the development of small-scale, urban farms and community gardens.

Sign up for the New Roots CSA. For the 2021 growing season, they're offering a weekly farm box delivery service, providing market exposure and supplemental income for refugee farmers.
Volunteer: Work 4 hours at the New Roots farm, receive a CSA share.
The Sunnyvale Farmers Market operates every Saturday, 10:30a-1:30p, from the second week of June to the second week of October at Sunnyvale Park, 4013 S. 700 W., SLC.
The New Roots Farmers Market at Central Park operates each Wednesday evening, 4:00- 6:30 p.m., from July to September at Central Park, 2797 S. 200 E., South Salt Lake.
The New Roots Farmers Market at the IRC office, 221 S. 400 W., SLC, also operates on Wednesdays from 4:00-6:30 p.m. July- September.
All New Roots farmers markets offer a 1-to-1 incentive match to customers eligible to receive EBT/SNAP. When a customer spends $30 at the market they receive an additional $30 for free, in the form of tokens that can be spent at the market, for a total of $60 in purchasing power!
Views, thoughts or opinions shared by guests are their own and do not necessarily reflect those of the board, staff or members of Listeners' Community Radio of Utah, 90.9fm KRCL. Tonight's RadioACTive team included:
Community Co-Host: Aldine, KRCL's Punk Rock Farmer
Executive Producer, Host: Lara Jones
Assoc. Producer: Billy Palmer
###