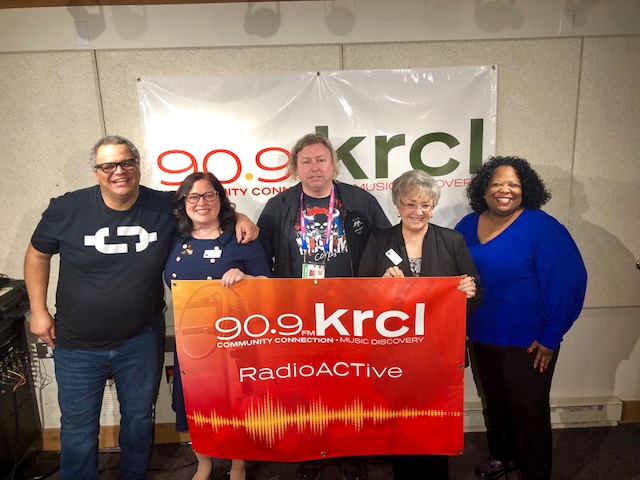 Programmers of Colour Collective, The 4% Challenge, Ending Slavery in Utah???, League of Women Voters, Sneaking Into Movies, and Autumn Thatcher
It's Day 1 of the Utah Legislature. Our partnership with the League of Women Voters of Utah is back in action. They'll be sending someone to the show Monday through Thursday nights to report back on what they've seen and issues of interest.
Utah Representative Sandra Hollins, the first black woman elected to the Utah Legislature. She is a Democrat from Salt Lake City, representing District 23 in the Utah House of Representatives. At the MLK annual memorial luncheon last week, she was recognized with the NAACP's Rosa Parks Award. In her comments, she announced a campaign to eliminate slavery and involuntary servitude as an option to punish criminals in the Beehive State.
We shared a clip from Reverend Monica Hall of the Trinity Presbyterian Church in Ogden reading her call to action in a letter to the editor published by The Deseret News. Titled, Listen To The Voices of The People, Reverend Hall, reflects on Dr Martin Luther King and talks about carrying on King's legacy with the Poor People's Campaign.
Earlier today The Utah Poor Peoples Campaign conducted a demonstration called Utah Poor People's Campaign Demands Delivery, singing songs and delivering the Demands of the campaign to Utah State Legislators.
To learn more about UTPPC you can join a call on January 29th at 7:00 p.m. For information and register for the call click here.
Lucy Mukerjee talked about the launch of Programmers of Colour Collective2. Currently boasting 85 members from around the world, its stated mission is to stimulate conversation that would lead to a greater representation of diversity within film programming and international film festival staffing.
Lara got an interview with actress Tessa Thompson who talked about the #4percent challenge to work with more female directors.
Part of KRCL's Sundance Coverage Team Writer and Editor Autumn Thatcher and Cody D from Sneaking Into Movies talk about The Sundance Film Festival so far.
Autumn Thatcher talks after getting a VR experience called Traveling While Black
Cody reviews a number of films he has seen so far
Got a story you'd like to share on the show? Record a voice memo on your smart phone, then email it to radioactive@krcl.org. Keep it under 3 minutes and be sure to include a name and phone number in the body of the message.
RadioACTive is a production of Listeners' Community Radio of Utah. Tonight's team included:
Exec. Producer: Lara Jones
Assoc. Producer/Host: Billy Palmer
Community Co-Host: Dr. Tamara Stevenson
###