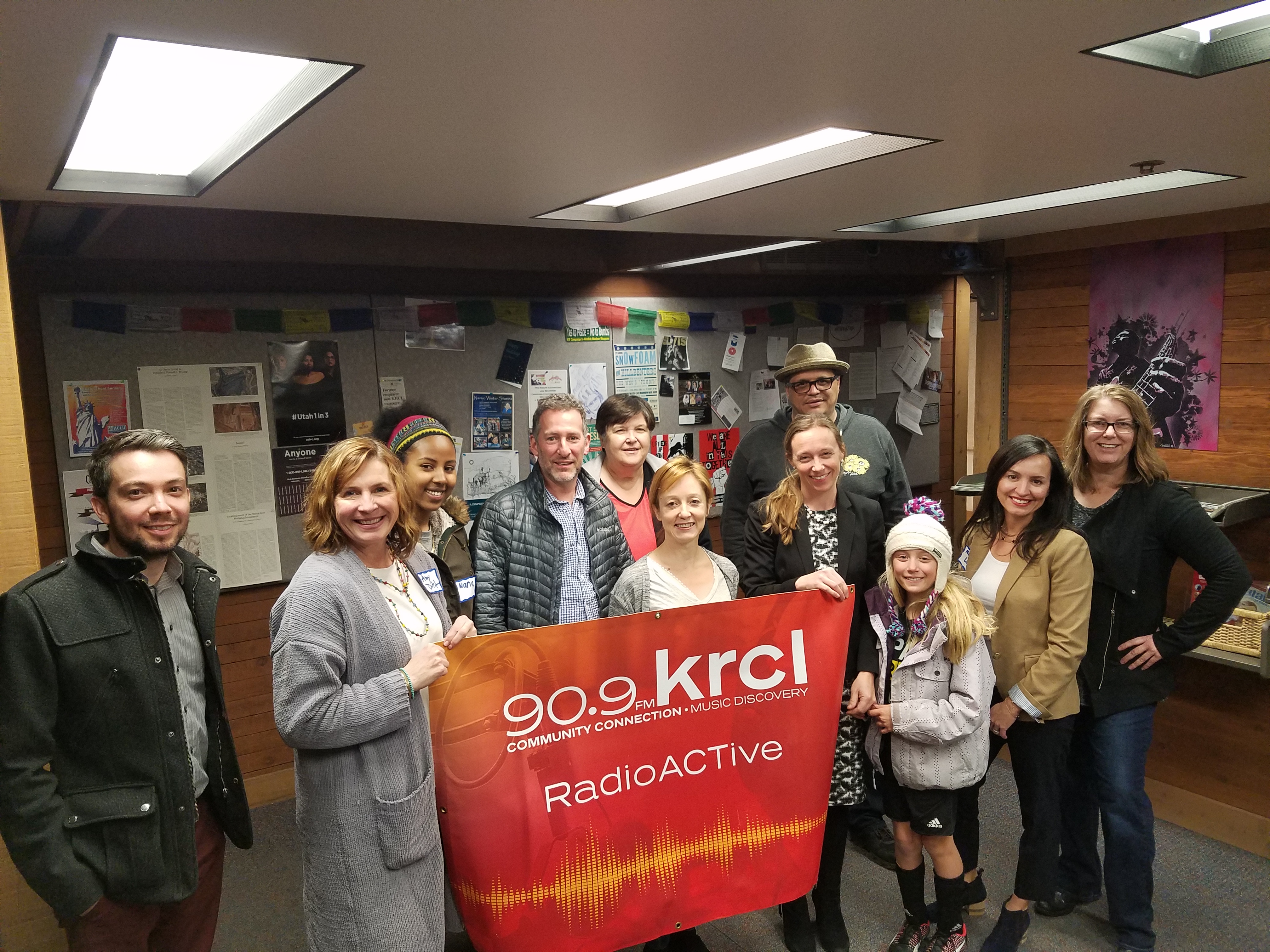 Your Elected Representatives Begin 45 Days of the People's Business -- Do You Know Who Your Lawmaker Is?
Hosted by Lara Jones and Billy Palmer, tonight's show featured:
Davey of Sneaking Into Movies with an update from the 2018 Sundance Film Festival. Follow Davey and Cody D's Sundance coverage on Facebook, Twitter and Instagram, as well as KRCL's Sundance 2018 webpage.

Nick Sokoloff, Amy Dott and Nanati Ahmed Miss Oromia of The New Americans of Salt Lake. It's a social media project that "explores the journey of refugees and the resettled, and how they add to the rich fabric of our communities. Through portraits and first-person accounts, we highlight the struggles, hopes, aspirations and spirit of these new-comers."

Opening day of the 2018 General Session of the 63rd Legislature. The RadioActive panel discussion included grassroots activists and their reports from Utah's Capitol Hill:

Peggy Carico and Catherine Weller of The League of Women Voters of Utah, which joins RadioActive at 6 p.m. Monday-Thursday during the legislature's 45-day session. A nonpartisan political organization, the League promotes political responsibility through informed and active participation of citizens in government.

Marina Lowe of the ACLU of Utah. Chartered in 1958 as an affiliate of the national ACLU, the Utah chapter operates through public education, legal advocacy, litigation, and lobbying at both the state and local levels to ensure the constitutional rights and freedoms of everyone living in or visiting Utah.

Andrea Himoff of Action Utah, a non-partisan community engagement network dedicated to elevating the voices of ordinary Utahns in the policymaking that impacts our lives through education, tools and resources and meaningful calls to action.

Each Tuesday during the session, AU meets at 12:30 p.m. in the Seagull Room of the Senate (East) Building, Capitol Hill. Gather with other Action Utah members and leaders to learn about the State Legislature, the Legislative Session and advocacy at the Capitol. No experience necessary.
Resources:
Download Bill Watch, an app to track bills during the session. Available for both Android and iPhone. "Receive status updates whenever a bill in the Utah Legislature is updated, read, voted on or passed from committee. Search for bills by topic, legislator's name or bill number and receive bill updates by clicking the subscribe button. This app is provided by Utah.gov and the Utah State Legislature."

From the Utah Legislature's Website:
Senate: Roster | Contact Your Senator | Maps | Seating Chart | Leadership

House: Roster | Maps | Seating Chart | Leadership

Search: Alphabetically (Historical) | By Address/Map | By Session (1896-current)

Demographic Profiles for Legislative Districts

2011 Official Redistricting Maps | 2001 Redistricting | 2001 Legislative Districts

2018 General Session of the 63rd Legislature, 22 January - 8 March, 2018

Audio | Video
Appropriations Committees & Standing Committees
House Floor Debates
Senate Floor Debates

Bill Tracking Options
Bill Number
Bill Request, Sponsor, Subject, or Committee
Bills in Committee
Code Section
List of Numbered Bills
List of New Bills
List of Passed Bills
RSS Feeds

Committee Membership
Appropriations
House Standing
Senate Standing

Legislative Rules

Reading Calendar Options
PC or Mac
Mobile Devices

Other Helpful Information
Capitol Complex Parking
Customize a Bill Report
Significant Session Dates
Website Guide