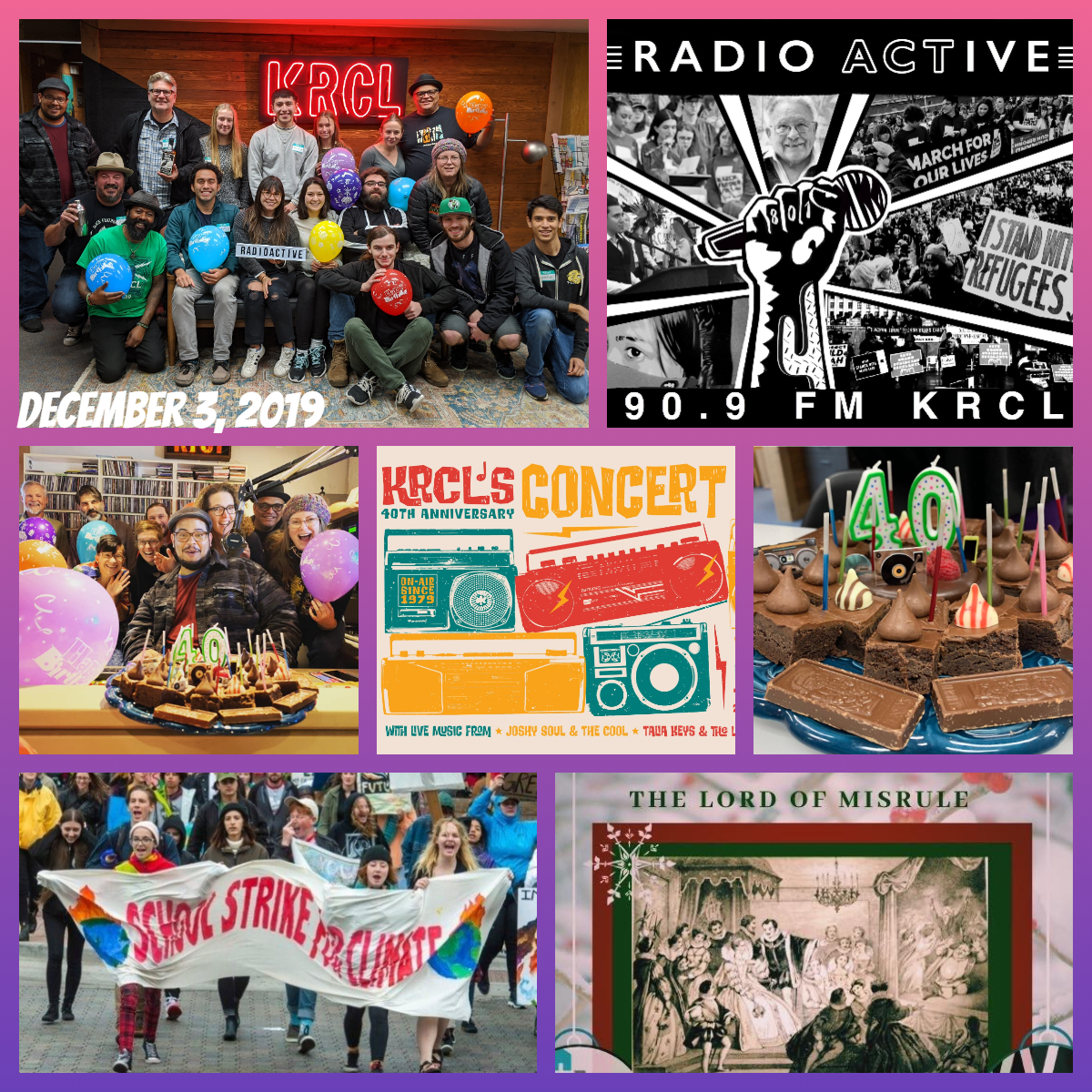 KRCL turns 40 with a toast from Blackfeather Whiskey, KRCL history with Stephen Holbrook and Donna Land Maldonado, RadioACTive spotlight on folks getting into some good trouble, including Utah Coalition to #KeepFamiliesTogether, The Lord of Misrule, and Utah youth leading the Global Climate Strike Friday at the Utah State Capitol
Tonight's lineup:
Black Feather Whiskey founder and CEO Jeremy Rawle and business partner Jay Williams mixed a few "paper planes" to toast KRCL's 40th birthday. If you're joining us tomorrow night for the big birthday bash at The Union Event Center, you'll be able to raise a glass yourself.
RadioACTive launched the Listeners' Community Radio Timeline Project with Westminster College students John Perri, Abdullah Almanie and Shannon Mellin. Click here to test drive the new webpage and give us some feedback.
We dropped some clips from KRCL Founding Father Stephen Holbrook and Donna Land Maldonado, KRCL's longest-serving general manager. She was originally hired to create programming by and for the Native American community.
Francisco Mesa and Kristin Knippenberg gave an update on the work of Utah Coalition to #KeepFamiliesTogether, which is actively opposing plans for a new immigration prison just 90 miles NE of Salt Lake City in Evanston, Wyoming.
A sneak peek at The Lord of Misrule, an original, devised, immersive, irreverent holiday piece conceived and directed by RJ Walker. Along with Walker, RadioACTive got a preview with actor/collaborators Patrick Smith and Comet Higley.
Dec. 6-7 and 13-14: The Lord of Misrule, 7:00 p.m. at Wasatch Theatre Company, 124 S. 400 W., SLC. In exchange for donations to The Road Home, audience members will receive decks of cards that tell them how they may change what the actors are doing on stage. Click here for tickets.

What is the play about? Televangelist Lucas Karol heals the "sick," performs "exorcisms," but most importantly, collects donations from his followers for these miracles on his daytime TV show, Scriptures Unscripted. Then, during Pastor Karol Presents: A Christmas Carol, a rowdy mob (the audience) hijacks the show and the Pastor, his wife, and his special guests are forced to obey the orders of the Lord of Misrule who is leading the mob.
Coinciding with global actions this Friday, Utah youth activists will host a Climate Strike from 2:00-4:00 p.m. on the south steps of the Utah State Capitol. RadioACTive got a preview, featuring:
Got a story you'd like to share on the show or an issue you'd like us to cover? Record a voice memo on your smart phone, then email it to radioactive@krcl.org. Keep it under 3 minutes and be sure to include a name and phone number in the message.
Views, thoughts or opinions shared by guests are their own and do not necessarily reflect those of the board, staff or members of Listeners' Community Radio of Utah, 90.9fm KRCL. Tonight's RadioACTive team included:
Exec. Producer/Host: Lara Jones
Assoc. Producer: Billy Palmer
Community Co-Host: Amy Dominguez
Volunteer: Risshan Leak
###