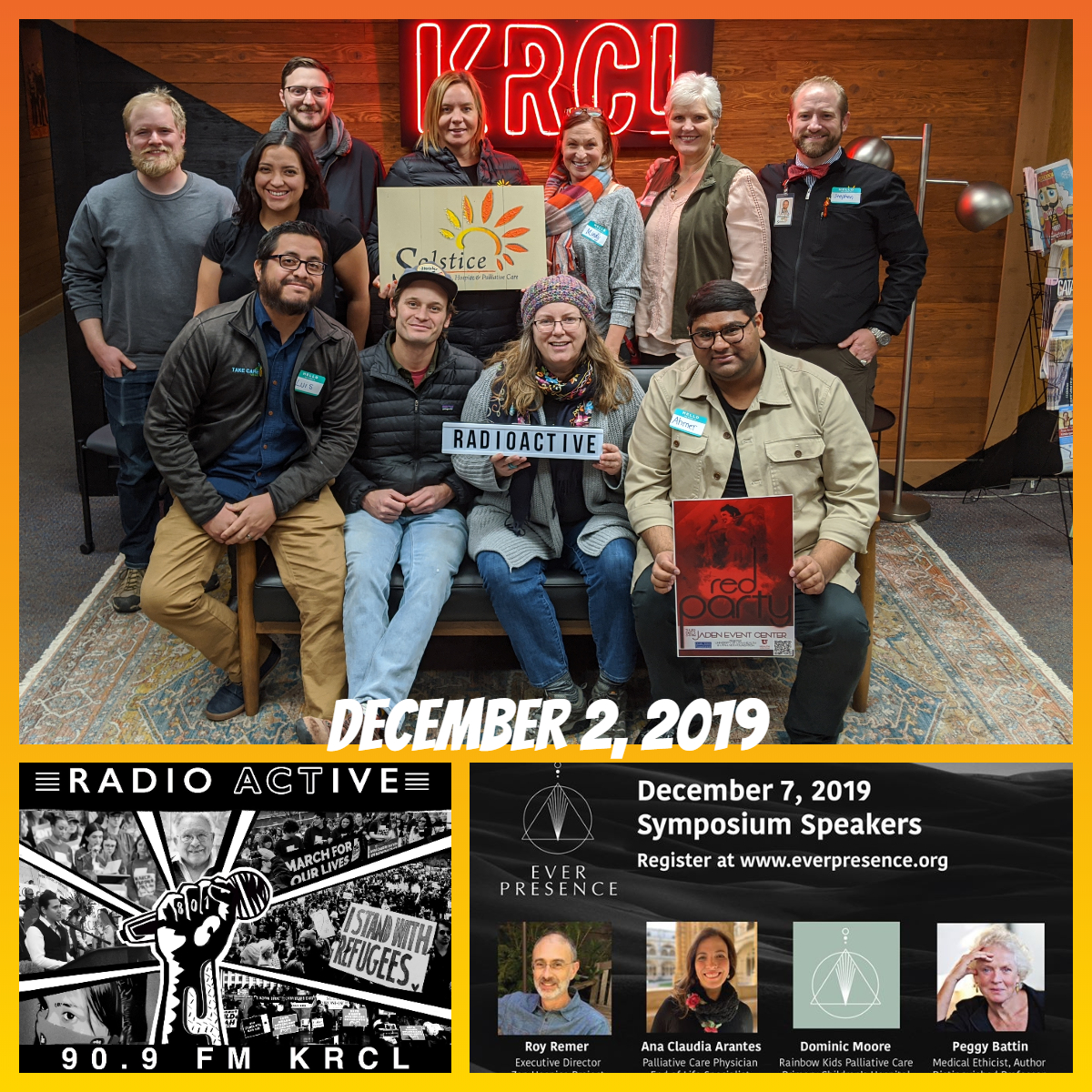 Conversations on Death + Dying and Living Well -- subject of this weekend's Ever Presence Symposium. Ratifying the ERA in UT. World AIDS Day. Last Chance to Save the Utah Theater.
Tonight's lineup:
Michael Valentine with an update on the Save the Utah Theater campaign.
In recognition of World AIDS Day, which has been celebrated December 1 since 1988, RadioACTive spoke with Ahmer Afroz of the Utah AIDS Foundation.
Dec. 5: Red Party 2019, 6:00-9:00 p.m. at Jaden Event Center, 602 E. 500 S., SLC. Co-hosted by KRCL's Barby Garcia (Vagabond Radio), this annual fundraiser supports critical medical and supportive care services to improve the quality of life for clients living with and affected by HIV/AIDS. Click here for tickets.
Need health insurance? Open enrollment in the ACA Marketplace ends Dec. 15. Take Care Utah's Maria Guadarrama and Luis Rios stopped by with advice for folks looking for options.
Visit TakeCareUtah.org or call 2-1-1 or 801-433-2299 for free help. Spanish-language assistance available, too.
Drop in to Take Care Utah's Saturday, Dec. 7 and 14, for in person assistance.
According to Stacy Stanford of Utah Health Policy Project, public comment on Utah's work reporting requirement and other proposed changes to the Medicaid program are due December 7th. Click here for details.
Representative Karen Kwan: UT House District 34 called in to talk about the ERA bill she will unveil tomorrow in the rotunda of the Utah State Capitol building.
Conversations on death, dying and living well with founders and organizers of 2nd annual Ever Presence Symposium, which takes place this weekend in SLC. The RadioACTive preview panel included:
Mindy Relyea, founding director of Ever Presence
Amy Hartman, sponsor of the event and founder of Solstice Hospice
Anne Wolters, Director of Nursing, Solstice
Stephen Scoville, Hospice & Palliative Nurse Practitioner, Solstice
Got a story you'd like to share on the show or an issue you'd like us to cover? Record a voice memo on your smart phone, then email it to radioactive@krcl.org. Keep it under 3 minutes and be sure to include a name and phone number in the message.
Views, thoughts or opinions shared by guests are their own and do not necessarily reflect those of the board, staff or members of Listeners' Community Radio of Utah, 90.9fm KRCL. Tonight's RadioACTive team included:
Exec. Producer/Host: Lara Jones
Assoc. Producer/Com. Co-Host: Tommy Sutter
Volunteer: Bryan Landing
###