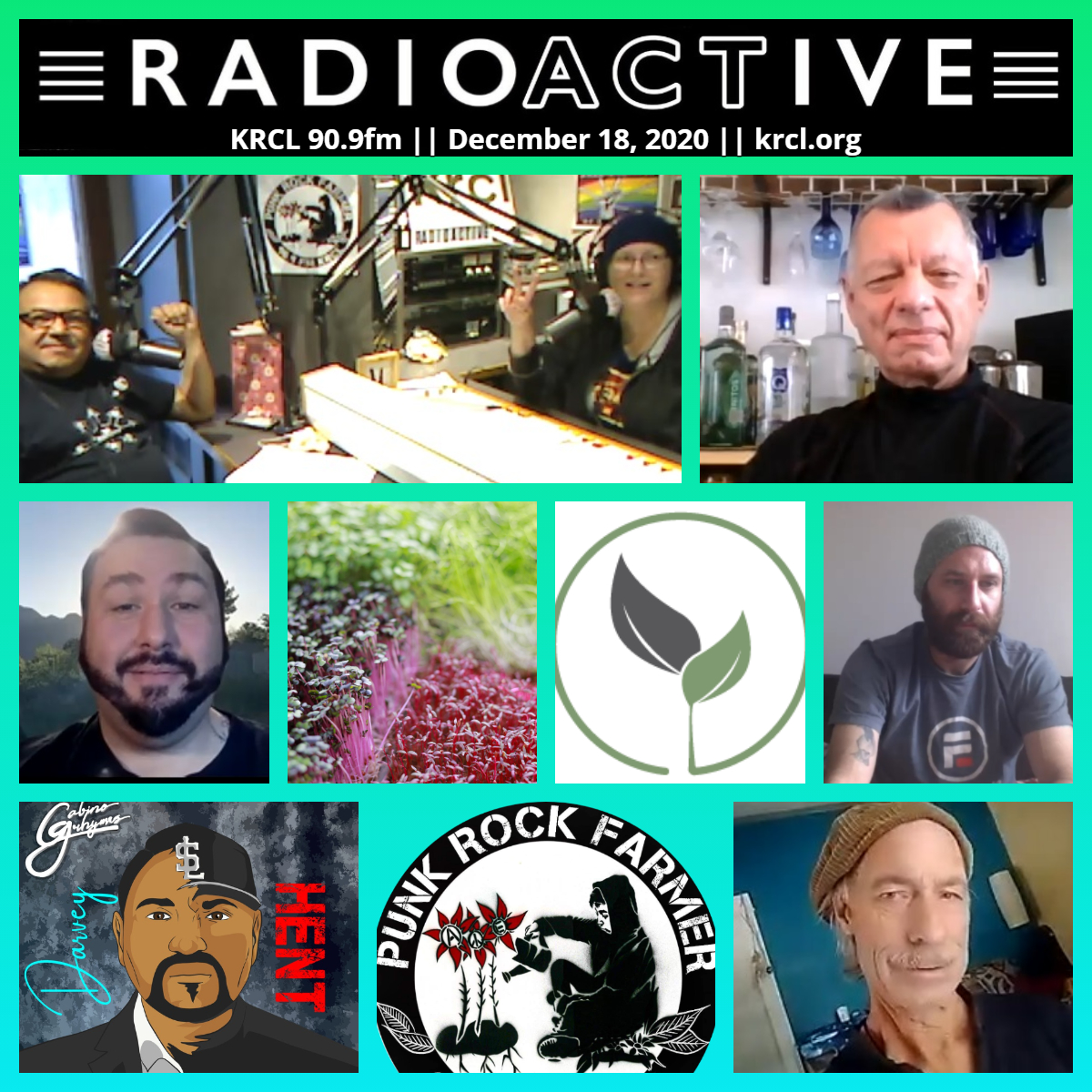 True tales from the agrihood with Aldine, KRCL's Punk Rock Farmer, featuring world traveler and ahi pepper seed-saver Mick Huerta. Steen's Greens, a Utah Valley microgreens farmer. SkyWatcher Leo T, SL Pagan Society on the Winter Solstice. Beer nerd Mike Riedel. Fresh, homegrown music from Gabino Gryhmes.
Editor's Note: The show that aired on KRCL 90.9fm was edited to fit the one-hour broadcast. The archived show shared on this page is an extended version, featuring longer interviews with guests and the full songs shared by tonight's featured artist, Gabino Grhymes. Enjoy!
Tonight's lineup:
Fresh, homegrown music from Gabino Grhymes, a Salt Lake City-based rapper. As Nate Chacon, he co-hosts @fridaynightfallout on @krclradio. Grhymes dropped a new album, Darvey Hent, on all digital streaming platforms today.
SkyWatcher Leo T celebrated the solstice, which happens at 3:02 a.m. Monday, Dec. 21! Plus, Japan gets shipment of asteroid rocks, Gemini 6 and 7 anniversary, Jingle Bells from space, and more.
Blessed Be: Solstice greetings from Daniel Cureton, SL Pagan Society. The group plans a Yuletide Zoom session on Dec. 20. Click here for more details.
Winter Farmers Market Spotlight: Austin Green of Steen's Greens, a Utah Valley microgreens farmer.
Steen's Greens Discounts: Use promo code PUNKROCKFARMER to get 50% off the first month of a micro-greens subscription. Mention RadioACTive with the #PunkRockFarmer to get 25% off your purchase from Steen's Greens at the Downtown SLC Farmers Market at The Gateway, 18 N. Rio Grande St., SLC.
Al's #UrbanFarmReport, featuring world traveler and ahi pepper seeds saver Mick Huerta:
Available soon: "Ayahuasca! The Amazon Path to Yourself: A Journey into Murder, Medicine and Ghosts." Five years & five countries in the writing of this otherworldly exposé. A second volume, "The Magic People of Ayahuasca," coming soon, too.

Mick is co-founder of SpiritoftheAndes.com, which helps better the lives of indigenous mothers and their children. Knitters produce garments of the highest quality for SPIRIT customers around the world. In so doing, the women can provide a better life for themselves and their children.
Views, thoughts or opinions shared by guests are their own and do not necessarily reflect those of the board, staff or members of Listeners' Community Radio of Utah, 90.9fm KRCL. Tonight's RadioACTive team included:
Community Co-Host: Aldine, KRCL's Punk Rock Farmer
Executive Producer, Host: Lara Jones
Assoc. Producer: Billy Palmer
###