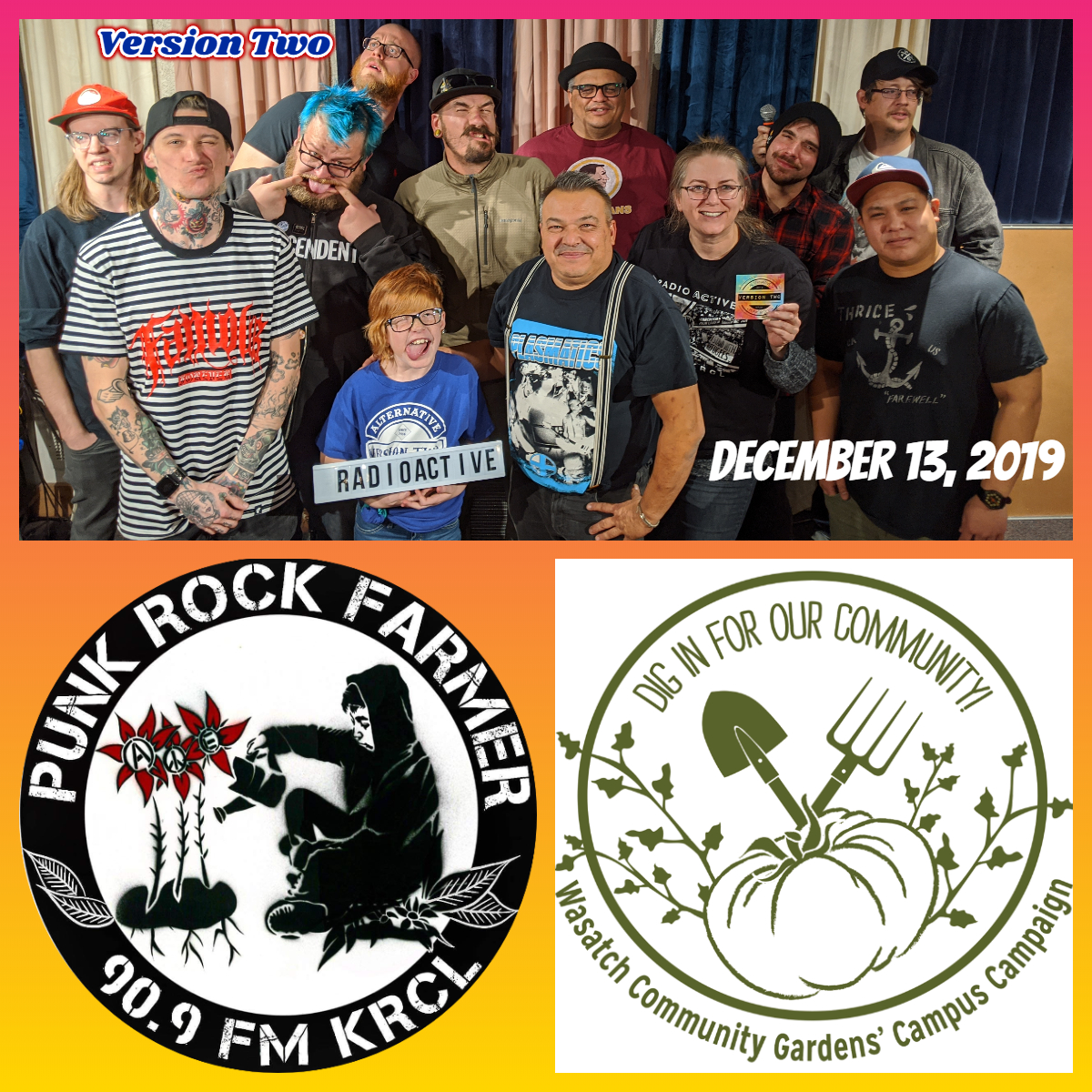 Live music from Version II, #UrbanFarmReport with Boss Gardener James Loomis and Idaho's Snake River Seed Cooperative, Flourish Bakery Holiday Wishlist
Tonight's lineup:
Live music from Version Two, a three-piece alternative punk rock band representing Ogden, Utah. Version Two is Ty Norton, (Guitar/Vocals), Joseph Dean (Drums) and Reagan Perry (Bass/Vocals).
Dec. 18: S&S Presents: Rex Andersen Foundation Homeless Drive, 7:00 p.m. at Urban Lounge, 241 S. 500 E., SLC, featuring Version Two, Jeff Dillon - JDxRevival, My New Mistress, and Shecock & The Rock Princess. A benefit for the homeless neighbors in the greater SLC/Davis county areas. Organizers are collecting the following items as donations, to be given out on Christmas Eve: clothing (coats, jackets, socks, pants, etc.); blankets; food (canned or non-perishable items); and homecare needs (diapers, tampons, etc.). To everyone who brings a donation to the show, you will gain FREE ADMITTANCE to the show. The cover charge will be $5 otherwise, and 100% of money made by the show will go toward the charity drive itself.
League of Women Voters of Utah's Emily Walsh with an update on yesterday's special session of the Utah Legislature. Yep, state lawmakers pass a tax reform bill. Whether taxpayers keep more money in their pockets is a matter of perspective.
Brennon Williams and Jeff Dillon, the organizers of the Dec. 18th fundraiser at Urban Lounge (see above). Williams (bass player for JDxRevival) started his Rex Andersen Foundation Homeless Drive in 2016, named after a close friend who had passed, as a way to better his community.
They will arrange pickup of your donations, and bring you tickets to the show so that you can attend with the FREE ADMITTANCE, if you want to make a donation BEFORE the show. Please contact any member of Jeff Dillon and The Revival through the following places:
Aldine's #UrbanFarmReport: Making Seeds and Stuff, featuring:
James Loomis, a full-time urban farmer, educator and permaculture hooligan. Loomis is Farm Director at Wasatch Community Garden's The Green Team Farm and Garden Like a Boss columnist for Catalyst Magazine.

Located next to its existing Grateful Tomato Garden, 629 E. 800 S., SLC, the future Wasatch Community Gardens' Campus will provide a welcoming and inspiring place where community members can learn, share, and connect with each other through a shared love of gardening and healthy food. Patagonia is matching gifts to Wasatch Community Gardens right now! Click here to Donate through Patagonia Action Works.

Casey O'Leary of Boise, Idaho-based Snake River Seed Cooperative, bioregional garden seed seller made up of 36 family farms located throughout Idaho and the surrounding areas
Got a story you'd like to share on the show or an issue you'd like us to cover? Record a voice memo on your smart phone, then email it to radioactive@krcl.org. Keep it under 3 minutes and be sure to include a name and phone number in the message.
Views, thoughts or opinions shared by guests are their own and do not necessarily reflect those of the board, staff or members of Listeners' Community Radio of Utah, 90.9fm KRCL. Tonight's RadioACTive team included:
Exec. Producer/Host: Lara Jones
Assoc. Producer: Billy Palmer
Community Co-Host: Aldine Strychnine, KRCL's Punk Rock Farmer
Audio Engineers: Sullivan Phetchanpheng, Willis Kramer
###