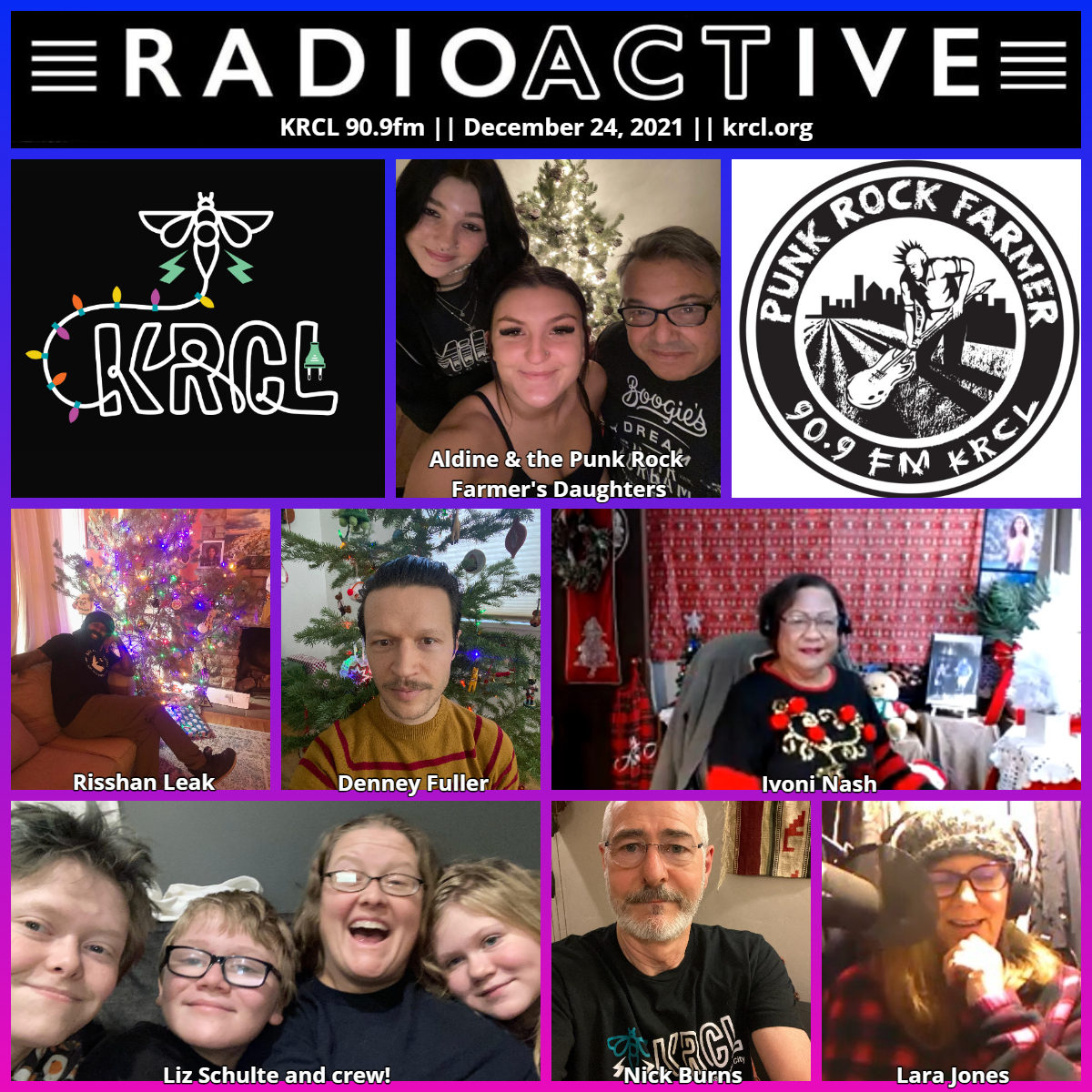 RadioACTive Christmas Eve Music Special, with Lara Jones, Aldine Strychnine, Liz Schulte, Ivoni Nash, Tristin Tabish, Ma Black, Denney Fuller, Risshan Leak, Nate Chacon, and Nick Burns. Plus, SLC Mayor, Volunteers of America-Utah and The Road Home issue a call for staff and volunteers.
Due to all the copyrighted music, we are unable to post an archived edition of this show. However, for the next two weeks, you can listen to it in our on-demand section. Click here.
Happy Christmas Eve ... or Friday night, your choice! RadioACTive put together an hour of music and Christmas stories from folks, including:
Lara Jones and Aldine Strychnine of #PunkRockFarmer Friday on RadioACTive
Liz Schulte, host of KRCL's Rude Awakening from 3-5 AM Thursdays
Ivoni Nash, host of Tala Koula Sunday nights at 10 PM on KRCL
KRCL Executive Director Tristin Tabish
Ma Black, host of Night Estéreo on KRCL Saturdays at 10 PM
Musician Denney Fuller of Denny Fuller and His Elaborate Elves and now, The Mellons (new music coming in 2022!)
Risshan Leak of #RoundtableTuesday on RadioACTive
Nate Chacon, co-host of The Friday Night Fallout Show, every Friday at 10:30 PM on KRCL
Nick Burns, RadioACTive's longest-running community co-host
We also shared comments from SLC Mayor Erin Mendenhall, Amanda Christensen of Volunteers of America and Michelle Flynn of the Road Home who on Thursday issued a joint call for staff and volunteers to help them run homeless resource centers and overflow shelters this winter.
Views, thoughts, or opinions shared by guests are their own and do not necessarily reflect those of the board, staff or members of Listeners' Community Radio of Utah, KRCL 90.9fm. Tonight's show was produced and hosted by Lara Jones.
###