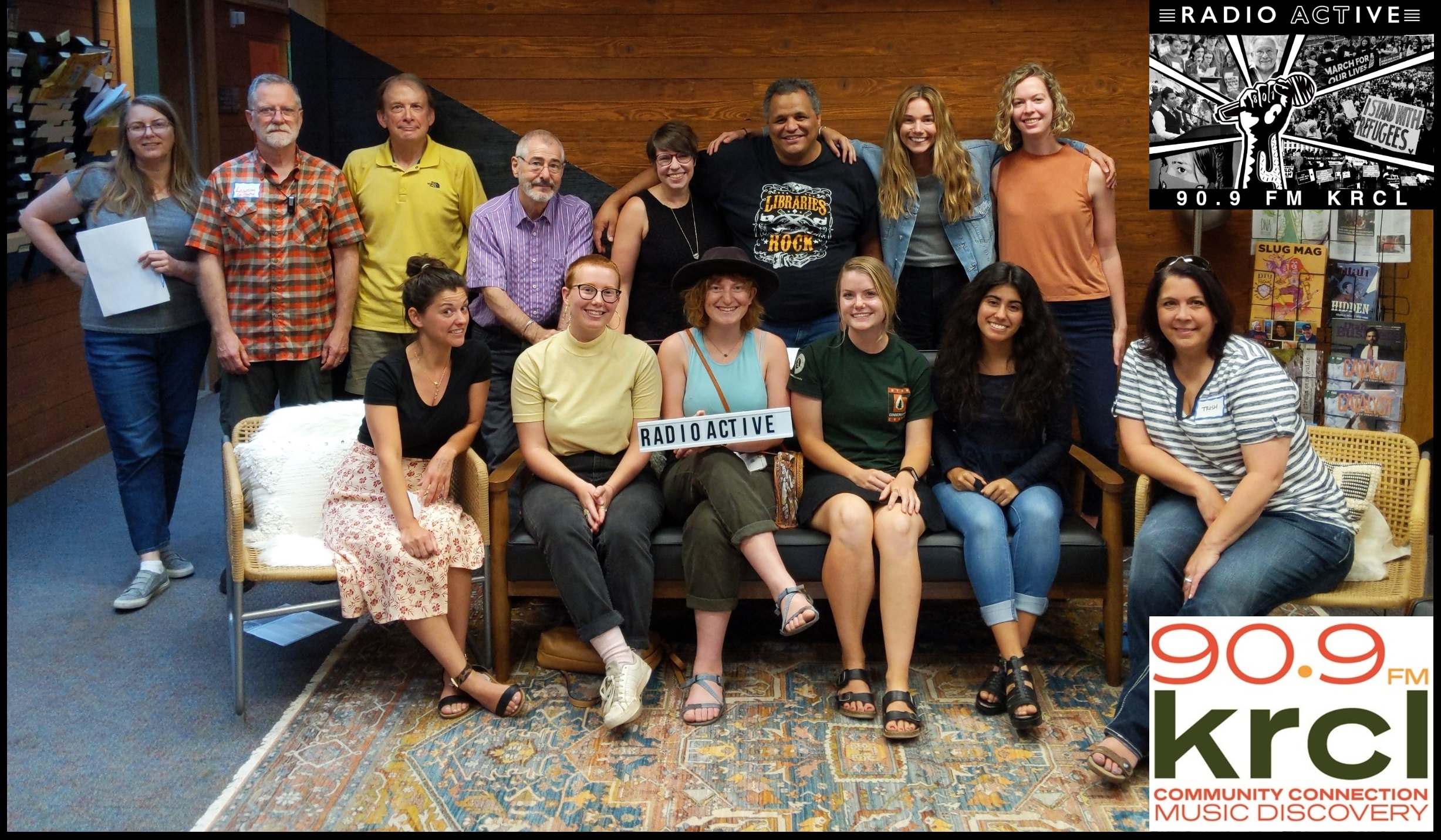 50 years of UT Sierra Club, USEE #Beehive5under25, #MeetYourMaker, Poetry Happens, and more
Tonight's lineup:
League of Women Voters of Utah is offering the public a chance to see what Ranked Choice Voting can do for an election. The league's Kathy Beile invited the public -- you do NOT have to live in SLC for this mock election -- to give it whirl, then compare the results to the Aug. 13 primary election. Click here to mock vote. While you're at it, check out their voter guide to candidates for SLC Mayor on the same page.
Boy Scout Bryce Mayer of Troop #690 asked for volunteers to help with his Eagle Scout project, a week of recycling education in Cottonwood Heights. There are 2,000 doors to knock on and he can't do it all himself! Click here if you have a few hours each evening Aug. 8-15.
#PoetryHappens happens the first Wednesday of the month with Trish Hopkinson of Rock Canyon Poets. With the passing of writer Toni Morrison, RadioACTive reflected on her advice to writers during dark times: "XXX." Hopkinson took it to heart, sharing her new poem "xx."
Meet Your Maker, RadioACTive's preview of makers and STEM at Craft Lake City, the annual DIY festival. Tonight's featured maker: Christopher Ross of Craft and STEM, which will bring its racetrack to Craft Lake City's STEM exhibit. Have fun and build fast little race cars at the Utah State Fair Grounds!
Aug. 9-11: Craft Lake City at Utah State Fairpark, 155 N. 1000 W., SLC. This is Utah's largest three-day arts festival created by locals, for locals, celebrating all things local. The DIY Festival features over 250 local artisans, STEM exhibitors, vintage vendors, food creators and performers, with hands-on workshops, a kids' area, VIP lounge and more. More info: craftlakecity.com/diy-festival/
USEE - Utah Society for Environmental Education will recognize its #Beehive5under25 at its Environmental Education Awards Celebration Friday night. RadioACTive got a preview with USEE Executive Director Alex Porpora and 3 of the 5: Mishka Banuri, Rachel Love and Jasmine Reading.
50 years of the Utah Chapter Sierra Club, with Carly Ferro, Lawson LeGate, Dan Mayhew and Rebekah Ashley.
Aug. 17: Jubilee Jamboree, 8:30a-2:00p at the Rice Pavilion at Liberty Park. FREE. Morning yoga (8:30 a.m.); Undoing Racism in the Environmental Community dialogue (9:30-11:45 a.m.); Lunch, Learn & Play (12:00-2:00 p.m.). Although FREE, UCSC requests an RSVP, for planning purposes.
Sept. 18: Volunteer Open House | Teaming Up for Conservation, 5:30-7:00 p.m. at Vertical Diner, 234 W. 900 S., SLC. Learn how you can help protect Utah's life outside. Teamwork is essential to achieve conservation successes. This month, you will hear from volunteer leaders about recent successes realized by Utah teams and then break into groups to discuss how you can join a team. FREE, but click here to RSVP for planning purposes.
Sept. 21: People's Energy Summit, 9a-5p at Salt Lake City Public Library, 210 E. 400 S., SLC. The summit unites diverse communities across Utah and the broader Southwest to create a just-transition toward a renewable and regenerative future. It will elevate the voices of protectors, youth, frontline communities, laborers, gardeners, innovators in clean energy, public lands users and managers, and creative change makers. Although FREE, click here to register for planning purposes.
Got a story you'd like to share on the show or an issue you'd like us to cover? Record a voice memo on your smart phone, then email it to radioactive@krcl.org. Keep it under 3 minutes and be sure to include a name and phone number in the message.
Views, thoughts and opinions shared by guests are their own and do not necessarily reflect those of the board, staff and members of Listeners' Community Radio of Utah, 90.9fm KRCL. Tonight's RadioACTive team included:
Exec. Producer/Host: Lara Jones
Assoc. Producer: Billy Palmer
Community Co-Host: Nick Burns
Volunteer: Natalie Benoy
###