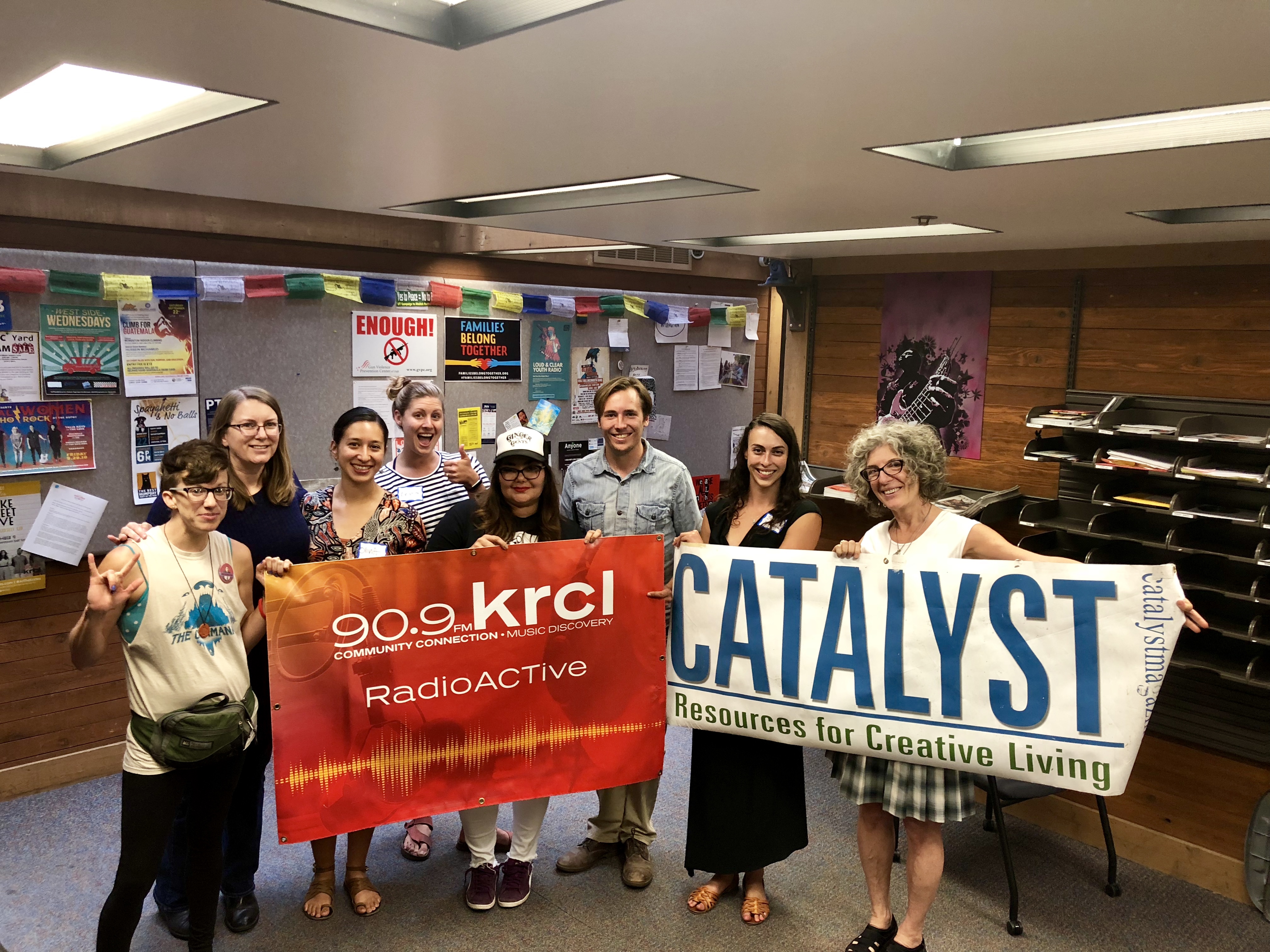 Utah Women's Policy Conference, People's Hearing on San Rafael Swell, Women of Wisdom, FruitShare Volunteer Opportunity, Granary District Murals
Tonight's lineup:
Artist Cara Jean Means, one of 15 artists commissioned for the Granary District Mural Grant Program, talked about the challenge of incorporating the steel business on whose exterior wall she is painting and other neighborhood characteristics into her mural.

Sept. 29: Granary District Mural Art Tours, 5:00 p.m. at Atmosphere Studios, 336 W. 700 S., SLC.
Olivia Juarez, Southern Utah Wilderness Alliance, which is organizing an event for locals to air their concerns about the future of the San Rafael Swell. Congress will begin debating the Emery County Public Land Management Act this week in Washington, D.C.
Darin Mann and Kristin Jahne of The Green Urban Lunch Box, which is looking for volunteers for its FruitShare program. GULB partners with fruit tree owners and community volunteers to harvest and distribute fruit that would otherwise go to waste.

Aug. 25: Fruitshare Party, 4:30-7:30 p.m. at 4545 S. 5400 W., SLC. Learn more about the GULB's fruitshare program at this potluck in one of the orchards in the program.
Publisher Greta Belanger DeJong and writer Sophie Silverstone of CATALYST Magazine talked about the new series Women of Wisdom, which debuted in the August issue of the locally-owned magazine.
Got a story you'd like to share on the show? Record a voice memo on your smart phone, then email it to radioactive@krcl.org. Keep it under 3 minutes and be sure to include a name and phone number in the body of the message.
RadioActive is a production of Listeners' Community Radio of Utah. Tonight's team included:
Exec. Producer/Host: Lara Jones
Community Co-Host: Ma Black
Assoc. Producer: Billy Palmer
Volunteer: Shell Danis