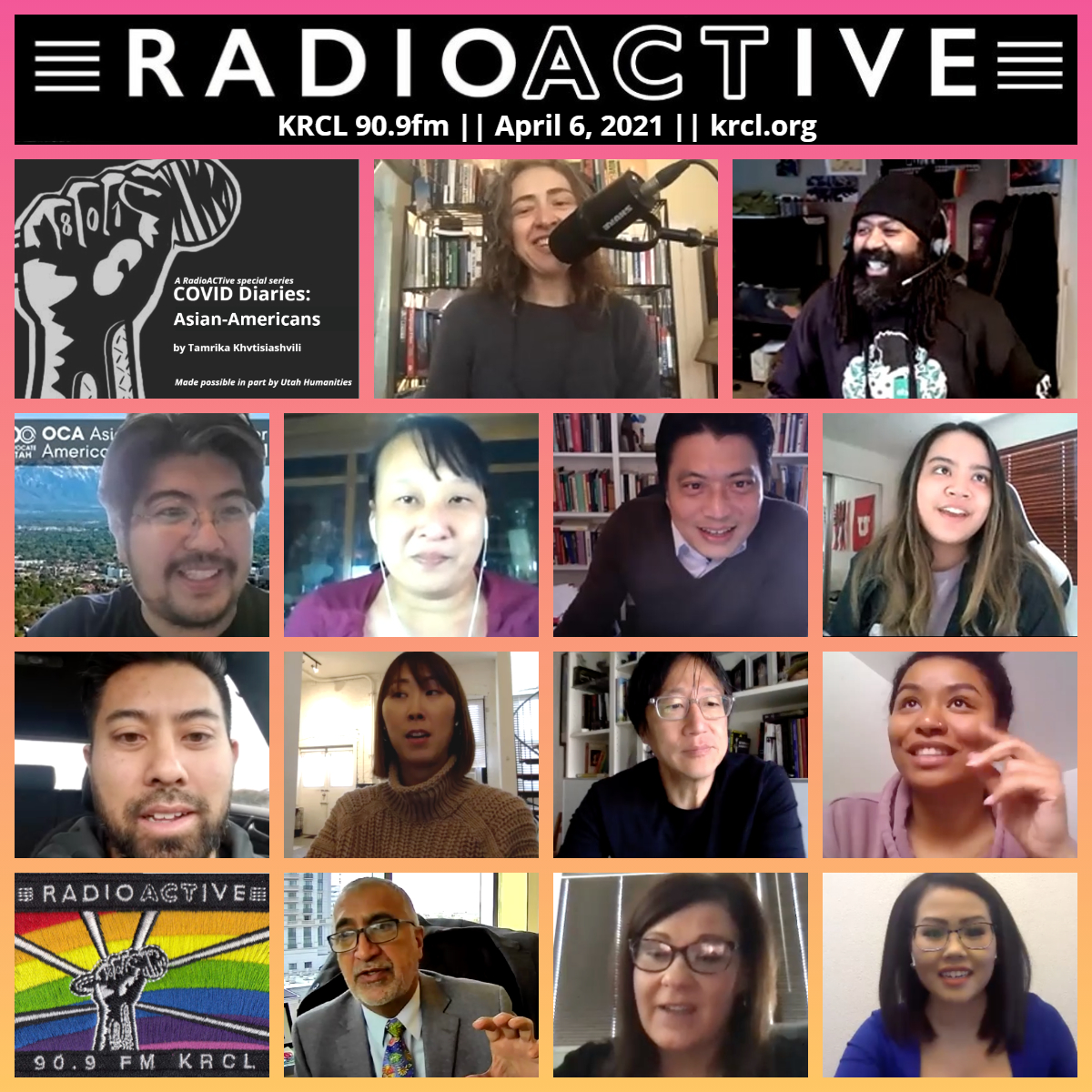 #RoundtableTuesday Community Co-Hosts Tamrika Khvtisiashvili and Risshan Leak tackle the myth of the model minority. #COVIDdiaries passes the mic to Asian Americans in Utah to share their experiences. #3QuickPicks from The County Library highlights books and films by Asian-American writers and filmmakers.
Tonight's lineup:
#COVIDdiaries: Asian Americans in Utah share their experiences as hate-crimes and hate-speech targeting them are on the rise. Featuring:
Jenny Hong: Korean American, 1st year graduate student at Westminster College, also works at a restaurant and tattoo shop
Paul: Korean American who has lived in Utah for 11 years
Stephanie Lake: Vietnamese African American, co-founder of Project Black Girl
Rosie Nguyen: Vietnamese American, ABC4 News Broadcaster/Anchor
Chu Chandon: Cambodian American, dancer, DJ, artist
Sim Gill: Salt Lake County District Attorney.
Cherie Wood: Mayor of South Salt Lake City
#COVIDdiaries is made possible in part by a grant from Utah Humanities. To catch up on past episodes of this special RadioACTive series, click here.
#3QuickPicks with Karen Liu of The County Library. All available for online hold and curbside pickup, Liu's picks of books and films by Asian-American writers and filmmakers included:
CHILDREN'S BOOK: When You Trap a Tiger by Tae Keller. "This beautifully crafted story just won the 2021 Newberry award, as well as the Asian/Pacific award for Children's literature. When Lily and her family move in with her sick grandmother, a magical tiger straight out of her halmoni's Korean folktales arrives, prompting Lily to unravel a secret family history. Long, long ago, Halmoni stole something from the tigers. Now, the tigers want it back. And when one of those tigers offers Lily a deal — return what Halmoni stole in exchange for Halmoni's health — Lily is tempted to accept. Does she have the courage to face a tiger? This is a wonderful exploration of myth and narrative weaving in Korean folklore and touches on universal themes of familial love, grief and finding one's own voice."

GRAPHIC NOVEL: They Called Us Enemyby George Takei. "Now many of our middle school grades just read Journey to Topaz, and here is a graphic novel that I believe all adults and teens should read. It's an important moment in American history where we interned Americans of Japanese descent in camps. And you may know of Topaz, Utah, and its internment camp. This is George Takei's firsthand account of his childhood years spent in a concentration camp, what it was like growing up under legalized racism, his mother's hard choices, his father's faith in democracy, and the way those experiences planted the seeds for George Takei's own astonishing future."

FILM: The Farewell, directed by Lulu Wang. "For those of you who enjoyed the film adaptation of Crazy Rich Asians, and would like a deeper dive into the Chinese culture and Asian-American experience, I recommend The Farewell, directed by Lulu Wang. This 2019 foreign language film received wide acclaim and as a comedy and drama, following Billi, an Asian-American who grapples with the traditionalism of her heritage and navigates the immigrant experience of being a part of both American and Chinese cultures. Billi reluctantly returns to Changchun to find that, although the whole family knows their beloved matriarch, Nai-Nai, has been given mere weeks to live, everyone has decided not to tell Nai Nai herself. To assure her happiness, they gather under the joyful guise of a pretend wedding, uniting family members scattered among new homes abroad. As Billi navigates a minefield of family expectations and proprieties, she finds there's a lot to learn and to celebrate. This film offers us universal themes of the complexity of familial relationships and really explores Eastern and Western cultures within a family dynamic."
#RoundtableTuesday's Tamrika and Risshan led a panel discussion on the myth of the model minority, hate crimes and hate speech against Asian Americans and more. Panelists included:
Edmund Fong, Chair of Ethnic Studies at the University of Utah. He is currently working on a new book, with the working title of "Race Against Time," on how the timeline of American politics is marked by racism.
Emilio Manuel Camu, President of the OCA Asian Pacific Islander American Advocates: Utah Chapter

OCA is one of the sponsors of the recently launched Asian Link Project, formed to "provide free chaperone services to senior and younger Asian American residents in the Salt Lake Valley to help prevent hate crimes."

Ze Min Xiao, Director of the Salt Lake County Mayor's Office for New Americans
Views, thoughts or opinions shared by guests are their own and do not necessarily reflect those of the board, staff or members of Listeners' Community Radio of Utah, 90.9fm KRCL. Tonight's RadioACTive team included:
#RoundtableTuesday Community Co-Hosts: Tamrika Khvtisiashvili, Risshan Leak
Exec. Producer, Host: Lara Jones
Assoc. Producer: Billy Palmer
###