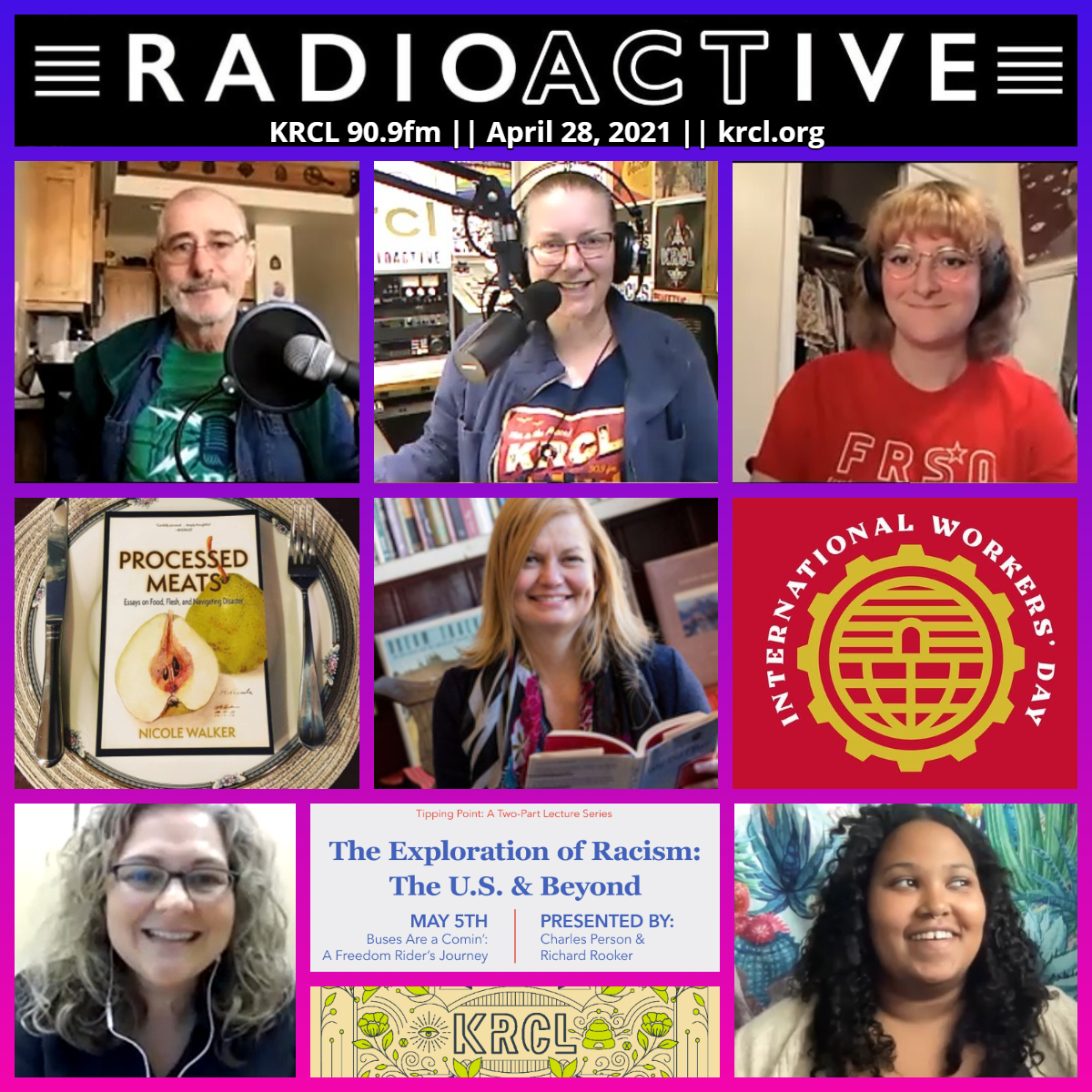 #TheNickBurnsReport, featuring Nicole Walker, author of Processed Meats: Essays on Food, Flesh and Navigating Disaster. Plus, #PoetryStillHappens with Ashley Finley, a May Day call to 'Make the Rich Pay', Tipping Point with UCCD, and a dip into the RA archives to celebrate Nomadland's wins at the Academy Awards.
Tonight's lineup with Community Co-Host Nick Burns and Lara Jones:
Felecia Maxfield-Barrett of the Utah Council for Citizen Diplomacy with a heads-up for the nonprofit's Tipping Point series next week. It's free and virtual. Click here to reserve a seat and get the Zoom link.
Saturday is International Workers Day, aka May Day. Darcy Chortkoff, an organizer with Freedom Road Socialist Organization - SLC, talked about the organization's plans to celebrate the day.
May Day Fundraiser 2021- Make The Rich Pay! People's Agenda Now, 2:00 p.m. at Sugar House Park, Sego Lily Pavilion, 1330 E. 2100 S., SLC. Event by Freedom Road Socialist Organization - SLC: "Come out to join Freedom Road Socialist Organization in celebrating International Workers Day on Saturday and raising funds for the establishment of a national office. Music, food, raffles and speeches from labor organizers and activists. We Demand:

Economic Relief For All Workers - Extend unemployment benefits, pass the PRO Act, raise the minimum wage
Legalization For All Immigrants - Create a path to citizenship for the undocumented, abolish ICE, close the concentration camps
Community Control of the Police - End the abatements on the unsheltered, stop evictions by extending the moratorium, housing not jail
From the RadioACTive archives: Jessica Bruder, author of Nomadland: Surviving America in the Twenty-First Century (originally broadcast October 11, 2017). Last weekend, the Academy of Motion Picture Arts and Sciences recognized the film adaptation of Bruder's book with Oscars for Best Picture, Best Actress and Best Director.
#PoetryStillHappens: Utah Poet Ashley Finley shared her poem "A Prayer in Three Parts." Look for Finley's poetry in an upcoming anthology from Torrey House Press. She'll also be the featured poet tomorrow night for Gardening, Ecology and Social Justice: Personal and Community Stories, a six-part writing workshop series with The Mobile Moon Co-op, Torrey House Press and Wasatch Community Gardens. Register at bit.ly/gardenwriting.
#TheNickBurnsReport, where Community Co-Host Nick Burns talks with authors and newsmakers of the day. Tonight's special guest: Nicole Walker, author of Processed Meats: Essays on Food, Flesh and Navigating Disaster. It's a book of braided essays that reflects on changes in the meat-producing industry and ponders human behavior about food while sharing some of Walker's family recipes.
Views, thoughts or opinions shared by guests are their own and do not necessarily reflect those of the board, staff or members of Listeners' Community Radio of Utah, 90.9fm KRCL. Tonight's RadioACTive team included:
Community Co-Host: Nick Burns
Exec. Producer, Host: Lara Jones
###