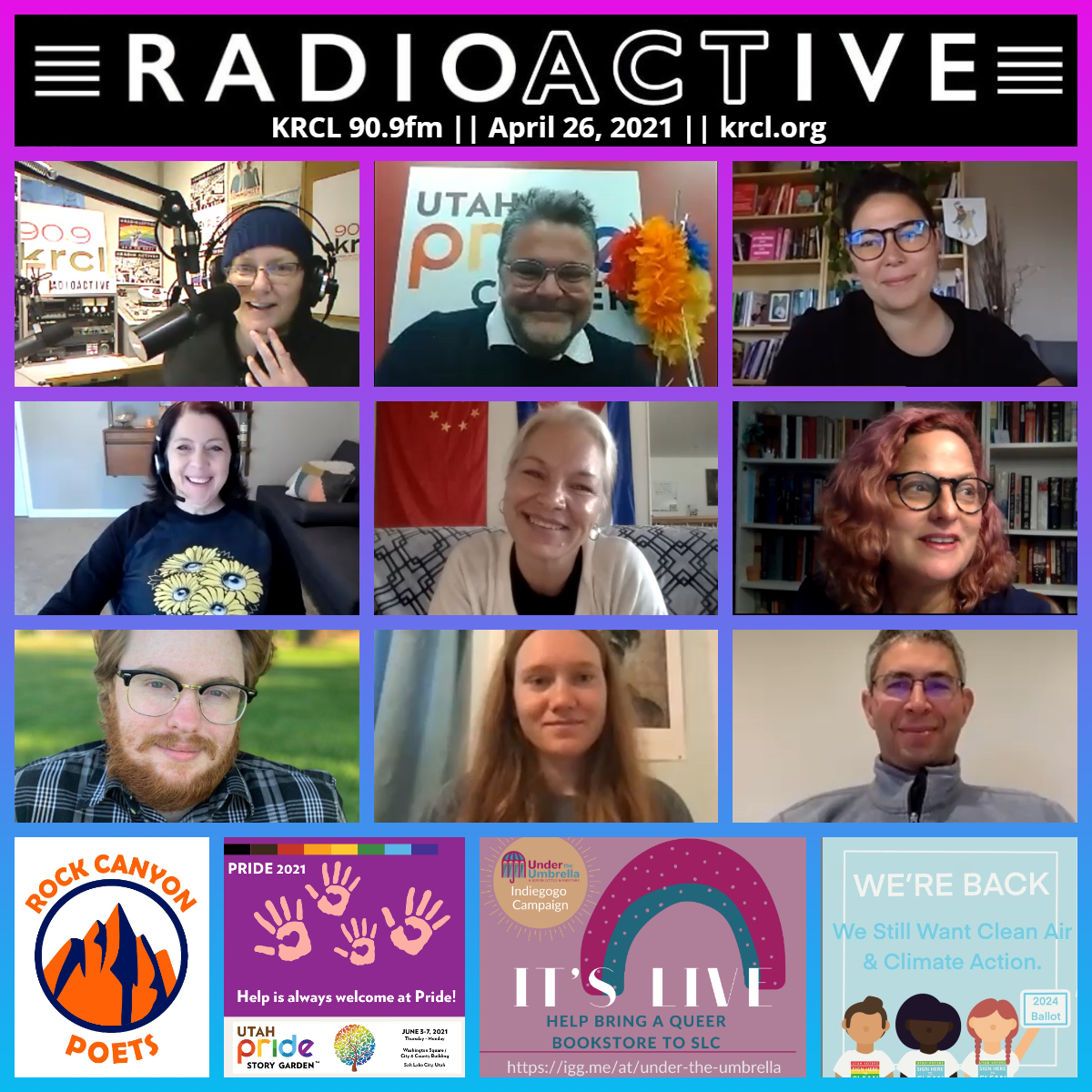 #PoetryStillHappens -- Utah poets react to current events and other poetic distractions. Plus, Under the Umbrella's 'queer little bookstore,' Utah Pride Center's search for a new leader and launch of Rainbow Wellness, and Clean the Darn Air rises again.
Tonight's lineup:
Yoram Bauman and Ronan Carrier of Clean the Darn Air, a grassroots group which is relaunching its efforts to place a clean-air-and-climate measure on the Utah ballot. CDA plans to spend the next year regrouping – exploring policy options, building a coalition of community support, analyzing their 2020 signature-gathering campaign – with an eye toward a 2024 ballot initiative.
Kaitlyn Mahoney talked about Under the Umbrella, A Queer Little Bookstore, that she hopes to open in SLC.
Utah Pride Center Executive Director Rob Moolman recently announced he'll be stepping down. RadioACTive asked about the process to pass the boa, the launch of the center's Rainbow Wellness program, and the latest on Pride Week, June 1-7, 2021.
#PoetryStillHappens: Utah poets react to current events, featuring:
Trish Hopkinson and Bonnie Shiffler-Olsen of Rock Canyon Poets, "established to develop camaraderie among Utah Valley poets, provide consistent workshopping and reading opportunities, and promote the disciplined study of writing poetry as a serious art form. #PoetryStillHappens submission by Gregory Brooks, reading his poem "Murmuration." His first chap-book, "The Music of the Dead," is forthcoming from Salt Lake Community College

Click here to catch up with Hopkinson, whose website also lists no-fee submission calls, publication tips & poetry news
Click here to catch up with Shiffler-Olsen, where her most recent entries focus on "The Shape of Love" and "Lessons in holding on and letting go"
Views, thoughts or opinions shared by guests are their own and do not necessarily reflect those of the board, staff or members of Listeners' Community Radio of Utah, 90.9fm KRCL. Lara Jones hosted and produced tonight's show.
###