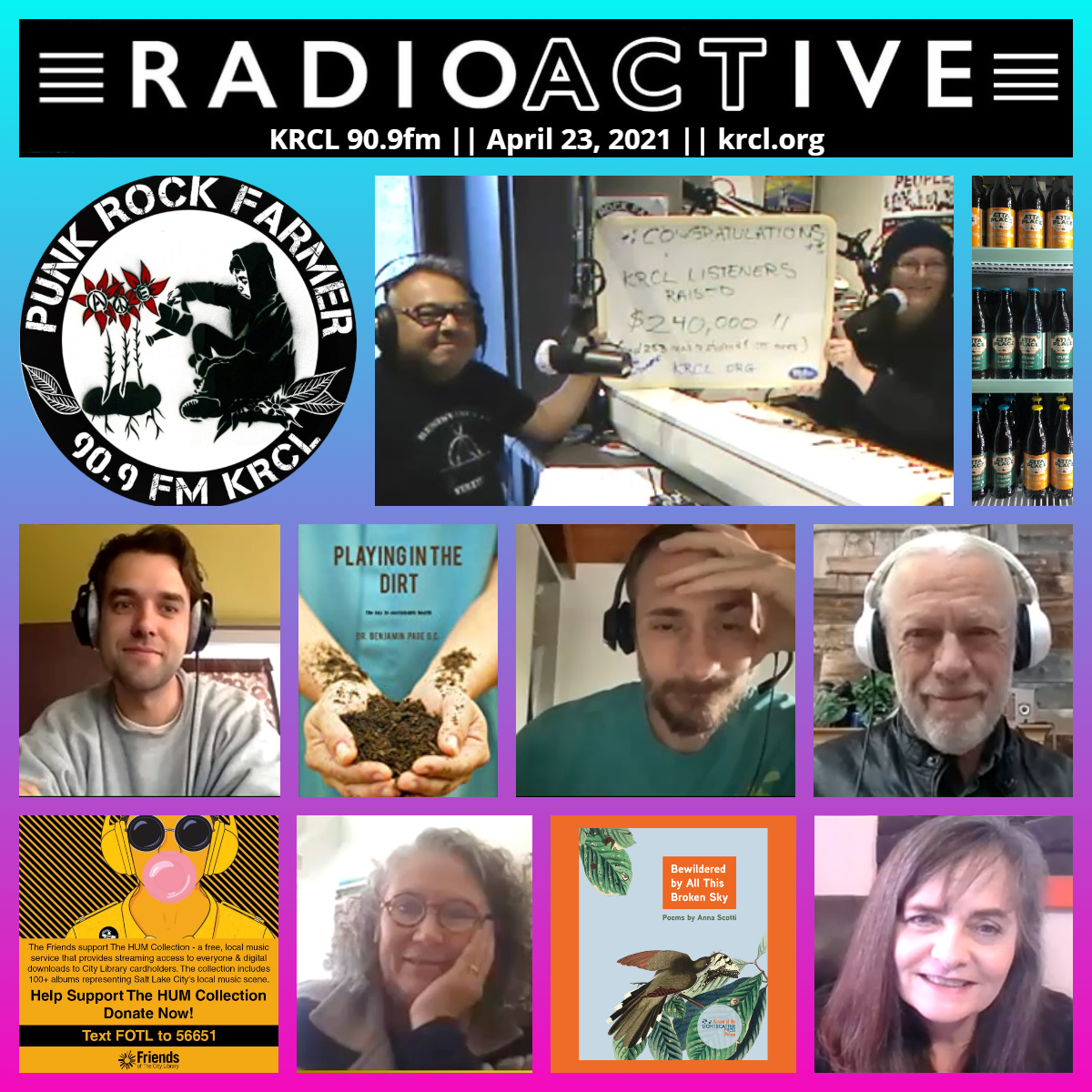 #PunkRockFarmerFriday connects the ecosystem of your body to the ecosystem of Planet Earth with wellness farmer Dr. Ben Page during Aldine's #UrbanFarmReport. Plus, Etta Place Cider's Robert Marc, poets Lisa Bickmore and Anna Scotti, SkyWatcher Leo T, #3QuickPicks for Earth from Clever Octopus and fresh, homegrown music with Hear Utah Music.
Tonight's lineup with Punk Rock Farmer Aldine Strychnine and Lara Jones:
Fresh, homegrown music with Ben Swisher of HUM, the Hear Utah Music digital catalog of The City Library. Click here to stream/download from the HUM catalog. Tonight's showcase included:
Carl Cassette — "Buck & Cammie" from Memory Sale (2015)
Rabbit — "Calcifer" from Complete Ok-Ness of Self... (2019) [New in HUM as of May 1st!]
PK Opal — "Before Girls Before Swine" from Torn Cocoon (Sessions, Demos, B-sides) (2020) [New in HUM as of May 1st!]
Robert Marc of Etta Place Cider
, now open and serving off Hwy24 in Torrey, UT — "not just for outlaws." With their grand opening earlier this month, Etta Place Cider is now serving hard cider fermented from their 500-tree apple orchard near Capitol Reef.
April is National Poetry Month.
Founded by
Utah Poet Lisa Bickmore, Lightscatter Press
is an independent nonprofit literary press that seeks to preserve and extend the material, tactile experience of the printed, bound text through beautiful, innovative design that integrates digital artifacts and experiences created for and with the printed text. RadioACTive spoke with Bickmore (who shared her poem about Prince) and Anna Scotti, who read "Then Fall Again," one of the poems in her book
Bewildered by All This Broken Sky, now available for order from Lightscatter Press.
#ManyCulturesOneSky with SkyWatcher Leo T
, featuring a star map of Taurus the Bull, Orion and Cirius, birds in the air and the stars from Hindu tradition, Corvus the Crow, NASA and its Ingenuity helicopter on Mars, and more.
Aldine's #UrbanFarmReport, featuring Dr. Benjamin Page D.C.
, author of
Playing in the Dirt, the Key to Sustainable Health
. Page is passionate about the ecosystem of cells called the human body and the ecosystem we are part of called planet earth. In addition to being a chiropractic physician, he is an urban gardener growing as much nutrient-dense food for his family as possible. Page has a podcast in English and Spanish:
www.pastosverdesfarm.com
.
Views, thoughts or opinions shared by guests are their own and do not necessarily reflect those of the board, staff or members of Listeners' Community Radio of Utah, 90.9fm KRCL. Tonight's RadioACTive team included:
Community Co-Host: Aldine, KRCL's Punk Rock Farmer
Executive Producer, Host: Lara Jones
###