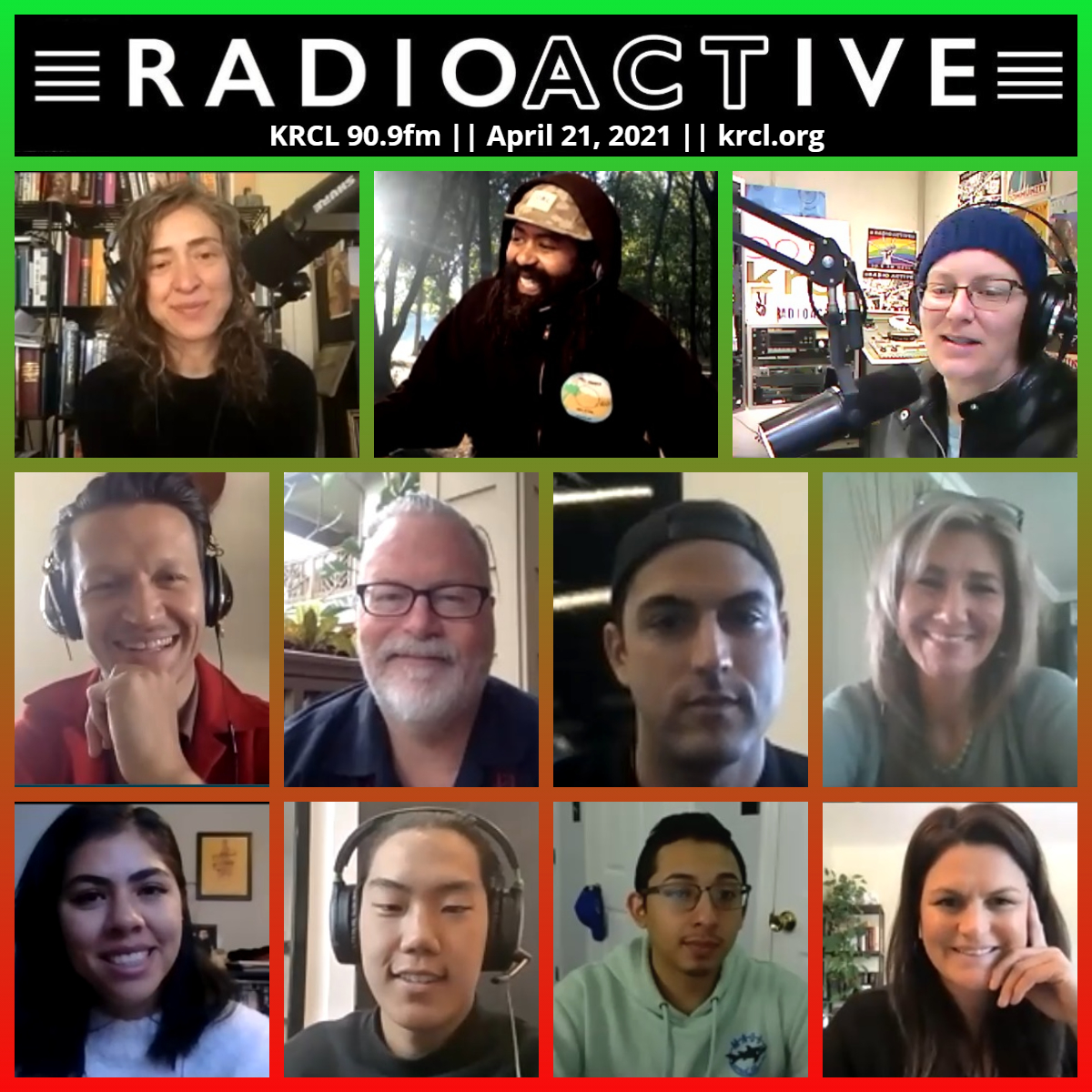 It's 4-20-and-a-half! Bumped from yesterday due to breaking news, we share the original #RoundtableTuesday show on the state of cannabis in Zion with Beehive Farmacy, TRUCE and The Divine Assembly. Plus, #3QuickPicks for 4-20, Park Rx Utah's outdoor challenge for Earth Day, and new music from The Boys Ranch.
Rallies & Resources with Lara Jones:
Through April 25: Park Rx Utah Challenge. RadioACTive spoke with Sarah Kinnison, Salt Lake County Health Dept. Educator, and Megan Zollinger, Salt Lake County Parks & Recreation, about ways Utahns can participate in the week-long, statewide challenge by:

Building a team of 3–5 members
Downloading the GooseChase mobile app
Joining "Park Rx Utah's Park Rx Day Challenge" on the mobile app
Completing missions to earn points
Depending on how many points each team gathers, participants will have the opportunity to win prizes such as a Utah State Parks pass, a RTIC Cooler, hammocks, Backcountry and REI Gift Cards and much more. Winners will be announced online on April 26. For more information about the challenge, visit ParkRxUtah.org.
Thurs-Thurs, April 22-29: Climate Change Film Tour, online at SLFSathome.org. Event by Salt Lake Film Society: "We collaborated with our partners Utah Clean Energy and The Nature Conservancy in Utah to curate a thought-provoking lineup of films, speakers, and panel discussions for this virtual film tour. Tix and info now available at SLFSathome.org." Trivia game kickoff with RadioACTive's Lara Jones this Thursday at 5:30 p.m. online.

Mon-Thurs, April 26-29: Willie Nelson and Luck Presents are proud to announce the first annual cannabis convention, Luck Summit: Planting the Seed, which benefits HeadCount's Cannabis Voter Project. Hosted by Nathanial Rateliff, the multi-day virtual summit seeks to destigmatize, educate, and promote cannabis culture in an informative and entertaining way. During the summit, Luck and fellow cannabis-advocate partners will showcase the cannabis plant through its many lenses including history, science, entertainment, and culture. In addition to panel discussions and keynote speakers, attendees will be treated to musical collaborations, comedy sketches, cooking demonstrations, health-focused activities, and more.
RadioACTive continued its conversation with Salt Lake Community College Students involved in the new Amplify Utah project. Guests included:
Marcie Young Cancio, Assistant Professor of Journalism and Digital Media at Salt Lake Community College, as well as founder and executive director of Amplify Utah.

Student James Seo, whose video story will document a local barber who gives free haircuts to SLC's unsheltered

Student Samantha Herrera, whose story will focus on the third-culture experience of Latinx students

Student Anthony Najera, whose story will cover traditional medicine and practices in local Mexican communities during COVID
Denney Fuller of The Boys Ranch dropped in to share the band's new single, Sun Dreamin'. To pick it up, click here.
Friday, April 23: Velvet Underground's Loaded 50th Anniversary: Outdoor Show, 6:00-10:00 p.m. at Urban Lounge, 241 S. 500 E., SLC. "Urban Lounge Backyard Shows presents a socially distanced concert experience featuring The Boys Ranch performing The Velvet Underground's 'Loaded' in its entirety, with support from Fake Nice & DJ Rockin Robin." Click here for ticket and attendance guidelines.
#3QuickPicks with Vern Waters of The County Library-West Jordan Branch. All available for online hold and curbside pickup, Water's picks on 4-20 included:
Cannabis for Chronic Pain: A Proven Prescription for Using Marijuana to Relieve Your Pain and Heal Your Life by Rav Ivker. "This book is the first authoritative and comprehensive guide for treating chronic pain with marijuana from a holistic family physician who has treated more than six thousand chronic pain patients with cannabis. In Cannabis for Chronic Pain, Dr. Rav explains the potential of marijuana's capacity for healing anyone with chronic pain. Medical marijuana is a safe, non-addictive alternative to dangerous opiate pain pills. If you are suffering from arthritis, back pain, migraines, fibromyalgia, menstrual cramps, IBS, Crohn's Disease, anxiety, depression, pain from cancer or its treatment, this may be the book for you. It is now possible to create a distinct cannabis prescription for different types of chronic pain. Find what works for you and get the relief you need."

It's a Long Story by Willie Nelson. "A celebration of life. It's a Long Story is Willie Nelson's autobiography wherein the iconic Country Music Hall of Fame artist and 10-time Grammy winner shares the story of his personal life and career, from his early ambitions and indelible relationships through his bankruptcy and founding of Farm Aid.

Catch a Fire: The Life of Bob Marley by Tim White. "A book the San Francisco Chronicle calls 'probably the finest biography ever written about a popular musician.' The classic biography of reggae legend Bob Marley, by Timothy White, updated and revised for the twenty-fifth anniversary of his death. Bob Marley left an indelible mark on modern music, both as a reggae pioneer and as an enduring cultural icon. Catch a Fire, now a classic of rock biography, delves into the life of the leader of a musical, spiritual, and political explosion that continues today. BONUS DVD PICK: Marley by director Kevin MacDonald. "The definitive life story of the musician, revolutionary, and legend, from his early days to his rise to international superstardom. Made with the support of the Marley family, the film features rare footage, incredible performances and revelatory interviews with the people who knew him best."
Tonight's #RoundtableTuesday panel focused on 4-20, the apocryphal day that celebrates all things marijuana. Panelists included:
Bijan Sakaki of Beehive Farmacy, which opened its second location this week. "Beehive is for patients, by patients. Our Utah medical cannabis pharmacies provide patients with safe access to alternative medicine. Our approach is simple. We develop and source the area's best medical cannabis products and work to educate our community about how to use cannabis."

Christine Stenquist of TRUCE (Together for Responsible Use and Cannabis Education), a group of concerned patients and caregivers advocating for safe legal access to medical cannabis in Utah. Christine has been on RadioACTive many times and was instrumental in the successful 2018 ballot initiative for medical cannabis. Lately, she's been lobbying for legalization in Wyoming, and she's supportive of The Divine Assembly and its efforts to legalize psilocybin.

Stephen Urquhart, a former state lawmaker (he did time in the Utah House and Senate) turned legalization advocate. He is co-founder of The Divine Assembly, a community that believes in the power of responsible religious use of psilocybin to connect people and to cultivate health and healing.

June 18-20: Summer Solstice Revival, at Bonneville Seabase in Grantsville, UT. Event by The Divine Assembly: "The Divine Assembly presents Revival, a festival focused on providing space personnel, psychological and spiritual transformation, as we embark to reconnect and celebrate new rituals. We hope Revival offers new tools of inspiration, mindfulness, religious practice and community building as you open yourself to new experiences. Join us for a weekend filled with activities, arts, music and the joy of play. We will be opening micro-grants in April so participants may be inspired to create their own interactive projects to share with fellow campers. As we come together to celebrate the summer solstice, we appreciate its call of prosperity, extravagance and good spirits."
Views, thoughts or opinions shared by guests are their own and do not necessarily reflect those of the board, staff or members of Listeners' Community Radio of Utah, 90.9fm KRCL. Tonight's RadioACTive team included:
Community Co-Hosts: Risshan Leak, Tamrika Khvtisiashvili
Exec. Producer: Lara Jones
Assoc. Producer: Billy Palmer
###