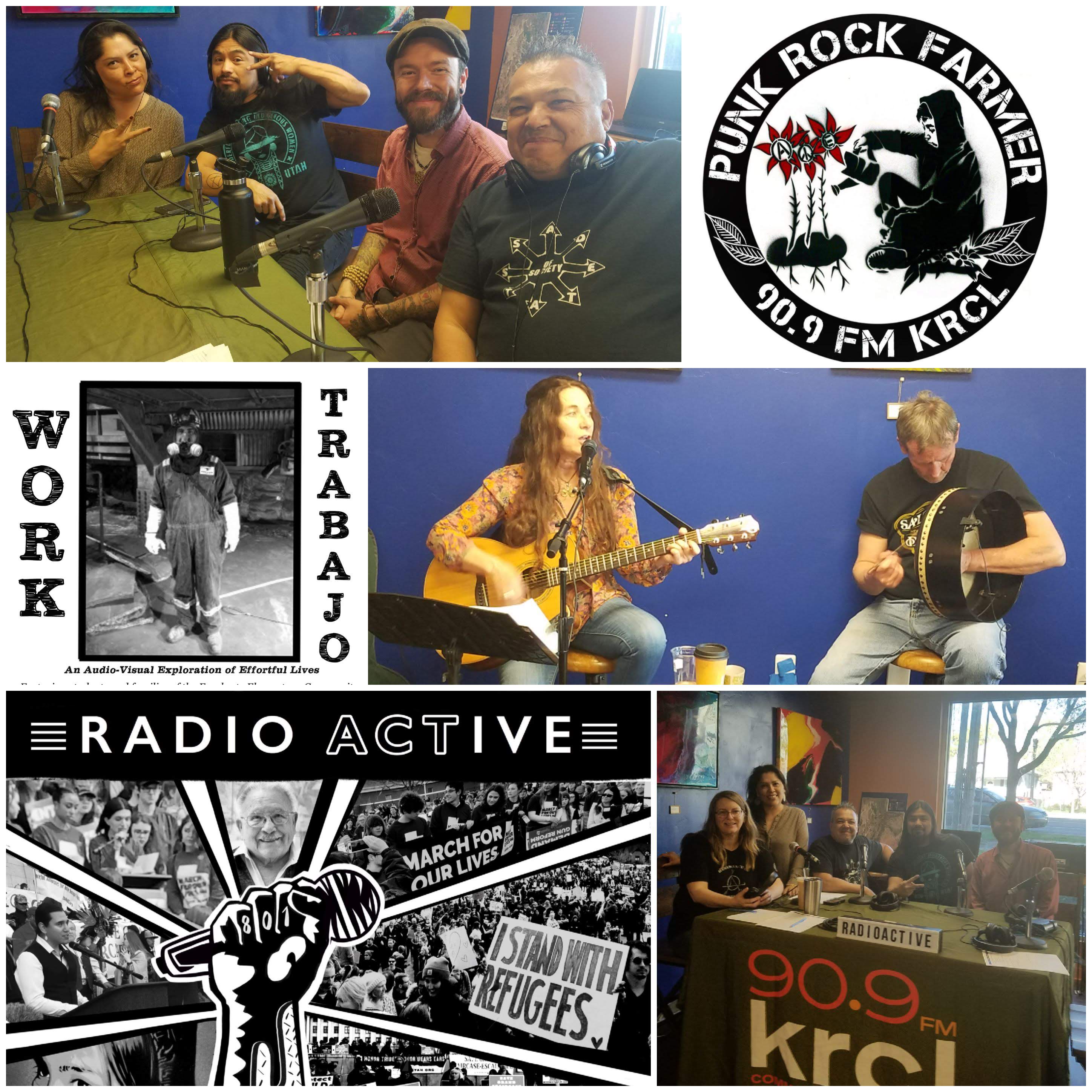 RadioACTive On the Road for WORK, live music from Kate MacLeod, SLC Air Protectors ready to 'Stop the Polluting Port,' #UrbanFarmReport with The Green Urban Lunch Box
Tonight's show was broadcast live from Mestizo Coffee House:
Live music with Kate MacLeod, who was backed up by drummer Bob Smith on the bodhran. MacLeod will be facilitating and teaching a songwriting workshop with Christine Lavin during the Utah Arts Festival in June. Click here to sign up.
Megan Hallett of Framework Arts, the arts educator behind Work - An Audio-Visual Exploration of Effortful Lives on display in the Art Gallery of Mestizo Coffeehouse, 631 W. North Temple, SLC, through May. Escalante Elementary student Mendrita talked about the photographs she took of her family at work.
WORK is a collective, participatory art project generated by the students and families of Escalante Elementary in the Rose Park neighborhood of Salt Lake City. Over the course of several months, students photographed and audio recorded what the theme of work means to them and their families in their everyday lives.
SLC Air Protectors co-founders Carl Moore and Michael Cundick stopped by to introduce Davina Smith as the organization's new executive director.
April 25: White Mesa Says No to Uranium - April Assembly, 6:30-8:30 p.m. at the Salt Lake City Public Library, 210 E. 400 S., SLC. Learn about the Ute Mountain Ute Tribe of White Mesa and their annual protest/spiritual walk (May 18th at 11 am at the White Mesa Community Building) to the White Mesa Uranium Mill that pollutes their air and water.
April 30: Straws The Film: Screening, 6:30 p.m. at Impact Hub Salt Lake, 150 S. State St., SLC. Free screening followed by a panel discussion on reducing single-use plastic pollution in Utah.
May 1: Mayday Stop the Polluting Port Gathering, 4:00-7:00 p.m. at proposed footprint of the Inland Port. Exact location TBA. They will have a bike-powered p.a. and there will be refreshments, music, speeches from community leaders, and much more to be announced closer to the day of the activities.
#UrbanFarmReport, featuring Sean Petersen of The Green Urban Lunch Box, which seeks apprentices for the expansion of its Back-Farms program.
Back-Farms utilizes volunteers to build, cultivate, and maintain organic gardens in senior citizens backyards at no cost to the senior. Every garden is assigned a "Garden Apprentice"; a volunteer who, while caring for the garden, is learning how to garden from one of our expert garden staff. The garden apprenticeship is for the entire growing season.
GULB now offers home vegetable garden consultations. Turn your brown thumb green and, in turn, directly sponsor a garden for a local senior citizen at their home while receiving expert advice about your own garden. Click here for details.
Got a story you'd like to share on the show? Record a voice memo on your smart phone, then email it to radioactive@krcl.org. Keep it under 3 minutes and be sure to include a name and phone number in the message.
RadioACTive is a production of Listeners' Community Radio of Utah. Tonight's team included:
Exec. Producer/Host: Lara Jones
Assoc. Producer/Host: Billy Palmer
Volunteer: Kristen Neilson
Intern: Ashley Finley
Audio Engineering: Sullivan Phetchanpheng, Bill Ramsay, Ebay Hamilton
###