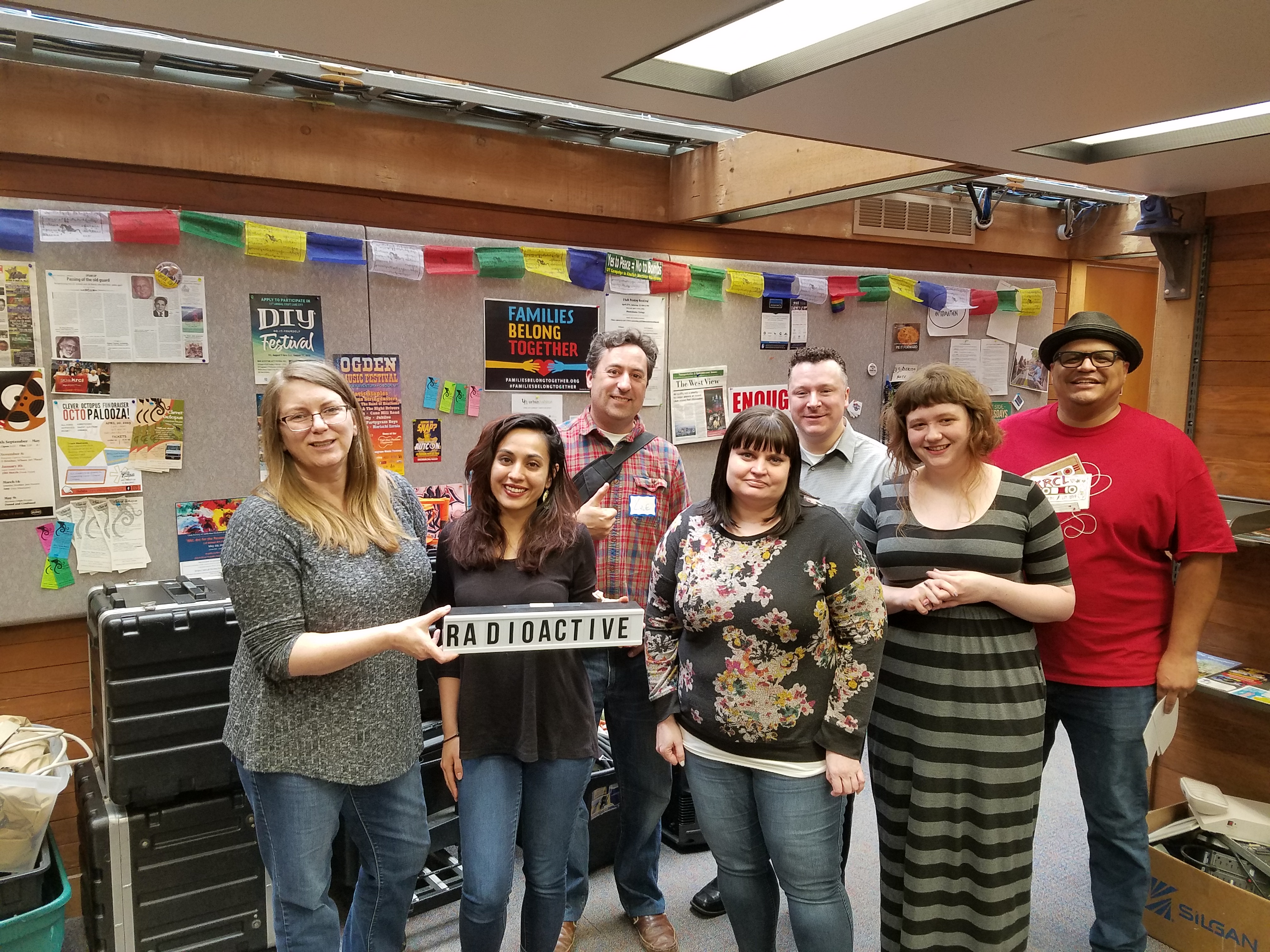 Live music from Stop Karen, Songs for Survivors, AutCon on Dating, Poet Jesse Parent, Audacious policing, and more
Tonight's lineup:
Live music from Stop Karen, not a folk punk band from SLC. They will headline the Songs for Survivors Concert to benefit Rape Recovery Center Friday, April 26.
What can $30 million do to eliminate racial bias in policing? RadioACTive spoke with Chris Burbank of the Center for Policing Equity. Earlier this week, The Audacious Project chose CPE as one of eight awardees during a live reveal at TED2019 in Vancouver, BC.
@TheAudaciousPrj is a new initiative housed at TED that helps turn bold ideas into large-scale change. Click here to see the TEDtalk by Dr. Phillip Atiba Goff, president and co-founder of CPE. His talk begins at the 10:25 mark. Then email radioactive@krcl.org and let us know what you think about CPE's audacious project.
The National Parks Conservation Association is one of five organizations that filed a National Environmental Policy Act (NEPA) challenge to the recent approval to expand Alton Coal's mine near Bryce Canyon National Park. The lawsuit against the Trump Administration, according to Cory MacNulty, associate director of NPCA's Southwest Region, "is focused on the impact of burning that coal and the pollution that would result, particularly mercury pollution; we are also very concerned that the BLM didn't really analyze and quantify the social cost of increasing carbon emissions as they burn that coal; and then they didn't really look at the cumulative impacts of climate change."
Tonight's featured poet: Jesse Parent.
April 22: SLC Slam Finals, 8:00-11:00 p.m. at Athena Coffee & Bistro, 111 W. 9000 S., Sandy. The top Slam Poets in Salt Lake City, including Parent, will compete for a chance to be on the 2019 Salt City Slam Team. See and hear the best of the best-spoken word artists in Utah. The top 5 from the competition will represent SLC as they compete internationally in regional tournaments and tour America.
AutCon: An Unconventional Convention for Adults with Autism is May 10. Once again, RadioACTive turned over the mics to Jared Stewart, Sarah Heuser and Kari Bushman of ScenicView Academy for Young Adults with Autism. This time, a conversation about the challenges of dating and relationships for those on the autism spectrum.
Click here to get your AutCon tickets and program information. It's a one-of-a-kind convention designed for adults on the autism spectrum, to support both professional and personal networking, to provide accurate information, and to highlight services and resources available in the community. Presenters and panelists, all on the spectrum, will share their knowledge and personal experiences in an autism-friendly setting. ​
April is Sexual Assault Awareness Month. 24/7 Crisis Line: 801.467.7273. Know that it's never too late to call. Even if the sexual assault happened years ago, the Rape Recovery Center can still help. Many victims do not realize they need help until months or years later. Visit online.rainn.org to chat one-on-one with a trained RAINN support specialist, any time 24/7.
After a two-year hiatus, the Songs for Survivors Concert to benefit the Rape Recovery Center is back. Tonight's final panel featured:
Megan Asadian, Rape Recovery Center's victim advocate and outreach coordinator
Former SLC Councilman Kyle LaMalfa, who was instrumental in making mandatory the testing of rape kits in the capital city
Musicians Joshua Isbell and Rob Vorwald of Genre Zero, the band spearheading the benefit concert, which will be held Friday, April 26, 7:00-11:00 p.m. at Sugar Space Arts Warehouse, 132 S. 800 W., SLC

Got a story you'd like to share on the show? Record a voice memo on your smart phone, then email it to radioactive@krcl.org. Keep it under 3 minutes and be sure to include a name and phone number in the message.
RadioACTive is a production of Listeners' Community Radio of Utah. Tonight's team included:
Exec. Producer/Host: Lara Jones
Assoc. Producer/Host: Billy Palmer
Volunteer/Producer: Natalie Benoy
###