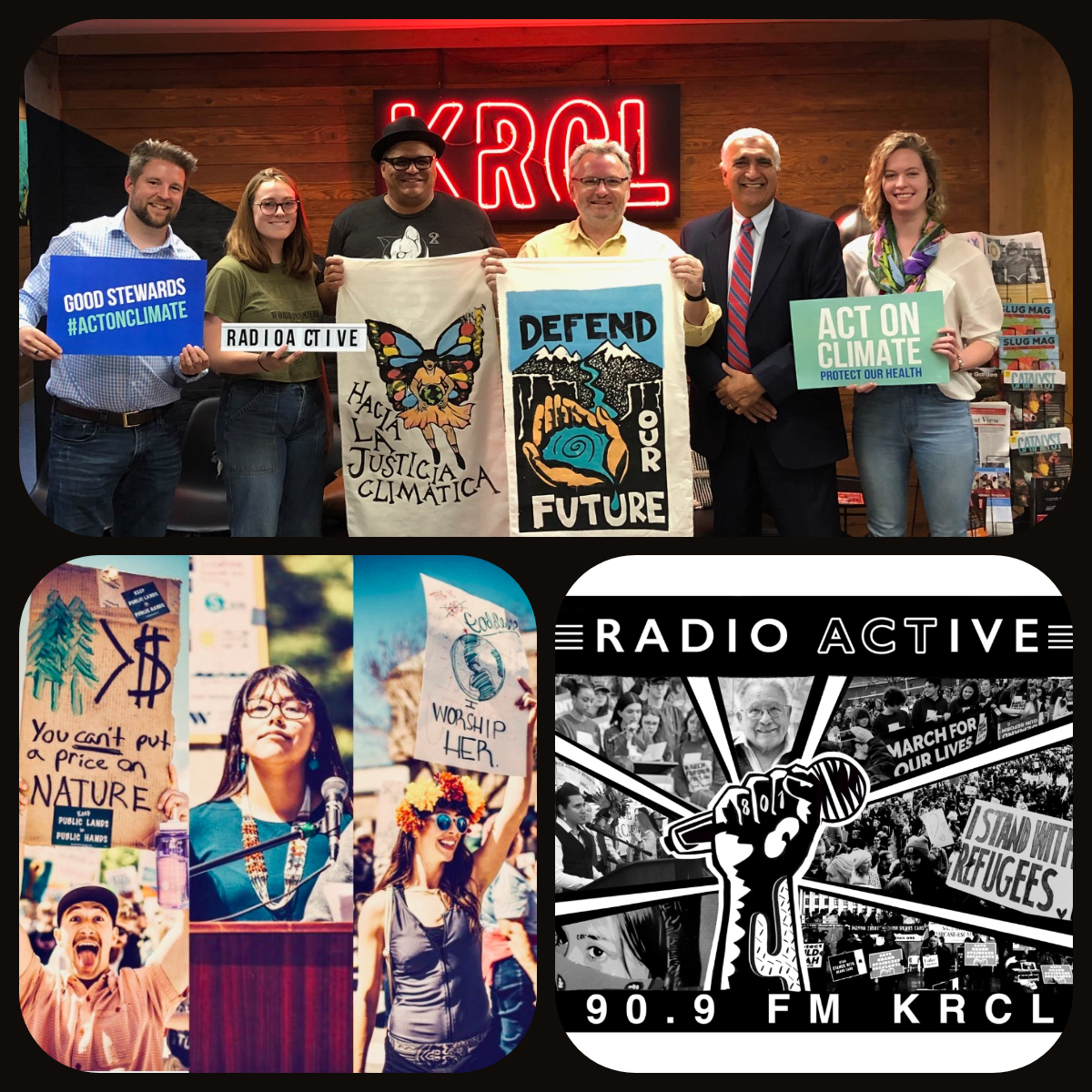 Live music from The Poppees. #UrbanFarmReport with Stagl Organics, Johnny's Selected Seeds, and Stonyfield Organics. Tree Utah planting party update. On the road with the League of Reluctant Bicyclists.
Tonight's lineup:
Megan Hallett of League of Reluctant Bicyclists called in from the road. You can still join the league. Click here to join. It's free AND you get cool bennies.
Amy May of TreeUtah gave an update on tomorrow's tree planting, which starts at 10 a.m., rain or shine.
Thanks to listeners who donated during Spring Radiothon, Tree Utah will be planting 126 native tree seedlings along the Millcreek Confluence of the Jordan River, 3160 S. 900 W., South Salt Lake, in conjunction with KRCL and Seven Canyons Trust. Want to help? Click here for details.
Live music with The Poppees, a Salt Lake City band drenched in vocal harmonies, electrified guitars and a whirlwind of drum beats and horns.
National Gardening Day is Sunday. So Aldine convened an all-organic panel for tonight's #UrbanFarmReport:
Shad Stagl of Stagl Organics, which grows vegetables organically here in the Salt Lake valley and provides weekly food shares to members of its CSA and to restaurants. Click here to sign up for a whole- or half-share.
Gary Hirshberg, Chief Organic Optimist at Stonyfield Organic. He's in town to host a Field Day at the Salt Lake Regional Athletic Complex, 2280 N. Rose Park Lane, SLC, Saturday, April 13, from 11a-2p. Tons of fun and activities for the kids AND FREE!

At 1pm Mayor Jackie Biskupski will receive a donation of $5,000 from Stonyfield Organic to support the Pesticide Free SLC program. It will be used to convert two fields at the RAC to organic land care maintenance methods. The company will also pledge an additional $40,000 to cover technical services to implement and identify best management practices that could be scaled up at the RAC, with the goal of making it the first sports complex in the nation with professional-grade fields being maintained through organic maintenance practices.
In addition to yogurt sampling and a variety of fun-filled family activities, representatives from Stonyfield, including co-founder and Chief Organic Optimist, Gary Hirshberg; the Salt Lake City Sustainability Department; Salt Lake City Parks & Public Lands Division; and members of the Utah Physicians for a Healthy Environment group will be on hand to celebrate the program and help educate local residents.
Got a story you'd like to share on the show? Record a voice memo on your smart phone, then email it to radioactive@krcl.org. Keep it under 3 minutes and be sure to include a name and phone number in the message.
RadioACTive is a production of Listeners' Community Radio of Utah. Tonight's team included:
Exec. Producer/Host: Lara Jones
Assoc. Producer: Billy Palmer
Community Co-Host: Aldine, KRCL's Punk Rock Farmer
Audio Engineers: Sullivan Phetchanpheng, Trevyn Porter
Volunteer: Sarah Thacker
###