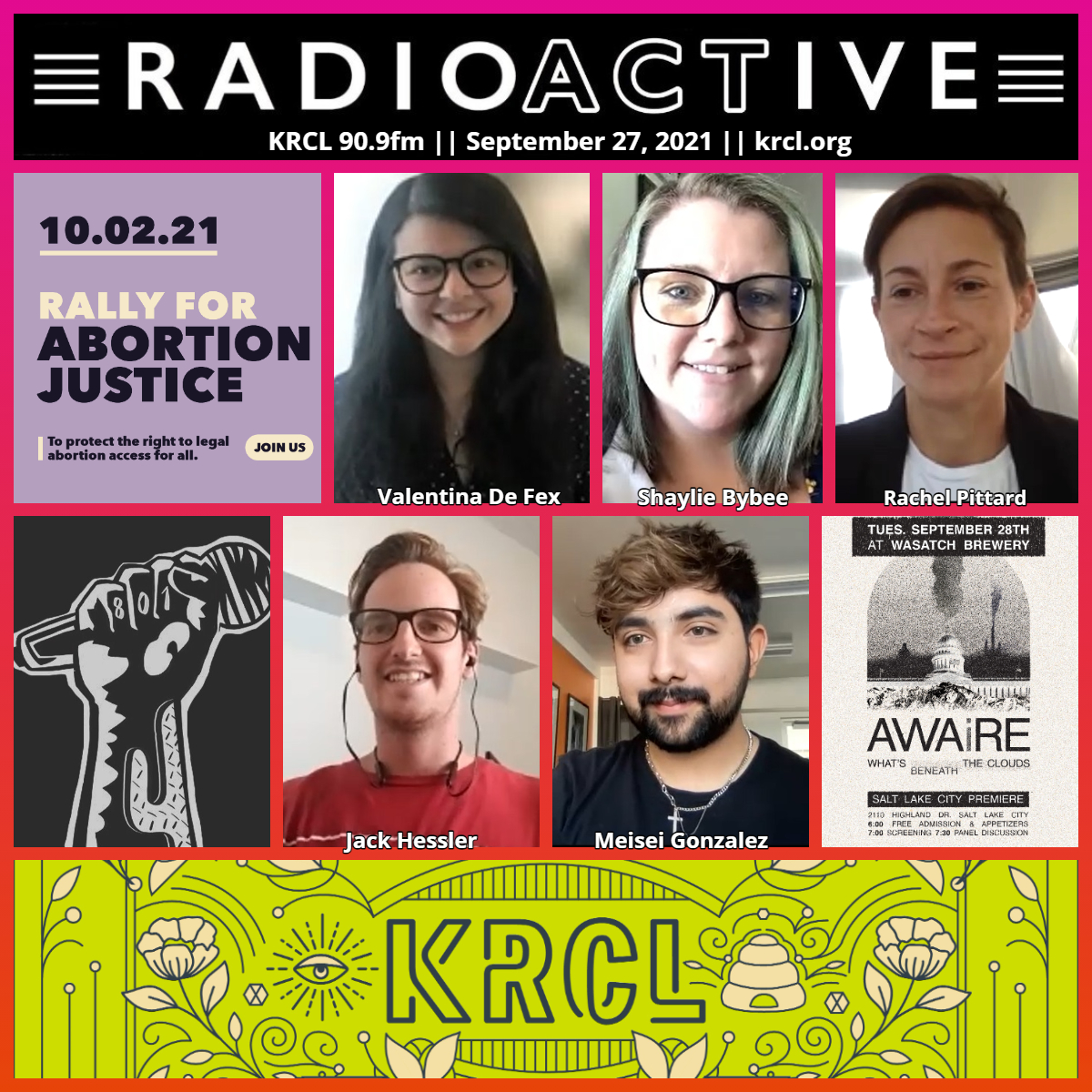 RadioACTive passes the microphone to folks organizing a march for abortion rights on Saturday, including Planned Parenthood, Pro Choice with Heart and an abortion storyteller. Plus, AWAiRE: What's Beneath The Clouds, a new documentary on the unequal effects of air quality through the stories of local Utahns.
Tonight's show featured the following people, organizations and/or events. Check them out and get plugged into your community!
Despite the fact 79% of Americans don't want to see Roe v. Wade overturned, there is momentum to do just that in the wake of a Texas abortion ban. This Saturday people from coast to coast will participate in Rally for Abortion Justice events led by a coalition of 100+ organizations to speak out to protect abortion access. RadioACTive passed the microphone to three women helping to organize a rally in Utah, including:
Shaylie Bybee of Pro Choice with Heart (Utah representative) and Utah Women's March Circle

Rachel Pittard, abortion storyteller

Valentina De Fex, ACLU Utah staff attorney

Oct. 2: SLC UT Women's March, 11:00 a.m. at Washington Square, 451 S. State St., SLC. "On October 2, we're going to send the Supreme Court and lawmakers across the country a clear, unified message. The attack on our reproductive rights will not be tolerated. This will be an INCLUSIVE march, and EVERYONE who supports women's rights is welcome. Masks are required. let's take care of each other."
Tomorrow night marks the premiere of AWAiRE: What's Beneath The Clouds which discusses the unequal effects of air quality through the stories of local Utahns. RadioACTive got a preview, featuring:
Filmmaker Jack Hessler of WZRD Media, a group of filmmakers dedicated to storytelling that has a life beyond the screen.

Meisei Gonzalez of HEAL Utah, which promotes renewable energy and protects public health and the environment from nuclear, toxic, and dirty energy threats.
Sept. 28: FREE FILM PREMIERE: AWAiRE [What's Beneath The Clouds], 6:00 p.m. at Wasatch Brew Pub, 2110 S. Highland Dr., SLC. After the film, stick around for a panel discussion with the director and participants from the film, including HEAL Utah's Carmen Valdez (moderator), filmmaker Jack Hessler, Senator Derek Kitchen, Representative Raymond Ward and Dr. Daniel Mendoza. FREE and open to the public.
Views, thoughts or opinions shared by guests are their own and do not necessarily reflect those of the board, staff or members of Listeners' Community Radio of Utah, KRCL 90.9fm. Tonight's show was produced and hosted by Lara Jones.
###