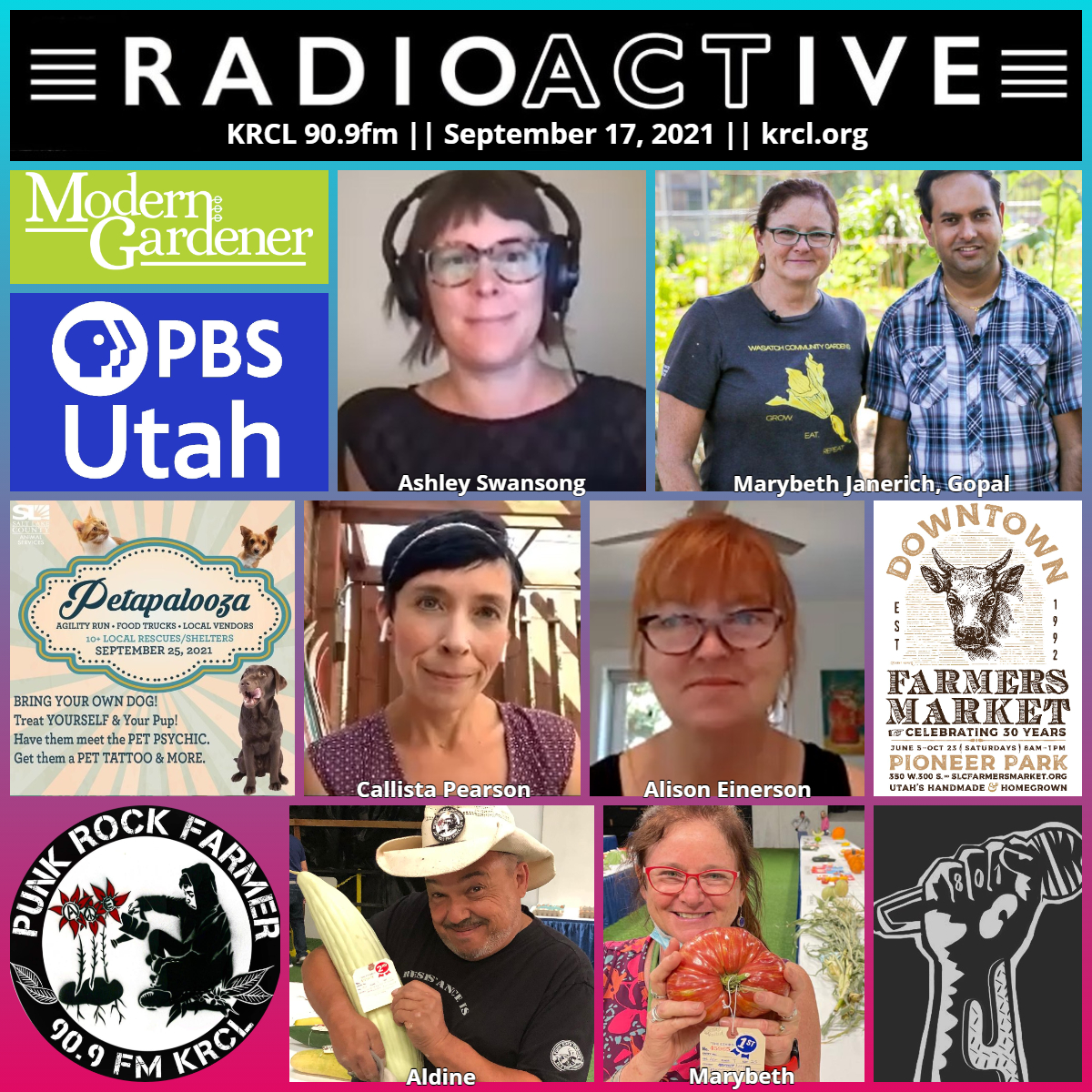 #PunkRockFarmerFriday with PBS Utah's Modern Gardener, Wasatch Community Gardens, Downtown SLC Farmers Market, Petapalooza, SkyWatcher Leo T, FFA Coalition, and fresh, homegrown music from Icarus Phoenix.
Tonight's show featured the following people, organizations and/or events. Check them out and get plugged into your community!
Fresh, homegrown music from Drew Danbury's latest Icarus Phoenix release, No tree can grow to heaven unless its roots reach down to hell. Check out their next live shows:
#ManyCulturesOneSky with SkyWatcher Leo T on the orange-pink dust of Venus, the Autumnal Equinox (9/22!), the moons of Jupiter, tilted rings of Saturn, astronomical history, orbs in Brazil and the constellation story of The Old Man.
Callista Pearson of Salt Lake County Animal Services, which will be hosting its annual Petapalooza on Saturday, Sept. 25. Celebrate your pets or adopt a new one with more than 10 local rescues/shelters in attendance.
Sept. 25: Salt Lake County Animal Services' Petapalooza, 10a-4p at 511 W. 3900 S., SLC. "This is a FREE, family and dog-friendly event at Salt Lake County Animal Services. There will be adoptable dogs, cats, and other small mammals from 10 pet rescues across Utah! There will be local pet product vendors, a pet psychic, "tattoos" for pets, food trucks, and a chance for your pup to run through our new Agility Run. The shelter parking lot will be fenced off to host all the vendors and adoptable pets. Parking will be located to the East, across the street from Salt Lake County Animal Services. Animal Control Officers will be on hand to microchip and license pets in our jurisdiction as well. Remember all pets in Salt Lake County with a pet license can get a FREE microchip. For more information visit AdoptUtahPets.org or email events@slco.org.
Alison Einerson of the Downtown SLC Farmers Market, with a preview of fall at the market. Located at Pioneer Park, 300 S. 300 W. in SLC, the market is held every Saturday from 8a-1p through October 22.
Double Up Food Bucks for SNAP/EBT cardholders: The Downtown Farmers Market accepts Supplemental Nutrition Assistance Program (SNAP) payments using a wooden token program. The Market's goal, with the vendors as partners, is to offer opportunities for families who receive food stamp benefits to purchase fresh fruits, vegetables and other eligible products at the Market. Participants can receive up to $30 worth of green tokens per day in addition to the wooden tokens. Green tokens can be used to purchase fruits and vegetables. Wooden tokens can be used to purchase any eligible food item. See Double Up Food Bucks for more information.
#UrbanFarmReport, featuring PBS Utah's Modern Gardener. Modern Gardener celebrates and supports those committed to educating and enlightening Utahns about gardening and landscaping in our unique region. It celebrates sustainable growing in Utah — gardens and landscapes that nourish the body and the spirit. Tonight's guests included:
Ashley Swansong, PBS Utah, digital media producer
Marybeth Janerich, Wasatch Community Gardens, community education director
Views, thoughts or opinions shared by guests are their own and do not necessarily reflect those of the board, staff or members of Listeners' Community Radio of Utah, KRCL 90.9fm. Tonight's show was produced and hosted by Lara Jones.
###