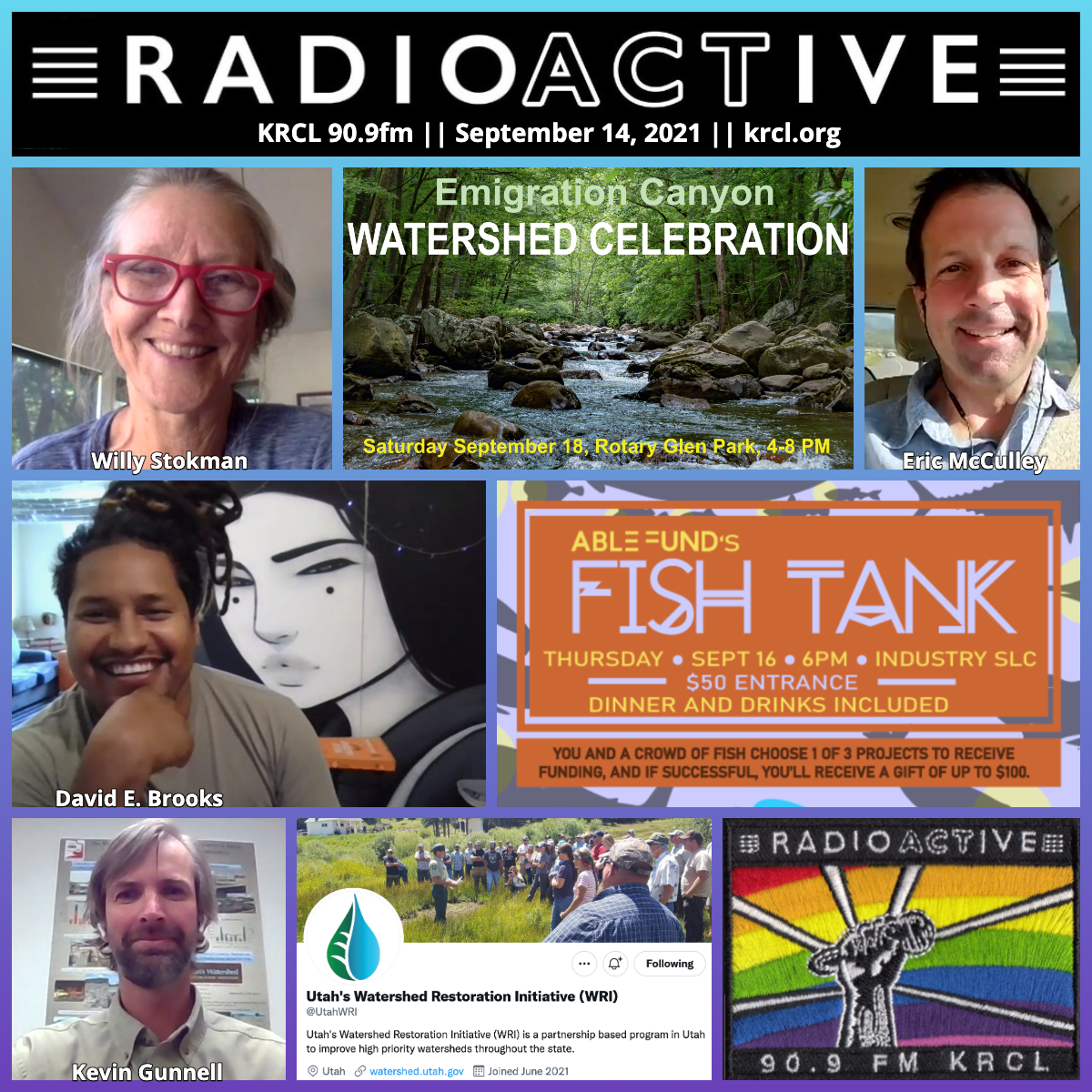 Able Fund launches Fish Tank. Emigration Canyon Sustainability Alliance celebration and call to action in defense of our watershed. DWR, Utah Watershed Restoration Initiative reseed in wake of drought and wildfires.
Tonight's show:
David Ezekiel Brooks of Able Fund, a 501(c)3 non-profit evergreen investment fund that invests in women, people of color, refugee and LGBT- owned businesses. Its mission: "to transform the socioeconomic landscape to be more equitable for underserved communities."
Sept. 16: FISH TANK by AbleFund, 6:00 p.m. Tickets: $50. "Join AbleFund and partners for the filming of Salt Lake City's Fish Tank. Just like Shark Tank, but you choose who wins. Your entrance into the event will be used to fund one strategy out of the three each founder is pitching. Because it is part of your money in the pool, you get to vote on who wins. We will be filming the event so that in the future we can expand to a digital + live format." For tickets, click here.
PITCHING COMPANIES: Challah Back Dough, The Jaguar Occult

PANELISTS: Aubren Love from the MayaWay, Megan Scaglione from Investable
Emigration Canyon Sustainability Alliance wants your help to preserve and conserve the watershed. RadioACTive spoke with ESA's Willy Stokman and RiverRestoration's Eric McCulley.
Sept. 18: Emigration Canyon Watershed Celebration, 4:00-8:00 p.m. at Rotary Glen Park, at the mouth of Emigration Canyon, SLC. There will be food trucks, live music, fun and educational activities for the kids, and informational booths by Utah Open Lands, Salt Lake County Watershed and Restoration, Utah Water Watch, Utah Division of Water Quality, and Seven Canyons Trust, who will have booths/tables and will be sharing their knowledge and expertise with residents.

This event will provide information on the creation of a watershed action plan with the aim of solving issues related to water quantity and quality. Residents will be invited to get involved and attend meetings this fall/winter organized by Eric McCulley of River Restoration, who has been hired by EC Metro Township to work on these issues.
Kevin Gunnell of the Utah Division of Wildlife Resources, which is about to begin working with other partners in Utah's Watershed Restoration Initiative to reseed areas across Utah impacted by drought or wildfires.
Views, thoughts or opinions shared by guests are their own and do not necessarily reflect those of the board, staff or members of Listeners' Community Radio of Utah, KRCL 90.9fm. Tonight's show was produced and hosted by Lara Jones.
###