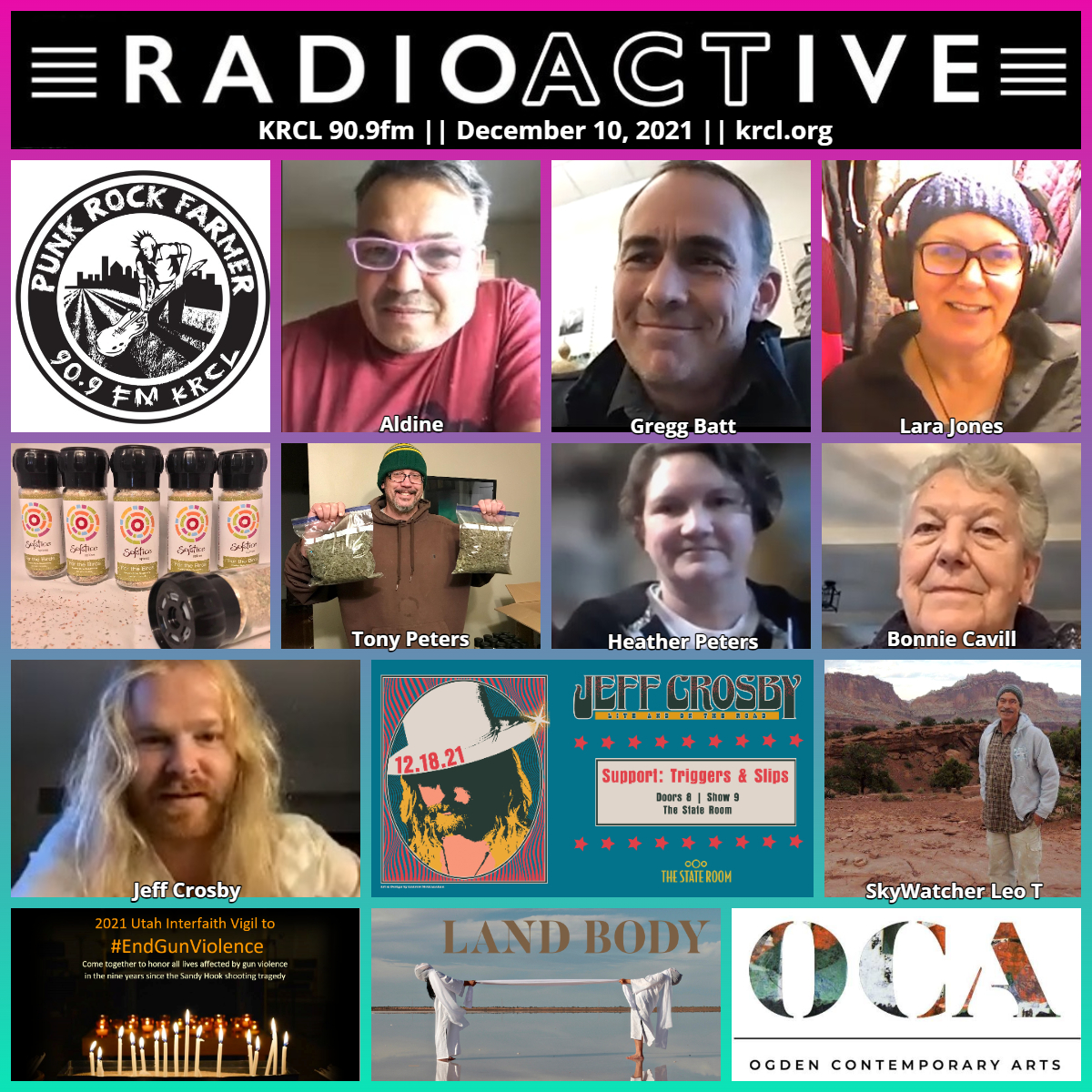 #PunkRockFarmerFriday with true tales from the agrihood, including the saving of Cress Farm, Solstice Spice stocking stuffers, and the 12th annual Ogden Seed Swap. Plus, SkyWatcher Leo T, Land Body at the OCA and the 2021 Interfaith Vigil to End Gun Violence.
Tonight's show featured the following people, organizations and/or events. Check them out and get plugged into your community!
Fresh, homegrown music from Idaho native Jeff Crosby. For his latest album, Northstar, click here.
SkyWatcher Leo T and his #ManyCulturesOneSky report. Leo says look from the southwest to the southeast to find Venus, Saturn and Jupiter intertwining with the Moon. Get out your binoculars to see Comet Leonard this weekend, moving toward the horizon from above the bottom of the handle of the Big Dipper. It's just a mere 21.7 million miles away, and Leo shares the best viewing times. For all of his sources in tonight's report, visit SkyWatcher Leo T.
Nancy Halden of the Gun Violence Prevention Center of Utah shared details about the 2021 Utah Interfaith Vigil to #EndGunViolence on Sunday, Dec. 12, 7:00 p.m. at Community of Grace Presbyterian Church, 2015 E. Newcastle Dr., Sandy.
Land Body opens tonight at Ogden Contemporary Arts, 455 25th St., Ogden. RadioACTive got a preview with OCA Executive Director Venessa Castagnoli and curator Kelly Carper, as well as exhibiting artists Wendy Wischer and Jaclyn Wright. Exploring connections between the human body and the landscape through the perspectives of 11 female artists from Utah, New Mexico and Arizona, Land Body is now on exhibit through Feb. 20, 2022
Gregg Batt of the Ogden Seed Exchange, a non-profit organization founded solely for free and public education and interest in selecting, growing, saving and sharing heirloom and other open-pollinated quality seeds. OSE is preparing for its 12th Annual Seed Swap in person next year. SAVE THE DATE: Feb. 26 from 10a-1p at Ogden Preparatory Academy, 1415 Lincoln Ave., Ogden.
Aldine's #UrbanFarmReport, featuring true tales from the agrihood. Tonight, SUCCESS in saving Cressfarm from the taxman! Guests:
Bonnie Cavill of Cressfarm. With community support, she successfully petitioned SL County to honor its tax break for small farms

Tony and Heather Peters of Solstice Spices, which grows on Cressfarm. Looking to buy local this holiday season? Solstice Spices and its unique blends of seasonings make the perfect gift or stocking stuffer. To place an order, just email heather@solsticespices.com or call (385) 202-0664.
Views, thoughts or opinions shared by guests are their own and do not necessarily reflect those of the board, staff or members of Listeners' Community Radio of Utah, KRCL 90.9fm. Tonight's show was produced and hosted by
Lara Jones
and
Aldine, KRCL's Punk Rock Farmer
.
###