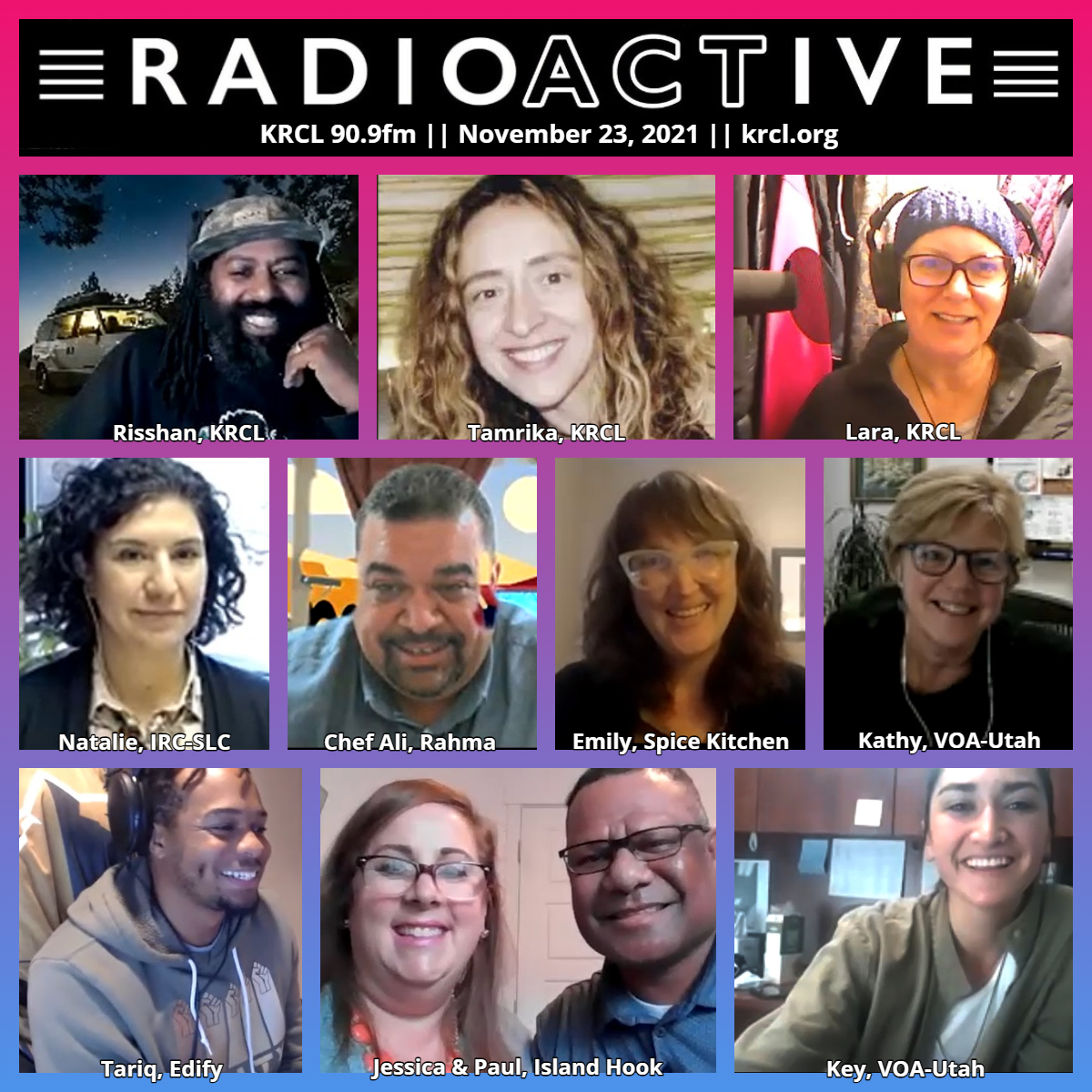 #RoundtableTuesday with Risshan Leak is back! Dispatches from Uzbekistan with Tamrika. Gratitude Sessions with International Rescue Committee in SLC, Spice Kitchen Incubator, Rahma Food SLC, Volunteers of America-Utah and Maud's Cafe. Plus, spotlight on DIY Creates with Island Hook Art and Edify Collective of Craft Lake City's Holiday Art Market.
Tonight's show featured the following people, organizations and/or events. Check them out and get plugged into your community!
Dispatches from Uzbekistan with Tamrika Khvtisiashvili. Take a listen as Tamrika shares the music she's hearing on the streets and in the taxi cabs of Uzbekistan.
Natalie El-Deiry, executive director of The International Rescue Committee in Salt Lake City. For a variety of ways to help refugees in our community, click here for IRC-SLC's frequently asked questions.
Emily Park, program manager of Spice Kitchen Incubator, a nonprofit under the IRC-SLC that provides aspiring food entrepreneurs with resources to build viable businesses. FYI, they're hiring and recruiting volunteers. Click here.
Chef Ali Amry of Rahma Food SLC, serving Iraqi cuisine. Place orders through their Instagram: instagram.com/rahmafoodslc. Website coming soon!
DIY Creatives Spotlight, featuring artisans from The Third Annual Craft Lake City Holiday Market in Ogden Dec. 3 & 4 (Admission: $7, children under 12 FREE):
Paul and Jessica Judd of Island Hook Art. A Native Islander, Paul creates Island art by pen and paper showcasing turtles, hooks, sharks, and other sea life.

Tariq Staton of Edify Collective. Edify Collective is a clothing company that offers ultra-soft clothing for a cause that donates 15% of its proceeds back into the community
Volunteers of America-Utah CEO Kathy Bray and community engagement manager Ki Cable. VIOA-UT builds a community-supported bridge that provides a path for those who are vulnerable to improve their lives and increase their self-reliance
Dec. 11: Second annual Winter Clothing Drive to benefit the VOA, 11a-3p at Salt Lake City & County Building, 451 S. State St., SLC. Salt Lake City and Volunteers of America (VOA) are partnering for a second winter to host a winter clothing drive for clients of the VOA. The community is encouraged to donate gently-used adult women and men's size items, including coats, jackets, sweaters, hats, gloves, blankets and sleeping bags — all items that should be washed before donating. New socks and undergarments also are greatly needed. Community members who want to donate are asked to wear a mask and drive up to the City and County Building's horseshoe drive on the east side of Washington Square, where volunteers wearing PPE will unload items from the trunks of vehicles.

Donations by appointment: The VOA is also taking donations by appointment only at both donation centers located at the Youth Resource Center (888 S. 400 W.) or the Geraldine E. King Women's Resource Center (131 E. 700 S.). To view VOA's urgent needs list and to sign up for a donation drop-off time, visit voaut.org/in-kind.

Maud's Café, 422 W. 900 S., SLC, is a boutique community café that offers a 26-week employment training program for the youth from Volunteers of America Utah's Youth Resource Center. Currently, Maud's Cafe is open 7:00 AM – 5:00 PM Monday through Friday. Great coffee and food!
Views, thoughts or opinions shared by guests are their own and do not necessarily reflect those of the board, staff or members of Listeners' Community Radio of Utah, KRCL 90.9fm. Tonight's show was produced and hosted by Lara Jones and Risshan Leak.
###