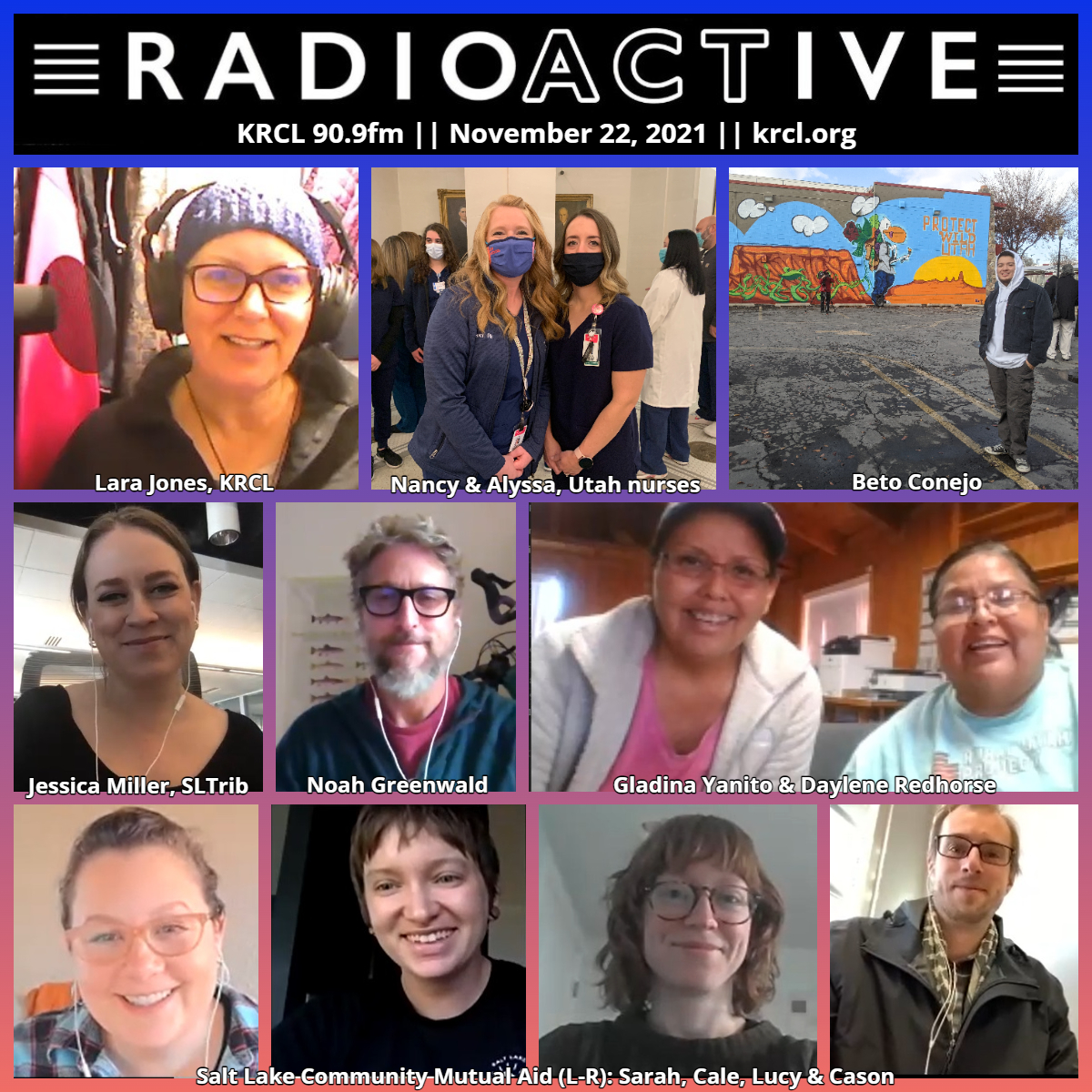 Public Health Day with nurses at the Utah Capitol. Muralist Beto Conejo on the intersection of art, identity and public lands. SLTrib and FRONTLINE doc 'Shots Fired' premieres tomorrow night. SL Community Mutual Aid trying to keep neighborhood 'freedge' alive. Lawsuits launched over denial, delay of federal protections to 10 Species. Rural Utah Project's digital plus codes make contactless food delivery possible on Navajo Nation.
Tonight's show featured the following people, organizations and/or events. Check them out and get plugged into your community!
It's Public Health Day!. From a press conference at the Utah Capitol Hall of Governors to say thank you to health care workers, RadioACTive brought you comments from Lt. Gov. Deidre Henderson, as well as Utah nurses Nancy and Alyssa. For the latest info on COVID vaccinations and testing, visit coronavirus.utah.gov.
Artist and activist Beto Conejo, whose latest commission was unveiled over the weekend in the parking lot of Love N.T., 805 W. North Temple, SLC. Commissioned by the Southern Utah Wilderness Alliance, the mural recognizes community support for conserving public lands. The Saturday gathering at the mural also served to observe how Latinos are affected by the climate crisis, with remarks from Mayra Cedano, Executive Director of Comunidades Unidas; Conejo; and Dr. Armando Solórzano, Assistant Professor of Ethnic Studies and Family and Consumer Studies at the University of Utah.
Salt Lake Tribune reporter Jessica Miller, part of the team whose work will be chronicled in tomorrow night's edition of FRONTLINE on PBS Utah.
Nov. 23: FRONTLINE: SHOTS FIRED, 9:00 p.m. on PBS Utah. "Amid record police shootings in Utah, an investigation into the use of deadly force in the state. With local journalism partner The Salt Lake Tribune, FRONTLINE examines police training, tactics and accountability, as well as racial disparities in the way force is used."
Members of Salt Lake Community Mutual Aid
reported on their community "freedge" project, a refrigerator stocked by and for neighbors in the Rose Park area of SLC. If they can smooth things over with the city, they hope to help groups set up freedges to reduce food insecurity in other parts of the city.
Noah Greenwald of the Center for Biological Diversity, which is suing the U.S. Fish and Wildlife Service for denying or delaying Endangered Species Act protections for 10 species. On the list: the Virgin River spinedace in Utah.
The Rural Utah Project, in partnership with three local restaurant owners, launched a first-of-its-kind pilot program to deliver food to residents on the Navajo Nation using digital plus code addresses. RadioACTive passed the microphone to RUP's Daylene Redhorse and new restaurant owner Gladina Yanito of Dina's Drinks and Desserts to find out more.
Views, thoughts or opinions shared by guests are their own and do not necessarily reflect those of the board, staff or members of Listeners' Community Radio of Utah, KRCL 90.9fm. Tonight's show was produced and hosted by Lara Jones.
###