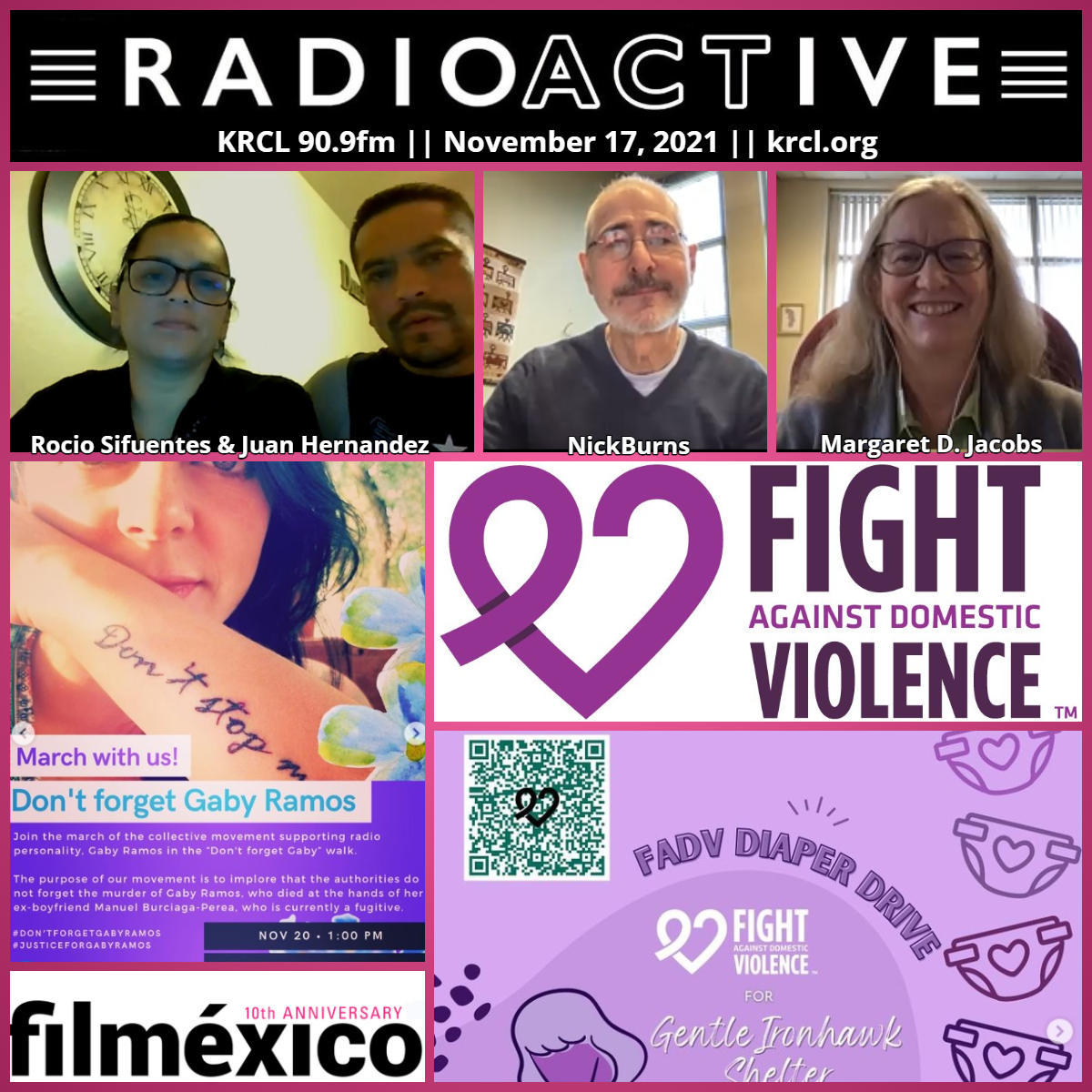 Community Co-Host Nick Burns talks with Margaret D. Jacobs, author of After One Hundred Winters: In Search of Reconciliation on America's Stolen Lands. Plus, FILMEXICO 2021, Don't Forget Gaby Ramos Walk, Fight Against Domestic Violence and a call for support of the Gentle Ironhawk Shelter in Blanding.
Tonight's show featured the following people, organizations and/or events. Check them out and get plugged into your community!
Fanny Blauer of Artes de México en Utah on the 10th anniversary of FilMexico, Salt Lake Film Society's annual celebration of contemporary Mexican cinema. Final screenings tonight, Thursday and Friday! Get tickets for in theater screenings for Filméxico 2021 here. Blauer offered the coupon code FMARTESVIP for complementary screenings during film festival
Nov. 17: Uncle Yim (Tío Yim), a powerful documentary immersing us in the identity of a family shaped by tradition, music, and communality. In Spanish, Zapotec, and French with English subtitles. Screenings: in-theater tonight only at 7pm; online via SLFSathome.org through November 18. Panel available will include a conversation with director/producer Luna Marán and OaxaCalifornian Zapotec activist Odilia Romero, interviewed exclusively for Filméxico. This film is preceded by a short film, Snake Mouth directed by Adriana Otero.

Nov. 18: Costa Chica, a documentary that focuses on the lives of people from the Costa Chica, one of the last bastions of Afro-Mexican culture which has been historically denied but that nevertheless has always been there as a fundamental element of this region and also contributing to Mexico's cultural richness. Screenings: in theater tonight only at 8pm; online via SLFAathome.org through tomorrow. Panel available feat. Director Nicolás Segovia with moderator Consul José Borjón and Specialist Fernando Miranda, Director of the Regional Museum of Yanga, Veracruz State, Mexico.
Rocio Sifuentes and Juan Hernandez on a walk to remember Rocio's sister, the late-Gaby Ramos, who lost her life in a domestic homicide last month.
Nov. 20: Marcha Colectiva No olvides a Gaby Ramos | "Don't forget Gaby Ramos" Collective March, 1:00 p.m. outside the Taylorsville City Police Department, 2600 W. 5400 S., Taylorsville. Rocio and her family are hosting this event: "Join the march of the collective movement supporting radio personality Gaby Ramos in the 'Don't Forget Gaby' walk. The purpose of our movement is to implore that the authorities do not forget the murder of Gaby Ramos, who died at the hands of her ex-boyfriend Manuel Burciaga-Perea, who is currently a fugitive."
Nonprofit Spotlight: Fight Against Domestic Violence. RadioACTive passed the microphone to Executive Director Brooke Muir and Rachelle, West Valley City Victim Services Coordinator and now FADV Advisory Board member.
Call to Action: FADV is collecting large diapers and pull-ups — toddler sizes 4, 5 & 6 — for the recently reopened Gentle Ironhawk Shelter in Blanding. Click here for more information on how to donate.
Community Co-Host Nick Burns spoke with author Margaret D. Jacobs, professor of history and director of the Center for Great Plains Studies at the University of Nebraska–Lincoln. In her new book, After One Hundred Winters: In Search of Reconciliation on America's Stolen Lands (Princeton University Press, October 2021), Jacobs traces the brutal legacy of systemic racial injustice to Indigenous people that has endured since the nation's founding. Explaining how early attempts at reconciliation succeeded only in robbing tribal nations of their land and forcing their children into abusive boarding schools, Jacobs shows that true reconciliation must emerge through sustained relationships between Indigenous and non-Indigenous people that are rooted in specific places and histories
Views, thoughts or opinions shared by guests are their own and do not necessarily reflect those of the board, staff or members of Listeners' Community Radio of Utah, KRCL 90.9fm. Tonight's show was produced and hosted by Lara Jones and Nick Burns.
###