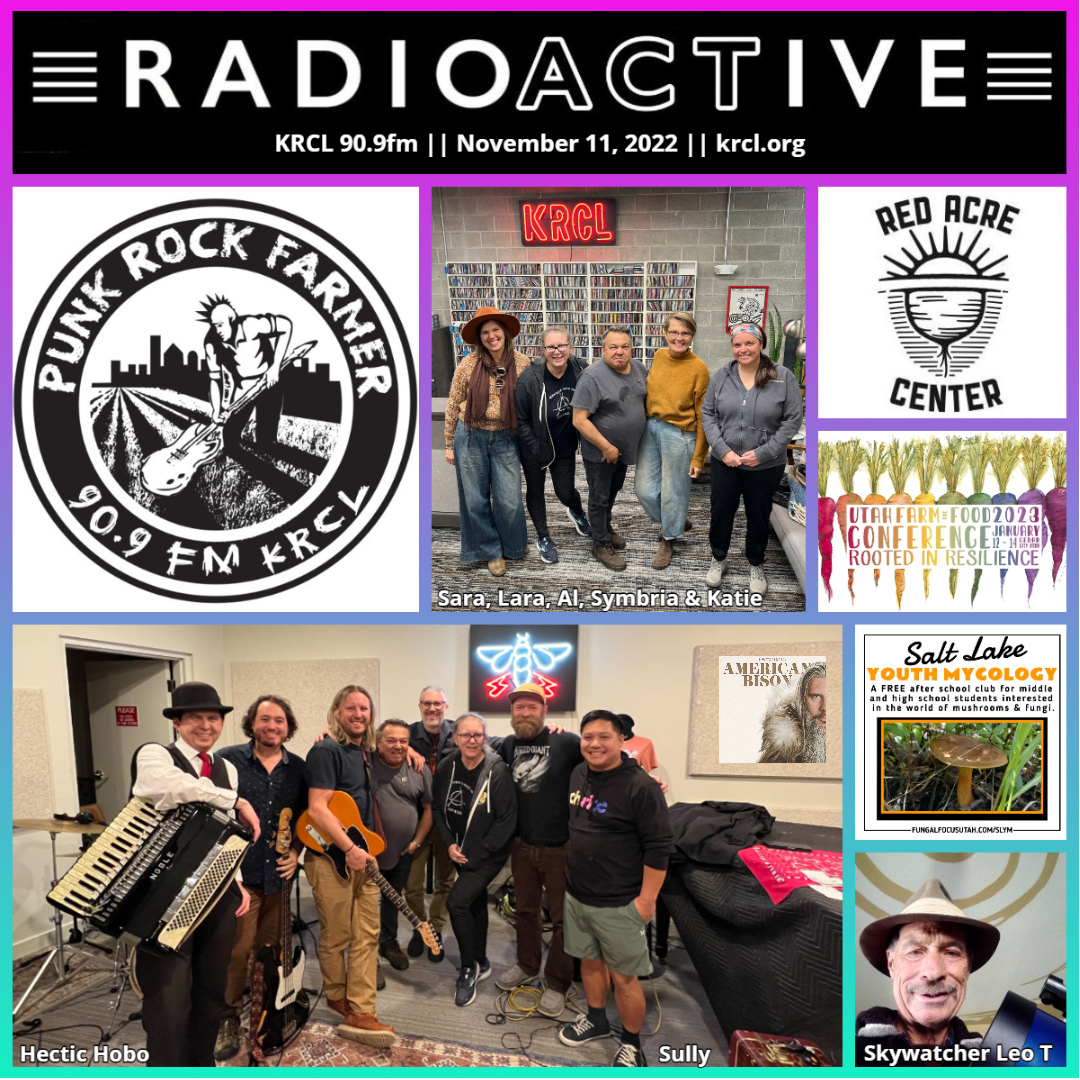 More true tales from the agrihood with Aldine, KRCL's Punk Rock Farmer, and Lara. Fungal Focus starts free Salt Lake Youth Mycology Club. Urban Farm Report on the 2023 Utah Farm and Food Conference. Many Cultures One Sky with SkyWatcher Leo T. Fresh, homegrown music from Hectic Hobo, which releases American Bison album today!
Tonight's show featured the following people, organizations and/or events. Check them out and get plugged into your community!
Fresh, homegrown music from Hectic Hobo, Western whiskey-soaked Americana storytellers delivering rock n' roll around the globe since 2009. American Bison, released today, is available on all streaming platforms.
Nov. 12: Hectic Hobo American Bison Release Show w/ Lucy Ave, 7pm, Beehive Distilling, 2245 S. West Temple, South Salt Lake
Dec. 6: Hectic Hobo, 8pm, Garage On Beck, 1199 N. Beck St., SLC
#ManyCulturesOneSky with SkyWatcher Leo T, a RadioACTive volunteer-contributor who shares his love for the night sky and cultural tales of the constellations during #PunkRockFarmerFridays. Tonight, a lunar eclipse witness in Torrey, a pink aurora in the Netherlands, Artemis waits, and the Gemini space program.
Katie Lawson of Fungal Focus, which will start its new Salt Lake Youth Mycology Club for teens Tuesday, Nov. 15, at the Glendale Library, 1375 S Concord St, SLC, Meeting Room A, 4:30-6:00 p.m. Middle and high school students interested in fungi are welcome to join this group. Membership is FREE.
Aldine's Urban Farm Report with Symbria and Sara Patterson of Red Acre Center, a Cedar City-based nonprofit that advocates for a stronger local food economy and opportunities for the general public to understand food production.
Looking for details about the free Interagency Military Pass that was mentioned tonight? Click here.
Guests' views, thoughts, or opinions are their own and do not necessarily reflect those of the board, staff, or members of Listeners' Community Radio of Utah, KRCL 90.9fm. Tonight's RadioACTive team included:
###