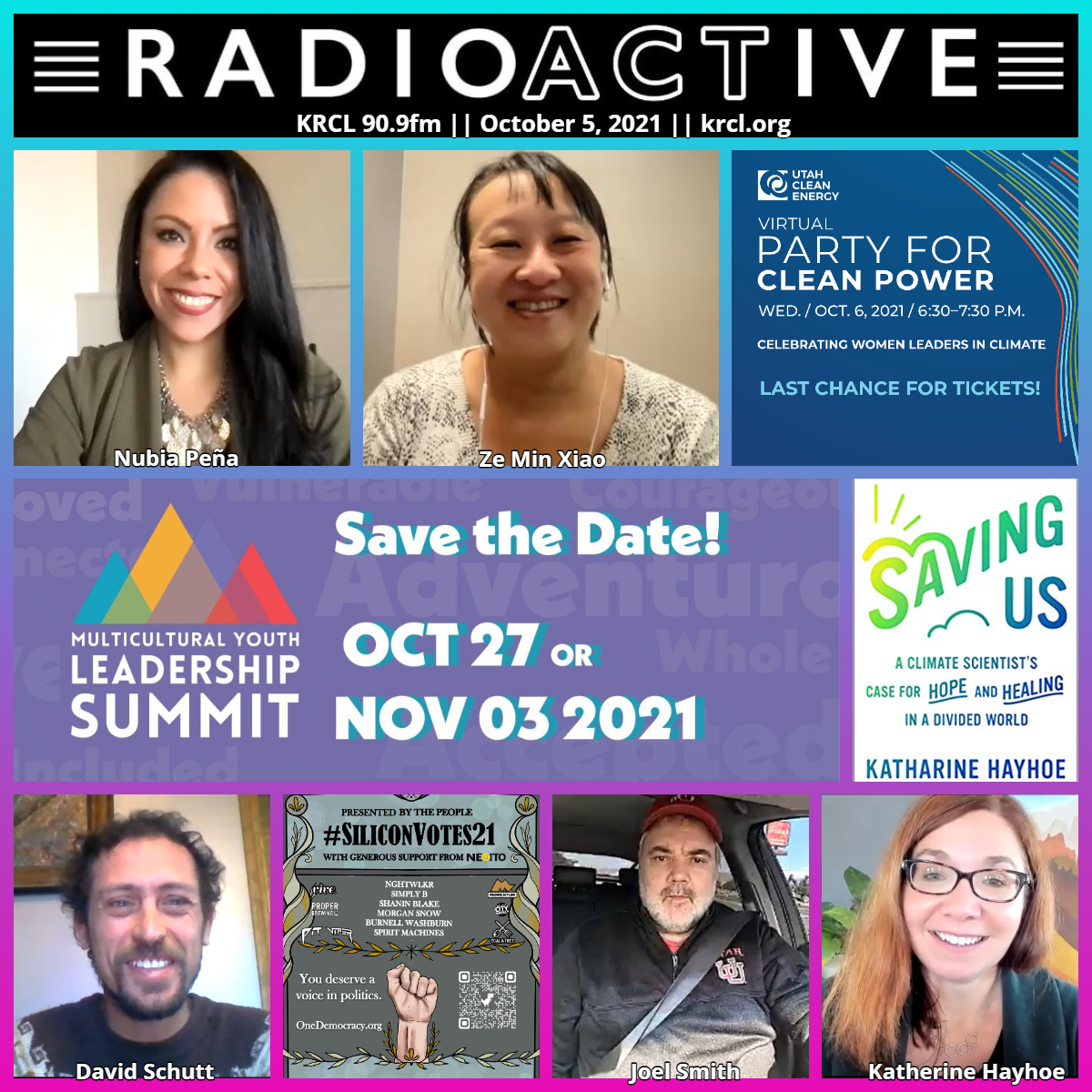 Utah Multicultural Affairs and the Center for Economic Opportunity and Belonging with Nubia Pena and Ze Min Xiao. One Democracy ready to launch By The People app. Dr. Katherine Hayhoe, author of SAVING US: A Climate Scientist's Case for Hope and Healing in a Divided World.
Tonight's show featured the following people, organizations and/or events. Check them out and get plugged into your community!
Opportunity for all with Nubia Pena, Senior Advisor on Equity and Opportunity to Utah Governor Spencer Cox and Director of the Utah Division of Multicultural Affairs; and Ze Min Xiao, Director, of the newly created Center for Economic Opportunity and Belonging at the Economic Development Corporation of Utah.
David Schutt of One Democracy with an update on By the People, a new interactive app he believes will revolutionize democracy and transparency and put power back into the hands of the people over special interests. He was joined by Joel M. Smith of He was on the show in early 2020, pre-pandemic, which delayed everything. Stay tuned to find out an event he's hosting during Silicon Slopes to raise awareness and funds ...
Oct. 13: #SILICONVOTES21, 5p-midnight at Soundwell SLC, 149 W. 200 S., SLC. Event by One Democracy: "An evening of fundraising and merriment, with local artists, food truck, and silent auction. Gather with community thought leaders, rabble-rousers, and tech giants as we reimagine digital democracy for the greater good. Modern technology means that our communities can better participate and overcome the friction of money in politics. You have a voice; now you have a platform." This is a 21+ event. Donation-based entry. Space is limited please RVSP today at: www.onedemocracy.org/siliconvotes21

Want to check out The Social Dilemma mentioned in tonight's show? Click here. Netflix has extended the window to watch 'The Social Dilemma' for free on YouTube to Oct. 31.
Dr. Katharine Hayhoe, named one of the nation's most effective communicators on climate change by The New York Times, is committed to changing the way we think about this urgent issue with her latest book titled SAVING US: A Climate Scientist's Case for Hope and Healing in a Divided World. She's the featured speaker at Utah Clean Energy's virtual Party for Clean Power.
Views, thoughts or opinions shared by guests are their own and do not necessarily reflect those of the board, staff or members of Listeners' Community Radio of Utah, KRCL 90.9fm. Tonight's show was produced and hosted by Lara Jones.
###