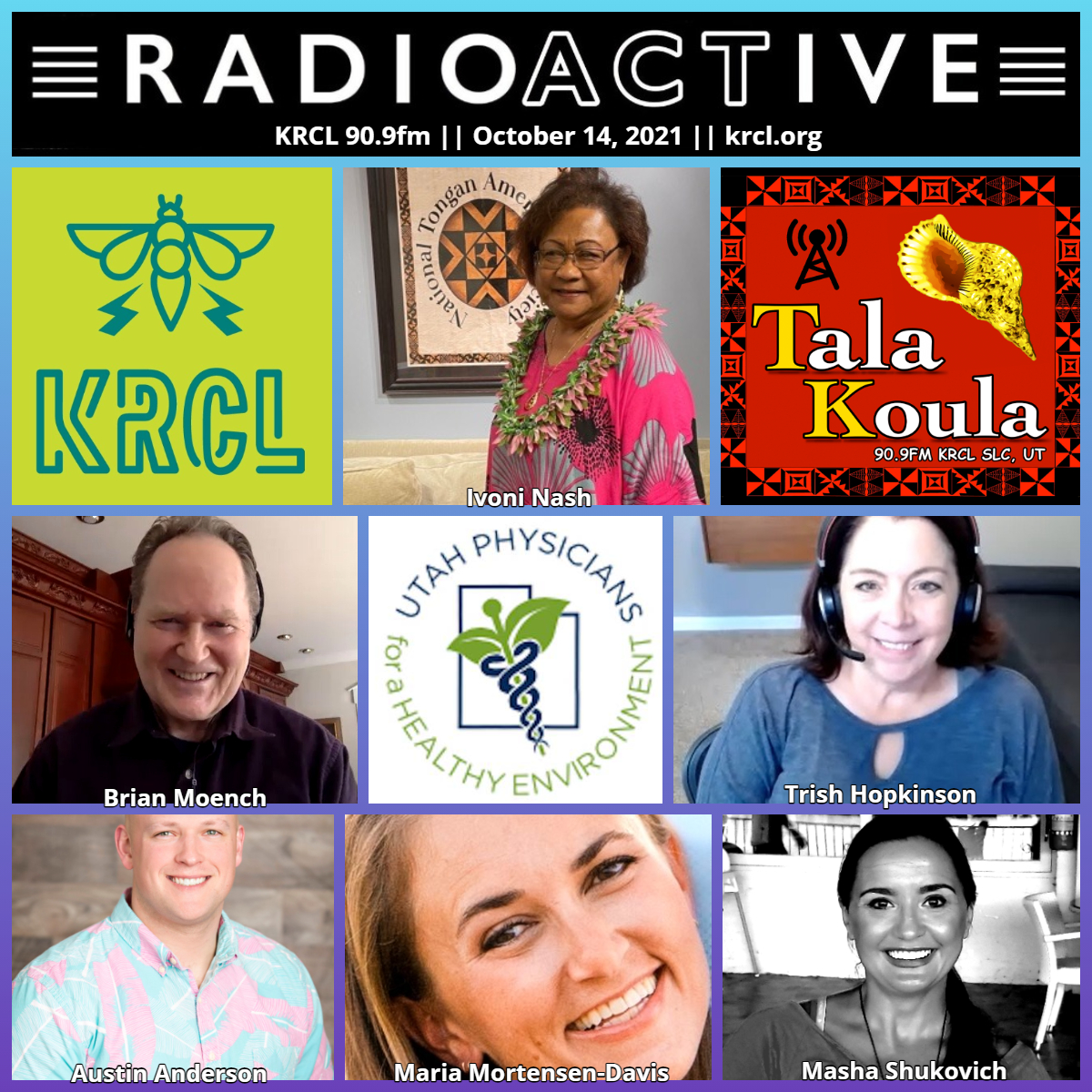 UPHE's Dr. Brian Moench on why SLC should adopt a moratorium on mosquito pesticide spraying. Rock Canyon Poets' Trish Hopkinson with Poems of Summer. Meet KRCL DJ Ivoni Nash, host of Tala Koula Sunday nights from 10 to midnight.
Tonight's show featured the following people, organizations and/or events. Check them out and get plugged into your community!
Dr. Brian Moench of Utah Physicians for a Healthy Environment, which wants SLC to adopt a two-year moratorium on mosquito pesticide spraying — including any tax hike requested by the Salt Lake City Mosquito Abatement District during that period. Said Moench: "It makes no sense to expose hundreds of thousands of people to neurotoxic chemicals in a vain attempt to prevent a different neurotoxic disease in a few dozen people." To learn more, click here.
#PoetryStillHappens: Trish Hopkinson of Rock Canyon Poets was back with three select poems from the forthcoming RadioACTive chapbook, Poems of Summer. Our thanks to tonight's featured poets: Austin Anderson, Maria Mortensen-Davis and Masha Shukovich. We're working on the chapbook and hope to have it out by the end of the year!
Meet the DJ: Ivoni Mālohifo'ou Nash, host of Tala Koula, Sunday nights from 10 to midnight on KRCL: Stream the archived show to find out more about one of KRCL's longest-running shows and veteran DJs, including Ivoni's surprising dream job. Here are a few highlights:
A listener since the launch of KRCL in 1979, Nash started volunteering and became a part of what was then called Voice of Polynesia in 1988. By 2000, she was hosting and the show became what we know today as Tala Koula, the longest-running Tongan language program in the USA.

"Tala means to tell and koula means gold [in Tongan]," Nash said. "Golden messages, very important messages, that's what Tala Koula means. We are telling really important messages for the people in our community to listen to."

The OCA Asian Pacific Islander American Advocates: Utah Chapter recently recognized Tala Koula with its Spirit of the Community Award for its efforts "combining community outreach and music discovery by adding guest lecturers and health professionals to share Tongan and Pacific Islander experiences in current events, serving as the heartbeat of the community every Sunday night."

Nash is equally involved in the community off the air. She's the president of the NTAS (National Tongan American Society), one of the longest-running non-profit organizations to advocate for and empower all Tongan-Americans and other Pacific Islanders.

To listen on-demand to the last two weeks of Tala Koula, click here.
Views, thoughts or opinions shared by guests are their own and do not necessarily reflect those of the board, staff or members of Listeners' Community Radio of Utah, KRCL 90.9fm. Tonight's show was produced and hosted by Lara Jones.
###