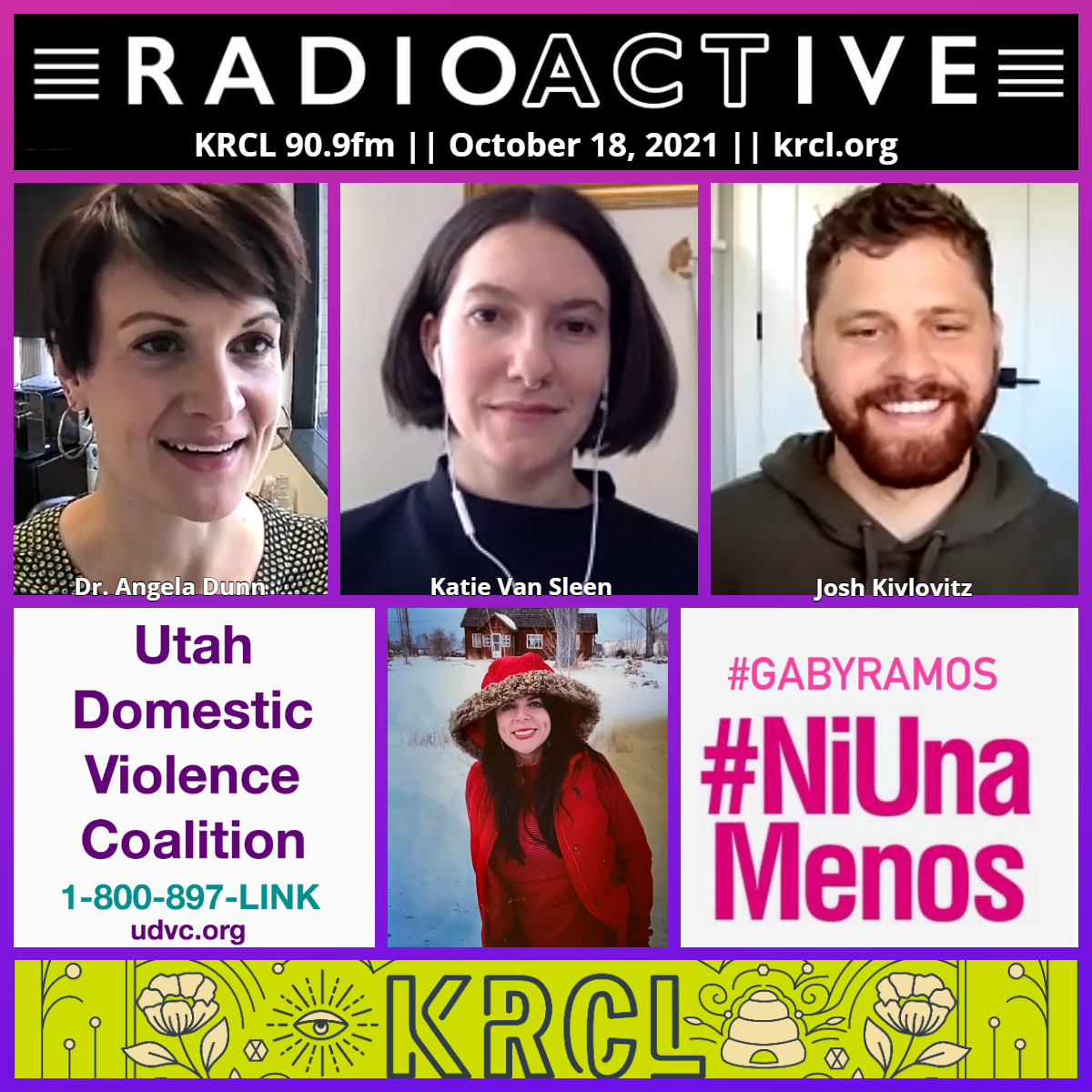 Vigil for Gabby Ramos. Dr. Angela Dunn with a COVID update. SL Community Bail Fund's 1st-anniversary report.
Tonight's show featured the following people, organizations and/or events. Check them out and get plugged into your community!
KRCL Night Estéreo host Ma Black on domestic violence and the case of Gaby Ramos, who was the victim of a domestic homicide over the weekend.
Ramos' family will hold a vigil for her at 5:00 p.m. Tuesday, Oct. 19, outside their home at 5222 W. Autumn Park Drive, Taylorsville.

24-Hour LINKLine: 1-800-897-LINK (5465): If LINKLine advocates are experiencing an increased call volume, calls will be forwarded to the National Domestic Violence Hotline.

If you or someone else is in immediate danger, or in an emergency, call 9-1-1 immediately
Dr. Angela Dunn provided an update on COVID in Salt Lake County. For COVID testing and vaccines in the county, click here.
The Salt Lake Community Bail Fund (SLCBF) passed the one-year mark last month. To celebrate, they published an End of Year report detailing the impact they have made during the last 12 months providing free bail payments for individuals who cannot afford to pay their bail for pretrial release held in the Salt Lake County Metro Jail. RadioACTive spoke with SLCBF's Josh Kivlovitz and Katie Van Sleen, an organizer with Decarcerate Utah.
Request bail online: slcbailfund.org/en/request

Request bail by phone: 385-831-1716

Request bail by mail: Salt Lake Community Bail Fund, P.O. Box 3381, Salt Lake City, UT 84110

Oct. 31: Halloween Variety Show to Support the SLC Bail Fund, 5:00-10:00 p.m. online. Event by Decarcerate Utah: "Save the date for our second annual Halloween Variety Show! Featuring live performances from local musicians, comedians, drag queens, and more, along with a silent auction highlighting donated items and gift cards from local businesses. The Salt Lake Community Bail Fund is seeking to raise funds to support their efforts to minimize the incarcerated population of Utah jails by providing cash bail to those who cannot afford the posted amount. RSVP to stay up to date as we list auction items and announce the full lineup! https://www.betterunite.com/slcbfhalloween."
Views, thoughts or opinions shared by guests are their own and do not necessarily reflect those of the board, staff or members of Listeners' Community Radio of Utah, KRCL 90.9fm. Tonight's show was produced and hosted by Lara Jones.
###