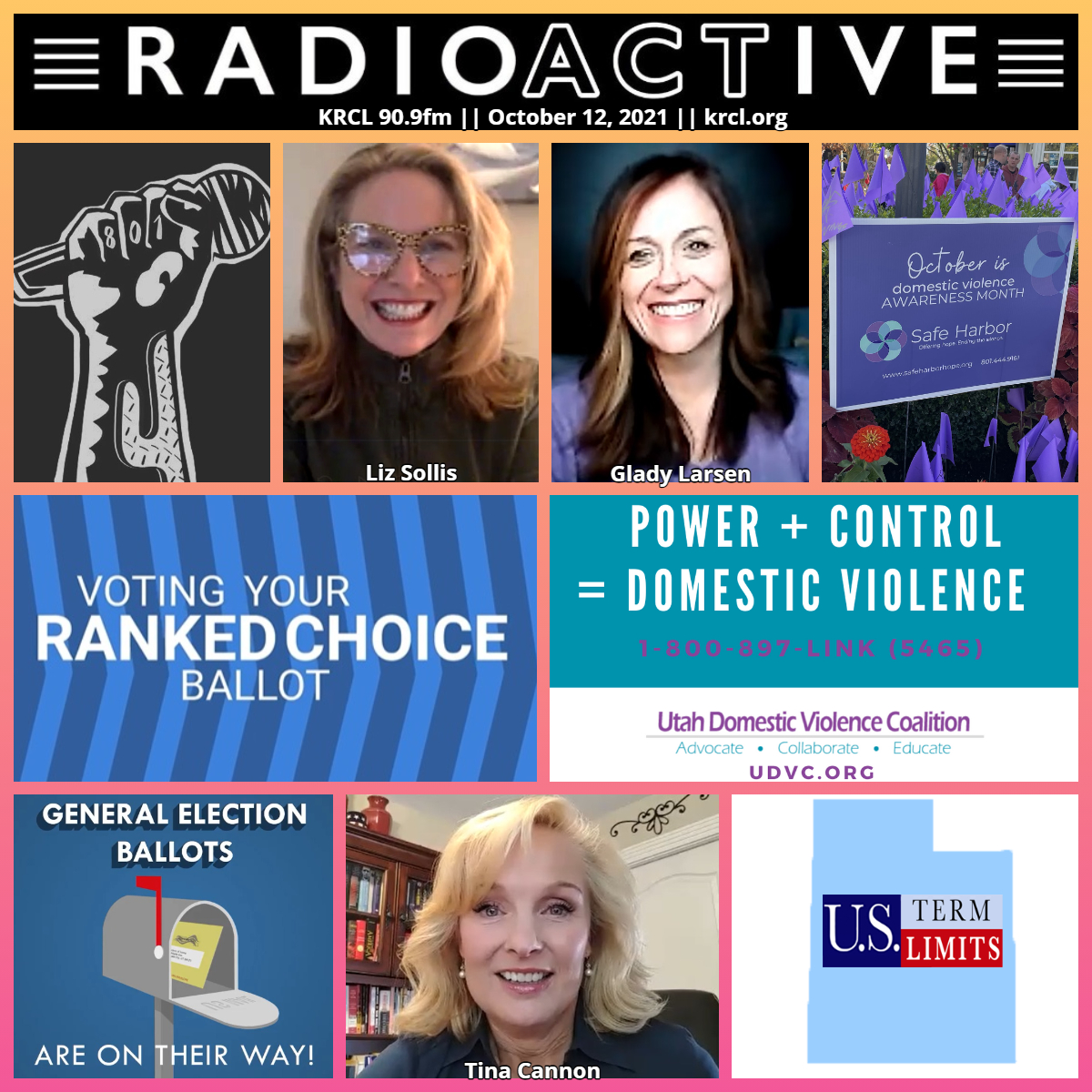 #StoptheViolenceUtah, a campaign among service providers to address domestic violence this month. Ballots in the mail -- where's yours? U.S. Term Limits names new Utah leader.
Tonight's show featured the following people, organizations and/or events. Check them out and get plugged into your community!
County clerks across Utah started dropping ballots in the mail today. RadioACTive got an update from Salt Lake County Clerk Sherrie Swensen, who said to make sure your mail-in ballot is postmarked by Nov. 1, 2021! If not, drop it off at one of the 20+ vote centers in the county on Election Day.
Oct. 19-29: Early voting in Salt Lake County.

Nov. 2: General Election Day. If you didn't get your ballot post-marked yesterday, take it to a drop-off location in your county before polls close at 8:00 p.m. this evening.

Salt Lake County Elections: got-vote.org

Track your ballot, register to vote, and other election resources: vote.utah.gov
Late last month,
U.S. Term Limits
announced that Tina Cannon is the new Utah State Chair for its campaign to enact term limits on all elected officials, especially the U.S. Congress. Check out the show to hear more about the life-long Utahn, or
click here
to get involved.
October is Domestic Violence Awareness Month. There are more than a dozen nonprofits that work with those experiencing domestic violence across Utah. RadioACTive talked about the issues with Liz Sollis of Utah Domestic Violence Coalition and Glady Larsen of Safe Harbor Crisis Center, Davis County.
#StoptheViolenceUtah is a month-long effort to educate Utahns about available resources for those in abusive situations, raise awareness about the damage domestic violence causes in families and communities, and rally support for local agencies through donations and volunteerism. Click here to learn about resources and opportunities to support this effort, as well as planned activities and events throughout the month.

24-Hour LINKLine: 1-800-897-LINK (5465): If LINKLine advocates are experiencing an increased call volume, calls will be forwarded to the National Domestic Violence Hotline.

National Domestic Violence Hotline: 1-800-799-SAFE (7233)

StrongHearts Native Helpline: 1-844-762-8483

Documentary mentioned by Liz Sollis: 15 Minutes of Shame, from executive producer Monica Lewinsky

Utah Resources
Views, thoughts or opinions shared by guests are their own and do not necessarily reflect those of the board, staff or members of Listeners' Community Radio of Utah, KRCL 90.9fm. Tonight's show was produced and hosted by Lara Jones.
###