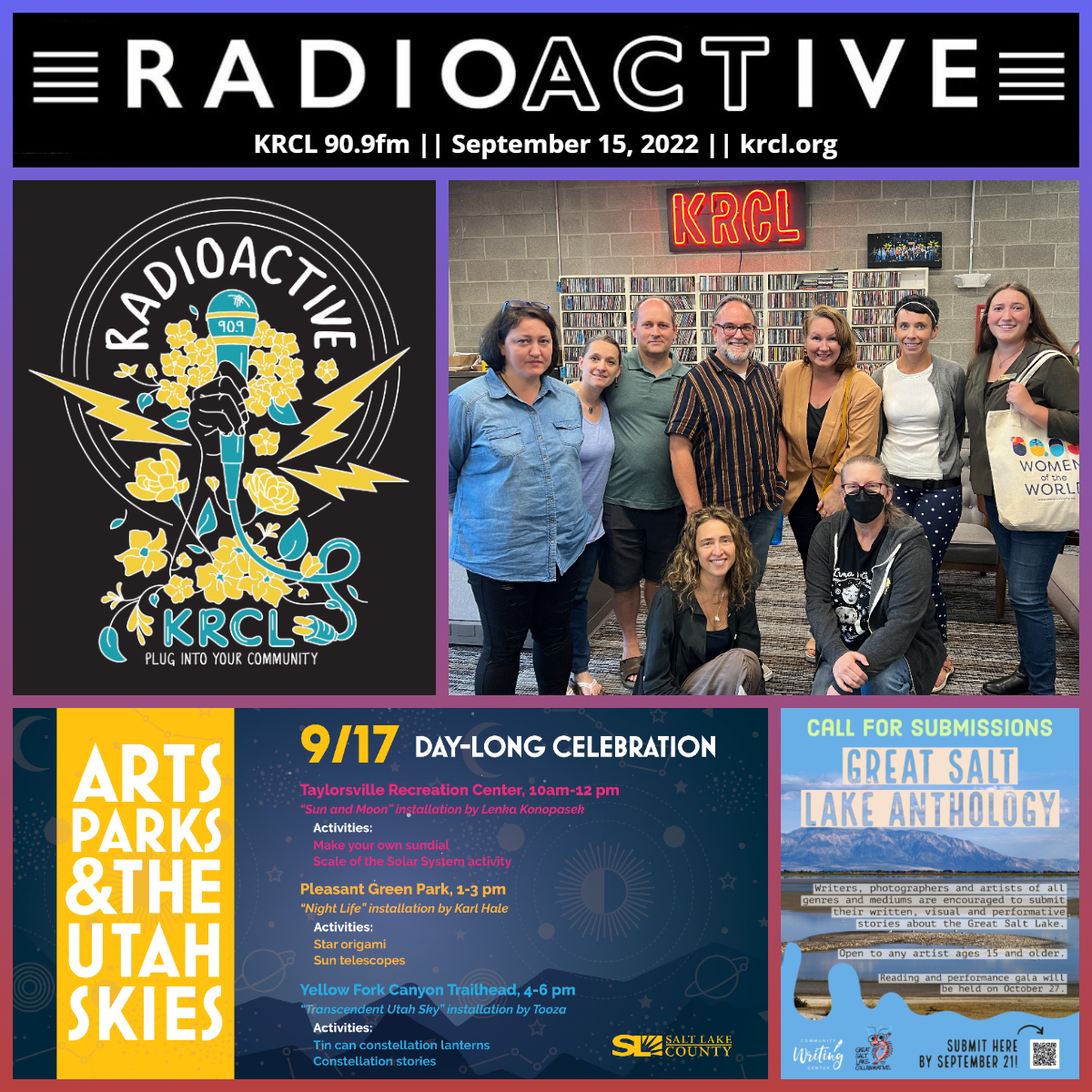 It's Welcoming Week! KRCL's Tamrika Khvtisiashvili talks with Women of the World on the plight of Ukrainian women and children. Plus, Bring Home Happiness Pet Adoption, Great Salt Lake Community Anthology, SL County Parks and Rec's Arts, Parks and the Utah Skies, and another new single from Sammy Brue!
Tonight's show featured the following people, organizations and/or events. Check them out and get plugged into your community!
Callista Pearson of Salt Lake County Animal Services, which is hosting a $5 pet adoption event Friday and Saturday.
Sept 16-17: Bring Home Happiness Adoption Event, 10a-6p at 511 W. 3900 S., SLC. "Salt Lake County Animal Services, the largest no-kill, municipal shelter in Utah, and Best Friends Animal Society, a leading animal welfare organization working to save the lives of cats and dogs in America's shelters by 2025, are teaming up for another adoption campaign to encourage people to choose to adopt, not buy, their next pet. Bring Home Happiness and help clear the shelter. This Friday and Saturday, Sept 16-17, Salt Lake County Animal Services will be offering $5 *adoptions. All pets are spayed/neutered, vaccinated, and microchipped upon adoption. Adoptable pets can be seen in person or online at AdoptUtahPets.org."
SL County Parks & Rec on Arts, Parks & the Utah Skies. Guests included Liz Sollis, Kate Ithurralde, and artists Karl Hale & Rob Beishline.
Sept. 17: Arts, Parks, and the Utah Skies (multiple locations), 10a-6p. "Clark Planetarium, Salt Lake County Parks and Recreation, and Salt Lake County Arts and Culture collaborated to bring art installations that encourage learning about the Utah skies to Salt Lake County parks. Three local artists have created installations that incorporate this vision and the installations are located around the valley. To kick-off the installations, we are hosting educational activities at each location throughout the day: Taylorsville Rec Center (10am, learn/make sundial); Pleasant Green Park (1pm, learn/make star origami and sun telescopes); Yellow Fork Canyon Trailhead (4pm, learn/make tin can constellation lanterns). For details, click here.
Kati Lewis of SLCC Community Writing Center, which has issued a call to writers, photographers, or artists for The Great Salt Lake Community Anthology. Writers of all genres, photographers of all styles, and artists using all genres and mediums are encouraged to submit their written, visual, and performative stories about the Great Salt Lake. This call is open to any writer, photographer, and artist ages 15 and older. Submissions must be submitted via Submittable no later than 11:59 p.m. on September 21, 2022. For deadline and submission details, click here.
Oct. 27: Great Salt Lake Community Anthology Reading Gala will be held from 5:30-8 p.m. at Gallivan Hall on October 27, 2022. Contributors to the anthology will be given a print edition of the anthology and an opportunity to read from their work at the gala.
It's Welcoming Week. KRCL's Tamrika Khvtisiashvili talks with Women of the World on the plight of Ukrainian women and children. Guests included:
Svitlana Bezruchenko from Ukraine, now living in Utah

Ruby Wahineho'okae, Case Manager, Women of the World
Guests' views, thoughts, or opinions are their own and do not necessarily reflect those of the board, staff, or members of Listeners' Community Radio of Utah, KRCL 90.9fm. Tonight's RadioACTive team included:
Executive Producer, Host: Lara Jones
Volunteer Co-Host: Tamrika Khvtisiashvili
###