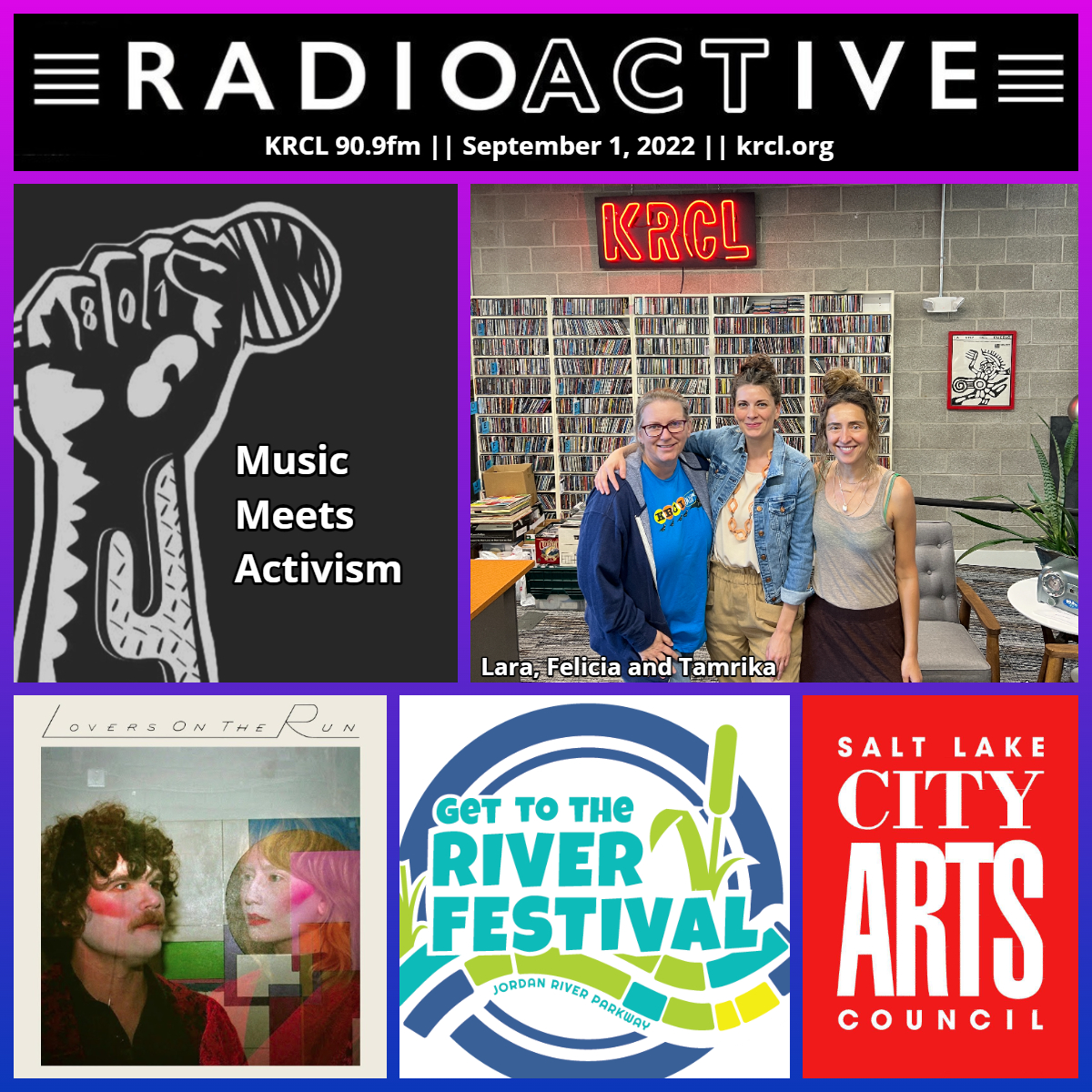 Music Meets Activism with Felecia Baca of the Salt Lake City Arts Council. A new Jordan River Blueprint and the launch of the Get to the River Festival. Fresh, homegrown music from The Plastic Cherries.
Tonight's show featured the following people, organizations and/or events. Check them out and get plugged into your community!
Earlier today, the Jordan River Commission announced publication of an updated Blueprint Jordan River. Now 20 years old, the blueprint is a framework to transform the once-neglected river corridor into a defining regional amenity. RadioACTive shared comments from Chris Cline, U.S. Fish & Wildlife Service, Technical Advisory Committee Chair, and Soren Simonsen, Executive Director, Jordan River Commission who spoke during a press conference that also served as the kick-off for the annual festival celebrating the river.
Sept. 1-30: Get To The River Festival, 30 days of celebrations along the Jordan River. Check out event listings at https://gettotheriver.org/ to find out how you can get involved and check back as new events are still being added.
Fridays: Jordan River Friday Paddle Series
Sept. 10: Seed Swap at the Jordan River Nature Center, 9:30-11:30 a.m. at 1125 W. 3300 S., South Salt Lake
Sept. 12: Jordan River Night at Dr. O. Roi Hardy Park, 12400 River Vista Drive, Riverton
Sept. 17: North Salt Lake City Paddle, 8:30 a.m. at the new Riverview Boat Ramp at 1835 N. Redwood Rd., SLC, and end at Porter's Landing Boat Takeout at 50 S. Jordan River Dr., North Salt Lake
Sept. 24: Range 2 River Relay with Seven Canyons Trust. Bike, boat, & run from the Wasatch Range to the Jordan River.
Fresh, homegrown music from The Plastic Cherries, playing tonight at Velour in Provo!
Music Meets Activism with Felicia Baca of the Salt Lake City Arts Council, hosted by RadioACTive's Tamrika Khvtisiashvili.
The mission of the Arts Council is to promote, present, and support artists and arts organizations in order to facilitate the development of the arts and expand awareness, access, and engagement.

"Life on State" Commission Announcement: Salt Lake City is taking a major step in restoring the vitality of State Street, between 600 South and 800 South. Moving from planning to implementation, critical investments in the streetscape and pedestrian environment will begin to transform State Street's identity in 2023.

Life on State will feature eight artist designs that will be adapted into neon signs and placed atop 10-foot-high steel posts. In total, four posts will be constructed along the east and west portions of State Street and each post will feature two unique artworks (front and back). Seven out of the eight selected artists are first-time commissioned artists by our program. Follow along as Life on State comes together on Instagram at @slc_publicartprogram. You can learn more at www.saltlakepublicart.org, www.saltlakearts.org, and www.lifeonstate.com.
Felecia's MMA Playlist:
"Silver Lining" by Rilo Kiley
"What Light" by Wilco
"California" by Joni Mitchell
"These Arms of Mine" by Otis Redding
"Treat People With Kindness" by Harry Styles
Guests' views, thoughts, or opinions are their own and do not necessarily reflect those of the board, staff, or members of Listeners' Community Radio of Utah, KRCL 90.9fm. Tonight's RadioACTive team included:
###