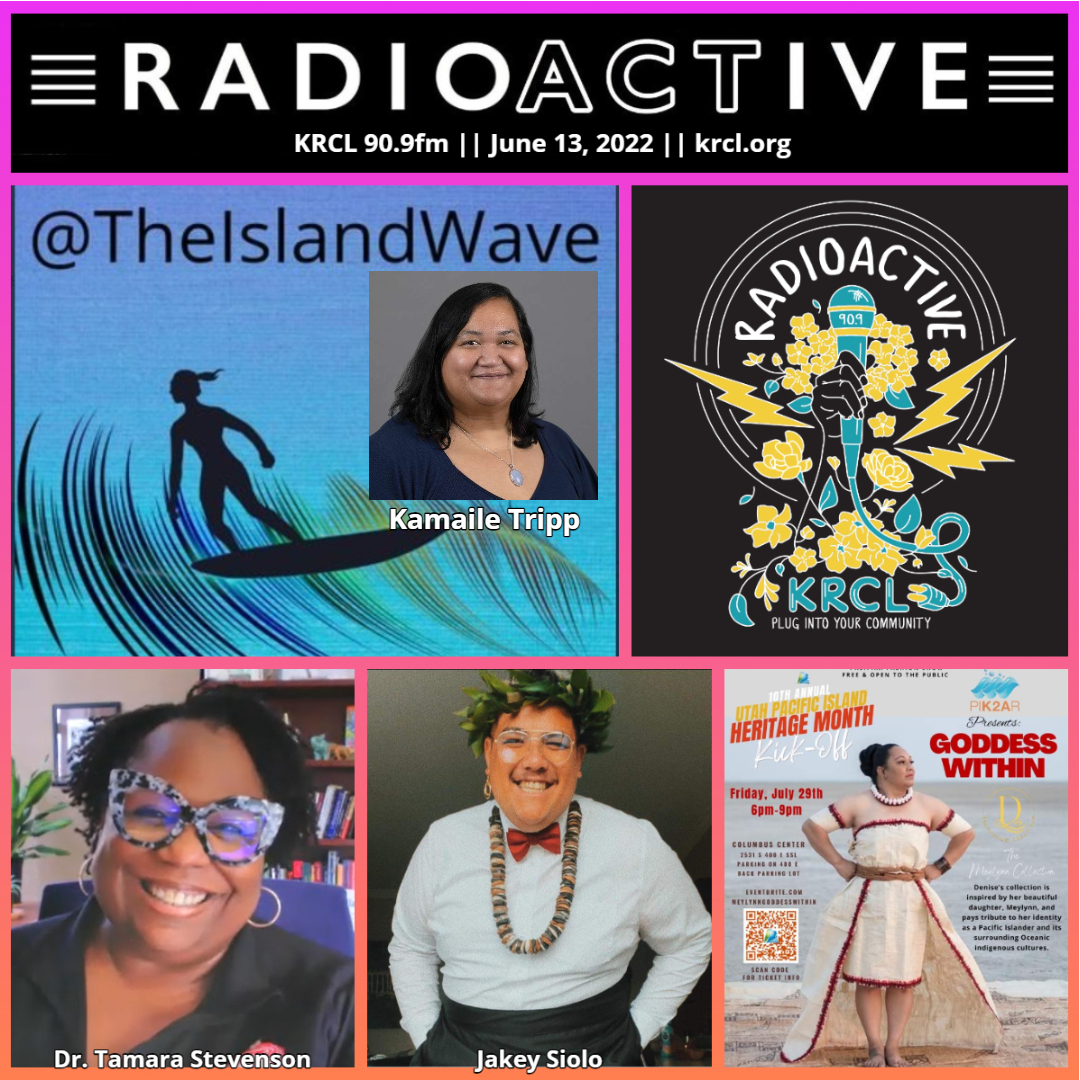 The Island Wave is back with another RadioACTive takeover. Host Kamaile Tripp checked in with Jakey Siolo about his trip to our nation's capital for AANHPI Heritage Month. Denise Koli, who's preparing a 'Goddess Within' fashion show for Utah's Pacific Island Heritage Month. Plus, Rock Camper Showcase, The Utah Investigative Journalism Project, and Westminster College's Juneteenth National Freedom Day.
Tonight's show featured the following people, organizations, and/or events. Check them out and get plugged into your community!
RadioACTive's Lara Jones spoke with Dr. Tamara Stevenson about Westminster College's Juneteenth National Freedom Day.
June 14: Westminster College 2022 Juneteenth National Freedom Day, 12:00-1:30 p.m. at Westminster College Gore School of Business Auditorium, 1840 S. 1300 E., SLC. "Westminster's first-ever Juneteenth observance will be highlighted by a panel of educators, legislators, and community activists whose personal and professional experiences will enlighten our understanding, insight, and appreciation for America's newest federal and Utah's newest state holiday. Panelists: Sandra Hollins: the first Black American woman elected to the Utah State Legislature and co-sponsored HB 238, the bill to make Juneteenth a state holiday in Utah; Michelle Love-Day: longtime Utah educator and creator of RISE Virtual Academy, an online weekly school that offers a rich diverse literacy environment for Black students in Utah; and Betty Sawyer: Utah community activist and head of the Ogden Chapter of the National Association for the Advancement of Colored People." To reserve your free seat, click here.
The Island Wave podcast host Kamaile Tripp took over the rest of tonight's show, plugging listeners into the following community members and their great work:
Jakey Siolo, who was part of a Pacific Island Knowledge 2 Action Resources' delegation to Washington, D.C., in honor and recognition of Asian American Native Hawaiian and Pacific Islander (AANHPI) heritage month.
Melahn Atkinson of Rock Camp SLC, which is in the midst of hosting its first of two summer camps. On June 18, check out Rock Camp SLC Camper Showcase at The Commonwealth Room. Doors at 1:30 p.m. Show starts at 2:00 p.m.
"Come see what happens when 60+ campers (ages 8-17) come together and form 12 bands in 5 days, then perform their original songs in one of Salt Lake's best music venues! $5 suggested donation for entry."
Denise Koli of Denise's PolynesianCreationsllc. On July 29, Pacific Island Knowledge 2 Action Resources will feature Denise's work at Goddess Within, a fashion show to kick off Utah Pacific Island Heritage Month. Click here to get your free tickets.
Eric Peterson of The Utah Investigative Journalism Project and Reporter Cathy McKitrick of the Standard-Examiner.
Guests' views, thoughts, or opinions are their own and do not necessarily reflect those of the board, staff, or members of Listeners' Community Radio of Utah, KRCL 90.9fm. Tonight's show was produced and hosted by The Island Wave's Kamaile Tripp and RadioACTive Executive Producer Lara Jones.
###